Chance
description: 1999 bay Thoroughbred cross gelding
type of rescue: feedlot rescue (2005), adopter return (2012)
intake date: 10/24/2012
adoption date: 10/11/2013
length of time with SAFE: 1 year
ADOPTED!! by Tracy G of Woodinville WA
Chance is a Thoroughbred cross gelding who was one of the first horses rescued by SAFE in early 2005. He was bred as a bucking horse, but once they figured out he didn't have the heart to buck, they sent him off to slaughter where he was rescued by SAFE. The Exceller Fund stepped up to pay for a couple of months of training for him. He was soon doing very well under saddle, as he was apparently very uncommitted to being a bucking horse. Chance was adopted but in 2012, he was returned to SAFE by his adopter who could no longer afford his care. Chance found his person in SAFE volunteer Tracy Green, who fell in love with him while caring for him at SAFE.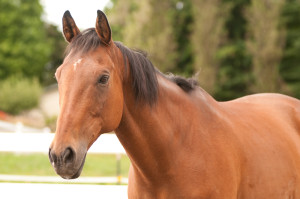 We are absolutely delighted to announce that one of our very favorite horses (Chance!) has been adopted by one of our very favorite volunteers! Tracy Green has been volunteering alongside Chance since he arrived at SAFE Harbor Stables and wouldn't you know, she fell in love with this tall, handsome sweetheart of a horse. Tracy made the decision to adopt Chance just before his shoe boil/abscess flared up, which put his adoption on hold while we struggled to fix him …and his exemplary behavior during his flushings and wrappings surely won Tracy's heart over even more. As soon as Chance was healed up and ready to get back to work, Tracy was finally able to ride "her" horse and confirm for once and for all that this adoption was meant to be!
Chance is being boarded at Jackson Valley Ranch…foster home to SAFE horse Summer! We already have an update from Tracy to share with you:
I just wanted to let you know how things are going so far. Chance seems to really like it at JVR. He gets along with his neighbors, and he enjoys turnout for 3-4 hours or more each day. The gentleman who takes care of the barn and horses says he runs around A LOT  
I have been spending some time just grooming and walking him around, and last night I rode him for the first time since we moved in. I had a lesson with Holly, she really likes him and thinks we'll be good together. He is so level-headed and willing. There were a couple other horses in the arena, and one throwing a bit of a tantrum right outside, and Chance just stayed focused on me and went about our business. I'm feeling really good about this partnership so far! 
I tried to get a picture of him for you all tacked up and handsome but my phone died – I'll try again Saturday.
Congratulations to Tracy and Chance! Have a wonderful time together and please keep the happy updates coming!