Checkers
2006 dark bay Pony mare
Type of Rescue: Animal Control Surrender
Intake Date: 1/5/21
Adoption Date: 7/24/21
Length of Time with SAFE: 7 months
ADOPTED!! by Jane and Eric
Checkers and her foal, Minnie, came to SAFE with two other horses when they were seized by Animal Control for severe neglect. They were part of a bigger herd that came to SAFE the month earlier. The previous owner had hidden the 4 ponies on their property when Animal Control picked up the first group.
Today: Checkers has been adopted along with Breve by Jane and Eric. We think Checkers may have been Breve's mom since they came from the same herd. Now the two live on 21 acres, with people who love them and will never have to worry about food or medical care again.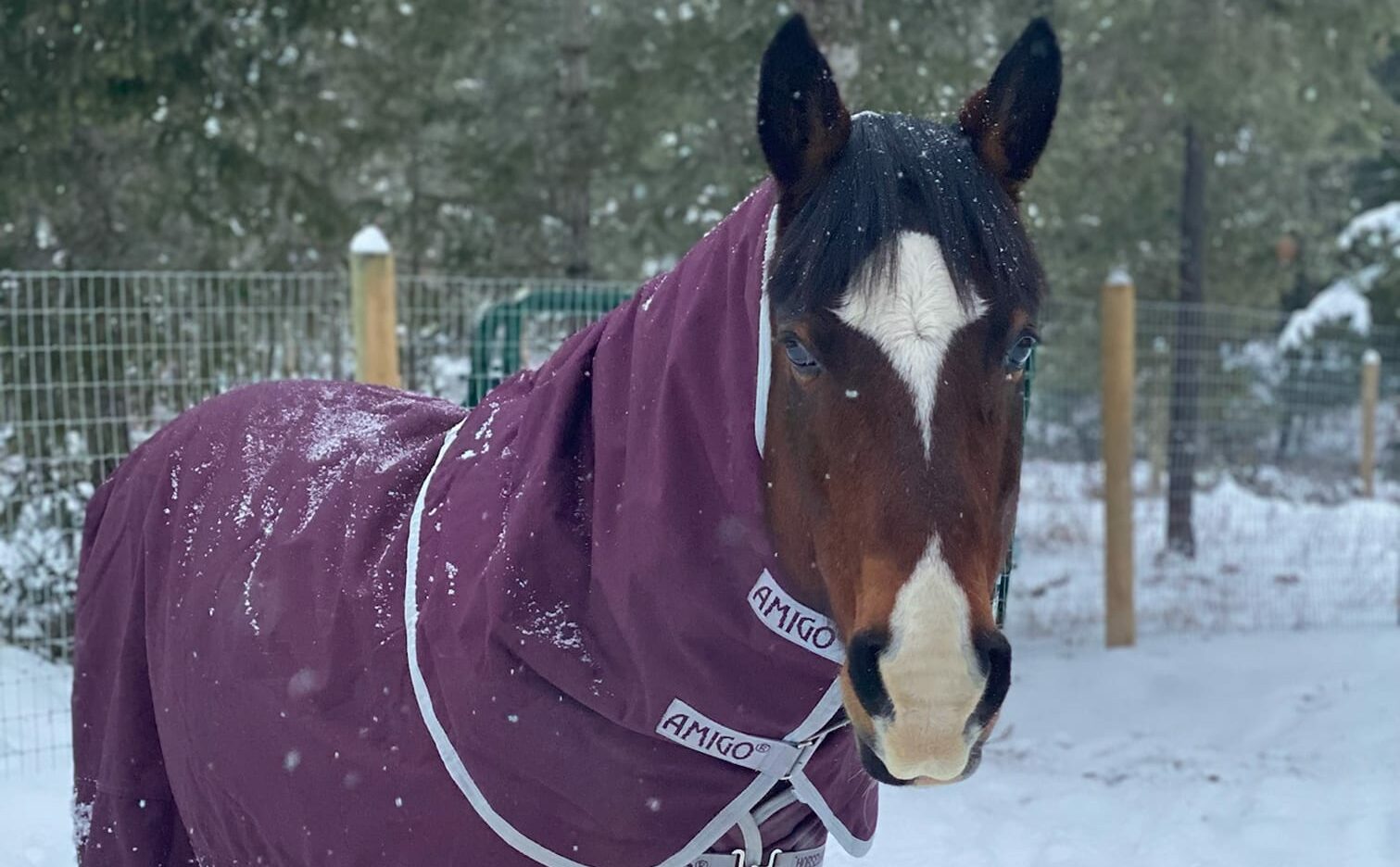 Our Alumni's get the best treatment! With the cold temperatures going into winter, we've had some cute photos sent to us with horses all snug in their mid weight blankets. In their previous lives, many of these horses had to fend for themselves during harsh weather conditions. Now they have wonderful families who add a little coziness to their lives which not only keeps them warm, but warms our hearts.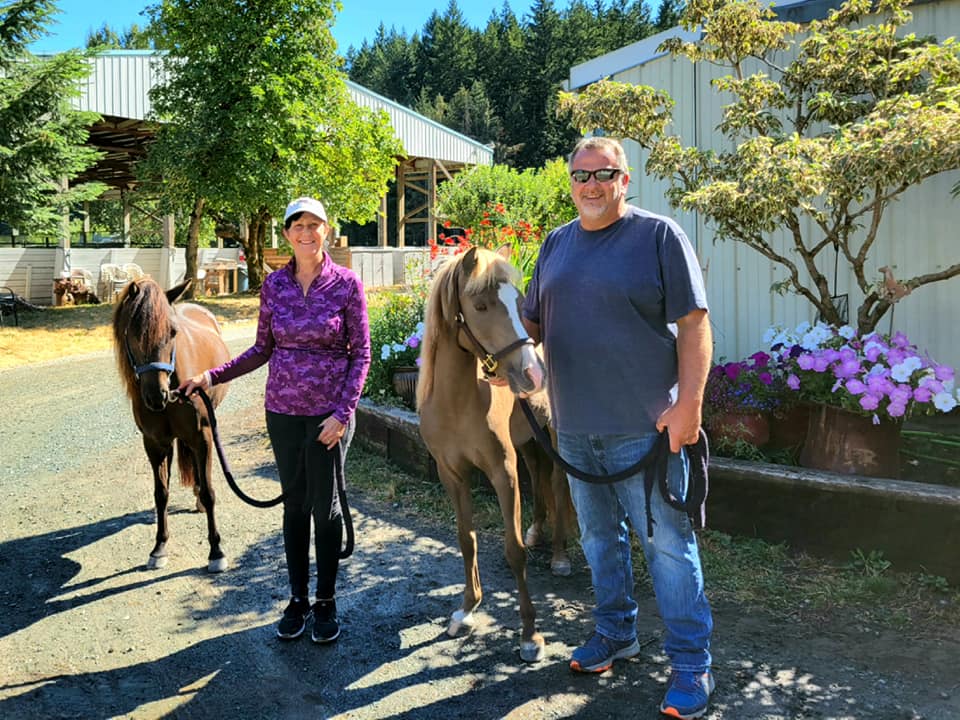 Checkers and Breve might be mother and daughter, but the two ponies didn't arrive at SAFE at the same time. Their previous owner hid four more ponies on their property after Animal Control came to seize the initial group. A few weeks later, AC discovered there were more ponies and eventually the whole herd ended up at SAFE.
Breve arrived at SAFE first, along with Sundae and Razin. Checkers came later with her 6‑month-old baby, Minnie, plus two more pony stallions. The whole herd needed a lot of attention. None of them were used to being haltered or even handled by people. Their coats were matted, they were malnourished, and they were in bad need of a dental and a visit from the farrier, but first we had to get them used to people! Checkers seemed to be the most outgoing of the adult ponies and understandably a little protective of Minnie. Breve kept her distance and seemed to give comfort for the littlest pony, Razin, who followed her around. Eventually they all entered the horsemanship program and figured out that humans aren't so bad and just like that we had a plethora of cuteness at the farm.
Jane and Eric live on 21 acres and their daughter recently moved, taking her pony, Ruckus (a SAFE Alumni!) with her. They needed to fill their beautifully restored 4 stall barn so they came to meet Breve and Checkers. They visited a few times to get to know these two and were extremely excited to take them home. Last month, Breve and Checkers headed to their new home. Their barn doors even have an extra opening for pony sized necks to look out! Now Checkers and Breve will live happily ever after together and maybe one day have a few big horse buddies in the other two stalls next door.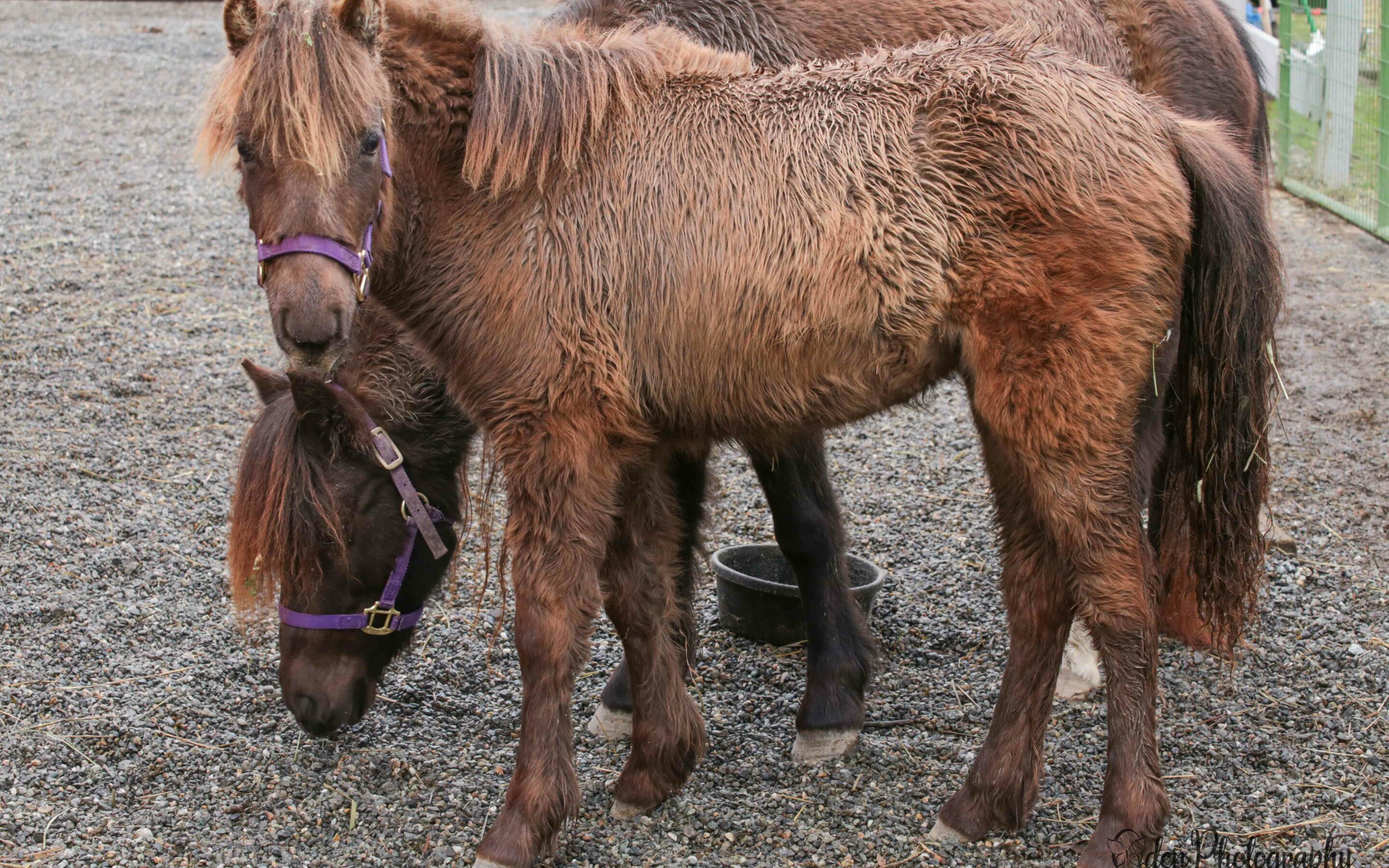 A few days back, we introduced three ponies and a full sized horse who were seized by Animal Control due to neglect and signed over to SAFE. Animal Control found four more ponies hidden on the same property, and their owner surrendered them. One of SAFE's top priorities is supporting Animal Control agencies so they can be most effective when dealing with animal cruelty. So when asked if we had room for four more ponies, including two stallions, we said we'd make room for them.
The two pony stallions are Doolin, a 4 year old pinto, and Quincy, a 15 year old palomino. Both ponies are about 11hh, and somewhat reluctant to be caught. Our plan is to gentle them as soon as possible so they can both be gelded. They each had extremely overgrown hooves, so farrier work is being done to correct this problem.
The other two ponies are a dam and filly named Checkers and Minnie. Checkers is about 15 years old and is very shy. Her daughter is about 6 months old and is quite curious about people. She's adorable. Checkers has already had her teeth floated and she's been checked for pregnancy, which thankfully she seems to have avoided.
The four ponies are in quarantine for the next three weeks, with the two stallions housed separately next door to each other and the mare and filly well separated from both of them. We'll be able to report more about them when we know them better. Right now they're enjoying lovely hay, dry paddocks, and comfortable shelter, which is just what they need!