Coco
SEX:
filly
BREED:
Pony
REGISTERED NAME:
none
COLOR: bay

&

white pinto
MARKINGS: blaze
DOB: April 21, 2021
AGE: 0
HEIGHT:
WEIGHT:
LOCATION: Redmond, WA
Coco's dam Sundae arrived at SAFE in January 2021. Sundae, along with six other ponies, was seized by Animal Control after another horse died due to neglect. Two of the horses were stallions, so we were concerned that there may have been some unplanned breeding prior to rescue. It turns out we were right to be worried. After a few months in our care, we noticed that Sundae was getting quite round. Our vets soon confirmed that she was pregnant! Sundae is 25 years old, so we were concerned about a pregnancy with her advanced age. On April 21st at 10:37PM, Coco was born and soon after our worries melted away. The birth went smoothly and the two are now spending time bonding as Coco learns about the world around her.
All SAFE horses are adopted with a no-breeding clause, no exceptions.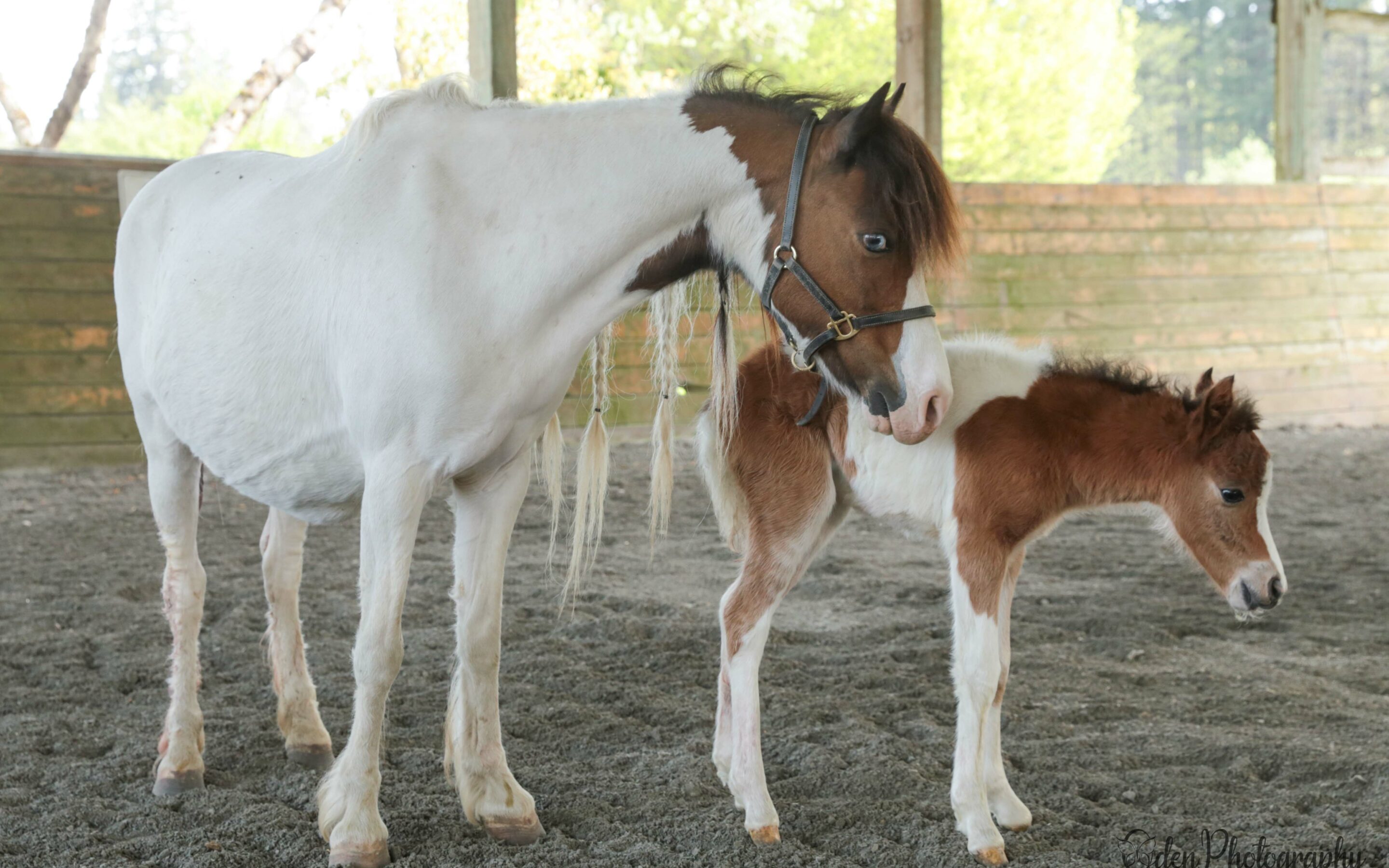 We have a new horse to introduce. She joined our herd Wednesday, April 21st at 10:37pm. Welcome to the world, Coco!
Sundae delivered her filly quickly and easily without a hitch. Less than two minutes passed between the time her water broke and her foal was born. The filly was on her feet within the next hour and nursing about an hour after that. Coco is a strong little filly, and Sundae is such a good mama. The two greeted each other with nickers and whinnies, and Sundae was gently encouraging as Coco struggled to figure out her long legs and then find her way to the milk dispensers. And it all went perfectly.
We are so relieved that everything went so smoothly, and we can't wait to share Coco's journey with you. Special thanks to Melinda C for helping us through another successful pregnancy and birth. It was great to have the old gang back together!!

Coco's Friends:
1. Kaye E.
2. Natalie H.
3. Pauline M.
4. _____________________
5. _____________________
6. _____________________
7. _____________________
8. _____________________
9. _____________________
10._____________________
Every horse deserves at least ten friends! Even a small monthly donation can make a difference. Plus, SAFE horse sponsors receive discounts at local businesses through the SAFEkeepers program!