Doolin
2017 pinto Pony gelding
Type of Rescue: Animal Control Surrender
Intake Date: 1/23/21
Adoption Date: 9/3/21
Length of Time with SAFE: 7 months
ADOPTED!! by Shannon
Doolin came at SAFE with three other horses after they were seized by Animal Control for severe neglect. He was part of a bigger herd that arrived at SAFE the month earlier. The previous owner had hidden these 4 ponies on their property when Animal Control picked up the first group. Doolin is four years old. He came to SAFE as an unhandled stallion, but was successfully gelded once he was gentled. His initial groundwork sessions have been successful and his is learning that we mean him no harm.

Doolin was adopted by Shannon who told us on day one she was already in love.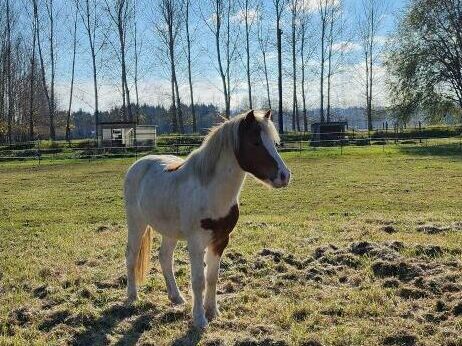 Shannon does lots of groundwork with Finn (formerly Doolin) to help him relax and be less nervous and he is doing really well! She has ponied him with her older Quarter horse and is teaching him how to ride comfortably in the trailer. Last September, she brought Finn to the Joel Clinic at SAFE and eventually her goal is to teach him to be a riding pony so in a couple of years, her little granddaughter can ride him.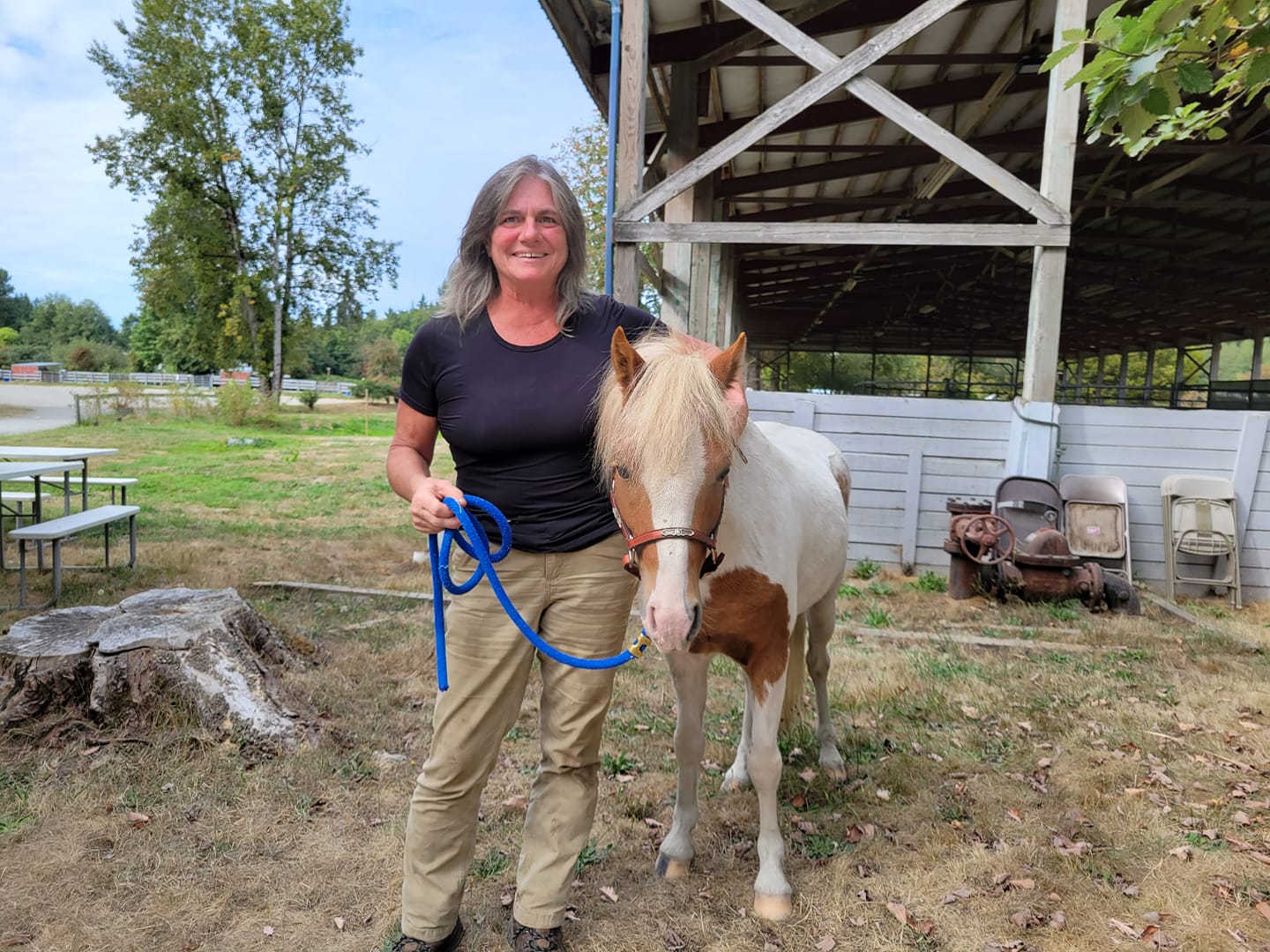 We are so happy to announce Doolin, now named Finn, has been adopted by Shannon! After arriving to his new home Shannon texted "I think we are in love!!" That is what we love to hear! Once turned out in his new home, he strutted and zoomed around his coral all afternoon, but also impressed everyone with his sweet lovely manners. Including their mare who may have a crush on him, while the gelding was less than impressed, at least for now.
Doolin found himself at SAFE after a large animal control seizure of several ponies and a horse. They all suffered from overgrown hooves, lice, malnutrition, enormous worm loads, and lack of dental care, causing painful ulcerations in their mouths. Sadly as is the case with many AC seizures, it took another pony dying on the property to save them. Doolin arrived at SAFE as a stallion and we quickly got to work gentling him so we could geld him. Geldings get to live a happy life turned out with horse buddies. The surgery went well and after a few months of groundwork, Doolin's manners were excellent.
On the exciting day Terry announced Doolin's adoption she said "What a transformation! From screaming stallion to cuddly little dude! Love this guy and what SAFE's program did for him. We need a certificate of graduation of this good equine citizen." SAFE's training program transformed Doolin's life and now he lives happily ever after with a loving family and other horse friends where he will always know love, comfort and never be hungry again.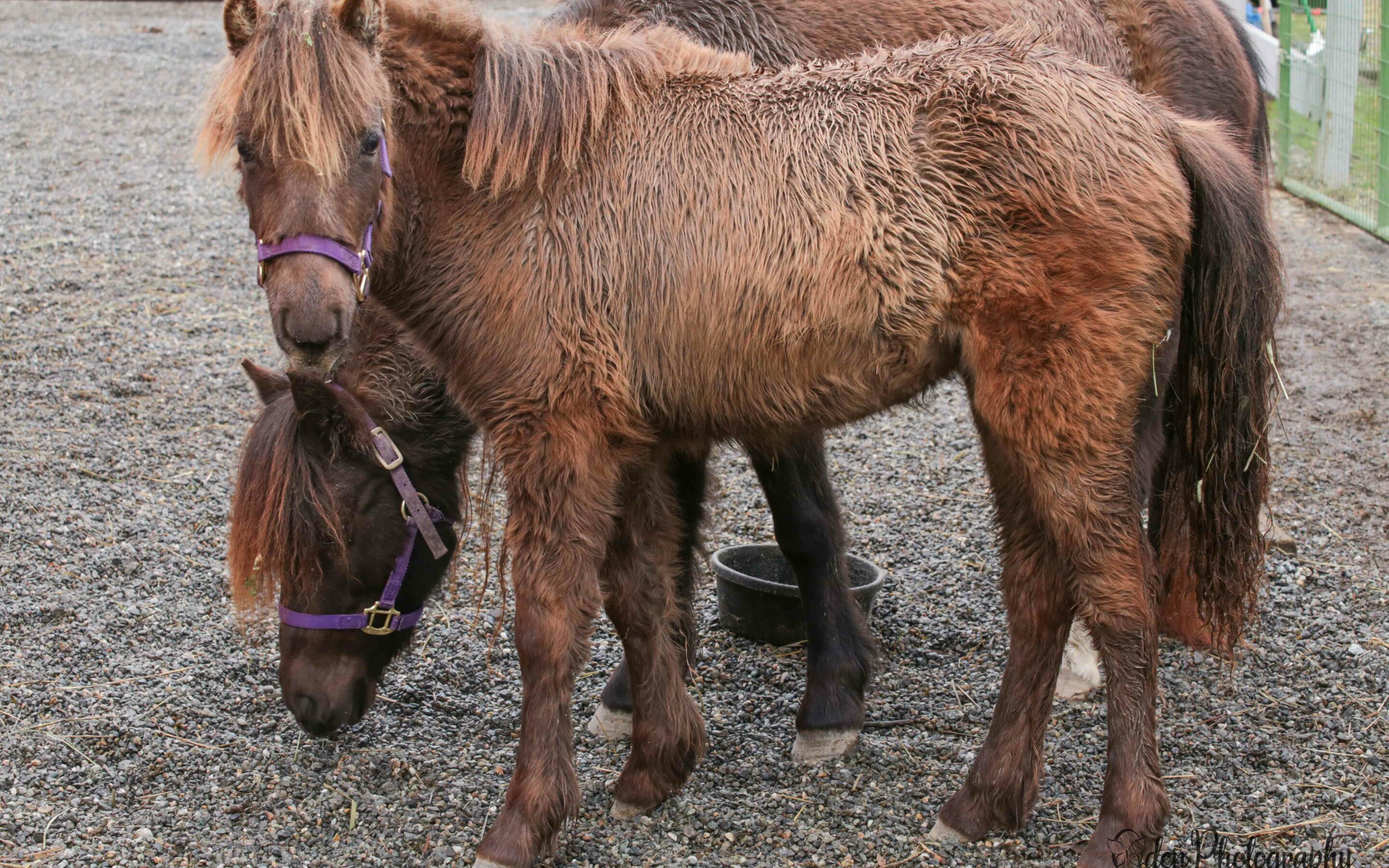 A few days back, we introduced three ponies and a full sized horse who were seized by Animal Control due to neglect and signed over to SAFE. Animal Control found four more ponies hidden on the same property, and their owner surrendered them. One of SAFE's top priorities is supporting Animal Control agencies so they can be most effective when dealing with animal cruelty. So when asked if we had room for four more ponies, including two stallions, we said we'd make room for them.
The two pony stallions are Doolin, a 4 year old pinto, and Quincy, a 15 year old palomino. Both ponies are about 11hh, and somewhat reluctant to be caught. Our plan is to gentle them as soon as possible so they can both be gelded. They each had extremely overgrown hooves, so farrier work is being done to correct this problem.
The other two ponies are a dam and filly named Checkers and Minnie. Checkers is about 15 years old and is very shy. Her daughter is about 6 months old and is quite curious about people. She's adorable. Checkers has already had her teeth floated and she's been checked for pregnancy, which thankfully she seems to have avoided.
The four ponies are in quarantine for the next three weeks, with the two stallions housed separately next door to each other and the mare and filly well separated from both of them. We'll be able to report more about them when we know them better. Right now they're enjoying lovely hay, dry paddocks, and comfortable shelter, which is just what they need!