Edward
SEX:
gelding
BREED:
Yakima Reservation Horse
REGISTERED NAME:

INTAKE DATE:
8/21/21
COLOR: chestnut
MARKINGS: small star
YOB: 2014
AGE: 8 yrs old
HEIGHT:
WEIGHT:
LOCATION: Redmond, WA
ADOPTION FEE: TBD
Edward, along with another gelding and mare, were obtained by their previous owners through a now defunct rescue organization by a family that moved to Washington state hoping to keep horses on a rented property near their home. They soon discovered that the property flooded rather badly during the fall and winter months. With no other options available to them, these horses just had to live in the wet. Thankfully, they were able to survive under these poor conditions. Edward has been suffering from equine asthma for quite some time, resulting in severe weight loss that has left him quite emaciated. Untreated equine asthma can cause massive weight loss very quickly for two reasons: one, because overuse of respiratory muscles can burn a great number of calories and two, because they don't eat or drink as much as they should because it's hard to breathe and eat at the same time.The other two horses look better, but that's somewhat deceptive because they have large parasite loads, making their bellies look big. Their owner turned to SAFE for help after coming to the realization that caring for these three horses was more than they could handle.
Edward has learned quite quickly to be patient as we administer an inhaler twice a day. In only a week he went from throwing his head, to standing there very patiently. He is a curious about people, is a quick learner and we're excited to bring this gelding back to health and get to know him.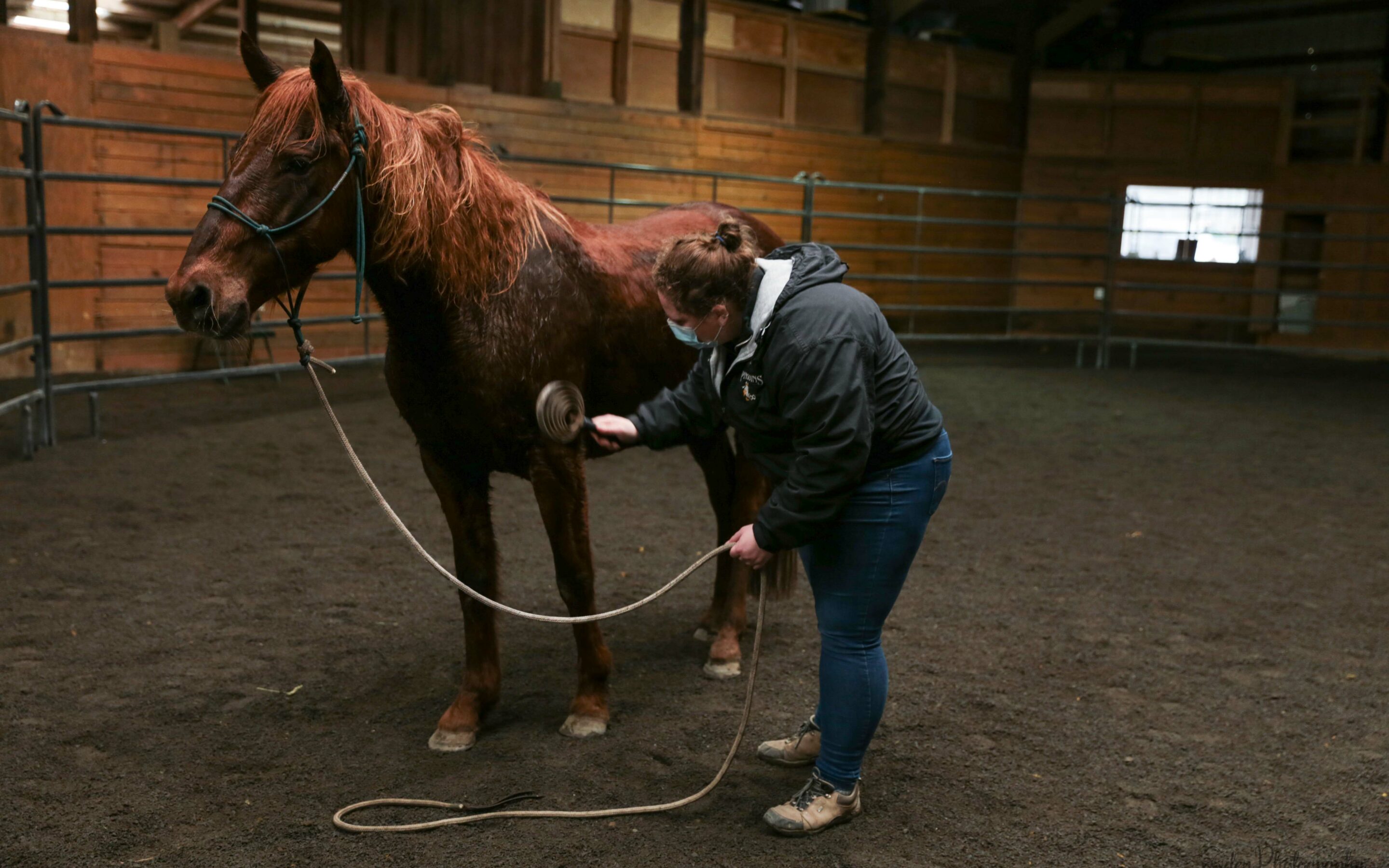 Edward is a silly monkey! He is both a joy and a troublemaker all wrapped up in a handsome package. We're approaching 60 days of nebulizing treatments for Edward. He manages these exceptionally well, given how green and untrained he was just a few months ago. We have slowly decreased the amount of medication and now do treatments a few times a week. If all goes well, he will be able to maintain effective respiration on a few times a week or just for "flare-ups". This will be a big relief for our staff who have been standing with him for these 45-minute sessions daily. Edward is hesitant about anyone other than his primary trainer, Terry, haltering or handling him, and he can be intimidating and quick moving. However, we are introducing him to being haltered by others so that he can be safely handled by more people. Edward has a trouble spot when asked to do things he doesn't want to do or is unsure about. In his life before SAFE, he likely was able to either bully his way to get people to leave him alone or they simply never asked him to do anything that wasn't his idea. He is the more herd bound member of the trio that all came to SAFE together. He is fine leaving the other horses as long as he is with Terry but if he is left alone in his paddock he will call and run around until his paddock buddies return, particularly little Esme.
Terry was able to saddle Edward three times prior to his first colt starting clinic at SAFE and only in the very first saddling did he feel the need to buck. Terry was able to keep him on the halter during the bucking and helped talk him through the bucking without letting him sort it out on his own. Once Edward settled, he remained in the round pen and found the walk, trot, and canter without much issue. By the time the clinic days came he was pretty easy to saddle and move out. During the colt starting clinic at SAFE we were able to work every day with saddling and moving out wearing the saddle. However, given his touchiness, the winter months ahead, and a three-month period until our next clinic with Joel Conner, we decided not to put the first rides on him. There is a great deal of helpful groundwork that can happen between now and the clinic that will make the first ride experience easy and successful for everyone. A set-back on a sensitive horse isn't worth experiencing. Time and more groundwork can help mitigate any trouble in those important first rides.
A few weeks ago Edward had a little head bobbing and tender steps when weighting his right front. Much to our surprise, he allowed us to soak his foot in warm water and Epson salts then dry and cover the bottom of his hoof in an Epson salt paste with duct tape boot wrap. Amazing! Luckily the next day the abscess popped and he was back to moving without any pain. He even let us cut off the boot without TOO much trouble.

Edward's Friends:
1. Lori P.
2. Carrie S.
3. Heather C.
4. Patricia A.
5. Michael R.
6. Whitney-Bear B.
7. Samantha P.
8. Patty P.
9. Kathy C.
10._____________________
Every horse deserves at least ten friends! Even a small monthly donation can make a difference. Plus, SAFE horse sponsors receive discounts at local businesses through the SAFEkeepers program!