Jasper
2007 champagne Tennessee Walking Horse gelding
Type of Rescue: Owner Surrender
Intake Date: 7/27/20
Adoption Date: 9/20/21
Length of Time with SAFE: 1 year, 2 months
ADOPTED!! by Connie
This striking Tennessee Walking Horse gelding was headed for the Game Farm in Sequim when a Good Samaritan stepped in to give him one more chance. Jasper spent most of his life being passed from one home to the next, and through no fault of his own, he became a challenging horse to deal with, due to his lack of confidence and relaxation. He can be very nervous and is easily startled or spooked. But he's intelligent and desperately wants to make a connection with the people in his life.
While we initially thought that Jasper had potential to be a riding horse, we made the decision to assign him with a Companion designation. The amount of stress on him to wear a saddle and be safe is too excessive for him to be a riding horse. He is in his late teens now, and damage and deep fears developed in his past as a riding horse appear too great a challenge for him to overcome at his age. Instead, his trainers focused on doing new things that he found enjoyable, such as learning to step up on a platform and other groundwork activities.
Today: Jasper is adopted and lives in Port Townsend with his adopter, Connie, a 19 year old mare, 4 donkeys, an alpaca and a llama!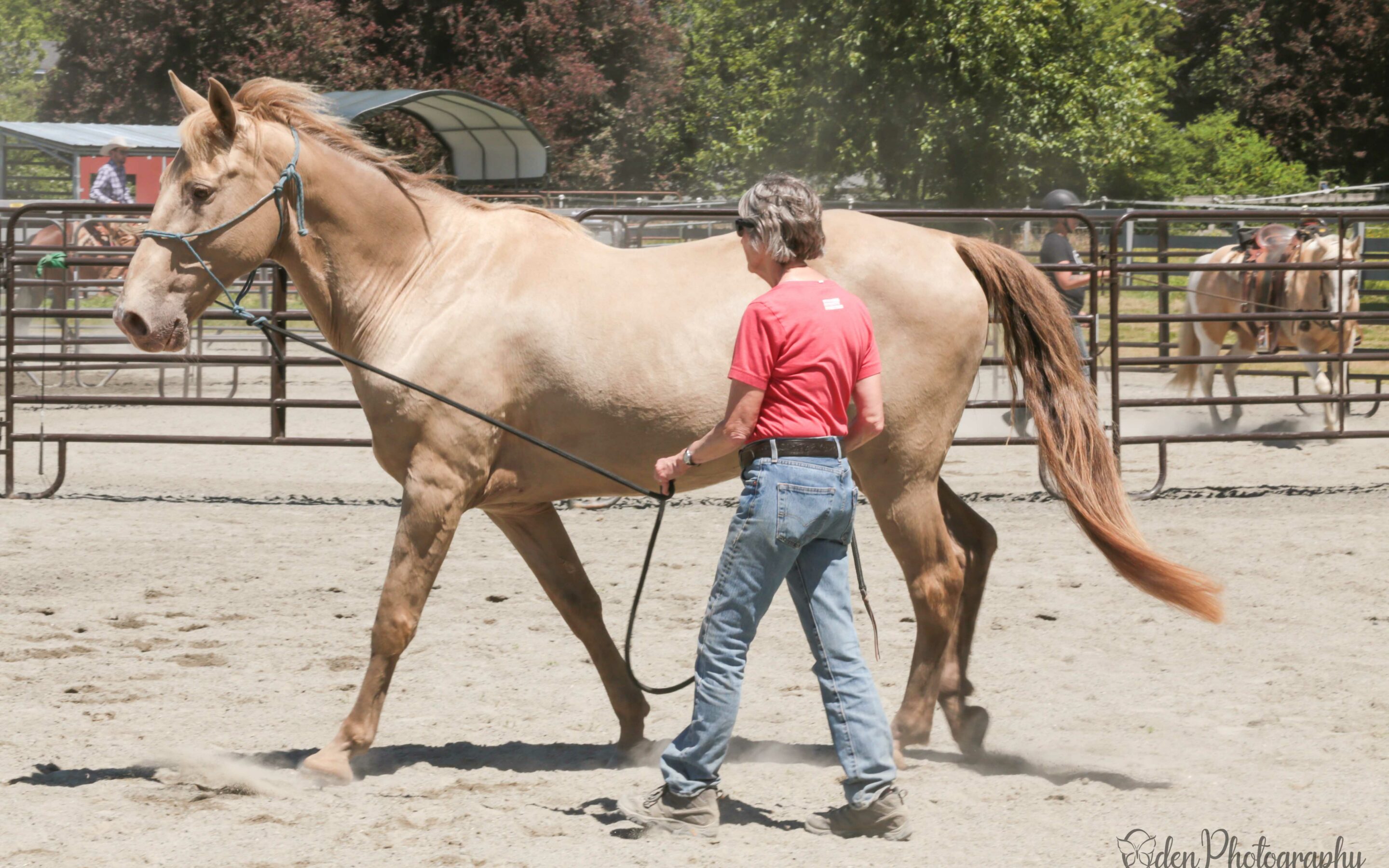 Sue had the opportunity to work with Jasper in the last Joel Connor Clinic in June. Here's what she had to say:
"I was fortunate to spend one day of the June 2021 Joel Conner clinic working with Jasper. I had been working with him on my own for several weeks, but was excited to have some guidance to see what I was doing right and wrong. Jasper came to SAFE extremely wary and without confidence. He has improved greatly since arriving but still spooks easily. My challenge has been to find a balance where I can push hard enough to get a change in his behavior but still help him to relax. He started the clinic very nervous sharing the outdoor arena with so many other people and horses, but as we worked he was more able to focus on me and what I was asking. He is extremely stuck on his front end, and sometimes spins on it when asked to move his hind quarters. Joel helped me with exercises to move his front quarters laterally and forward, and also to back more responsively. I am happy to report that this has been extremely helpful and I have seen a good change in how he performs both hind quarters and front quarters since the clinic.
I also want to mention anecdotally that Jasper and I went on a trail walk with Lucca, Aries, and Barb last week. He was nervous but he handled it like a champ. Thanks to Terry for the opportunity and to Joel for the guidance."