Kelly
20(ish) bay Clydesdale mare
Suitability: Companion
Color: bay
Markings: Thin blaze; socks LF, RH, LH
Height: 16 hh
Weight: 1350 lbs
Adoption Fee: $300

Online Adoption Application
Kelly came to SAFE in December of 2022 as part of a seizure of 27 horses from Pierce County (who we called The Graham 27).
Kelly is a gentle giant of a mare, the last of the Graham horses to arrive at SAFE. She is a real sweetie, and has become a fast favorite amongst staff and volunteers. Kelly is gentle to groom and handle on the ground, and will make a wonderful companion horse for some lucky person.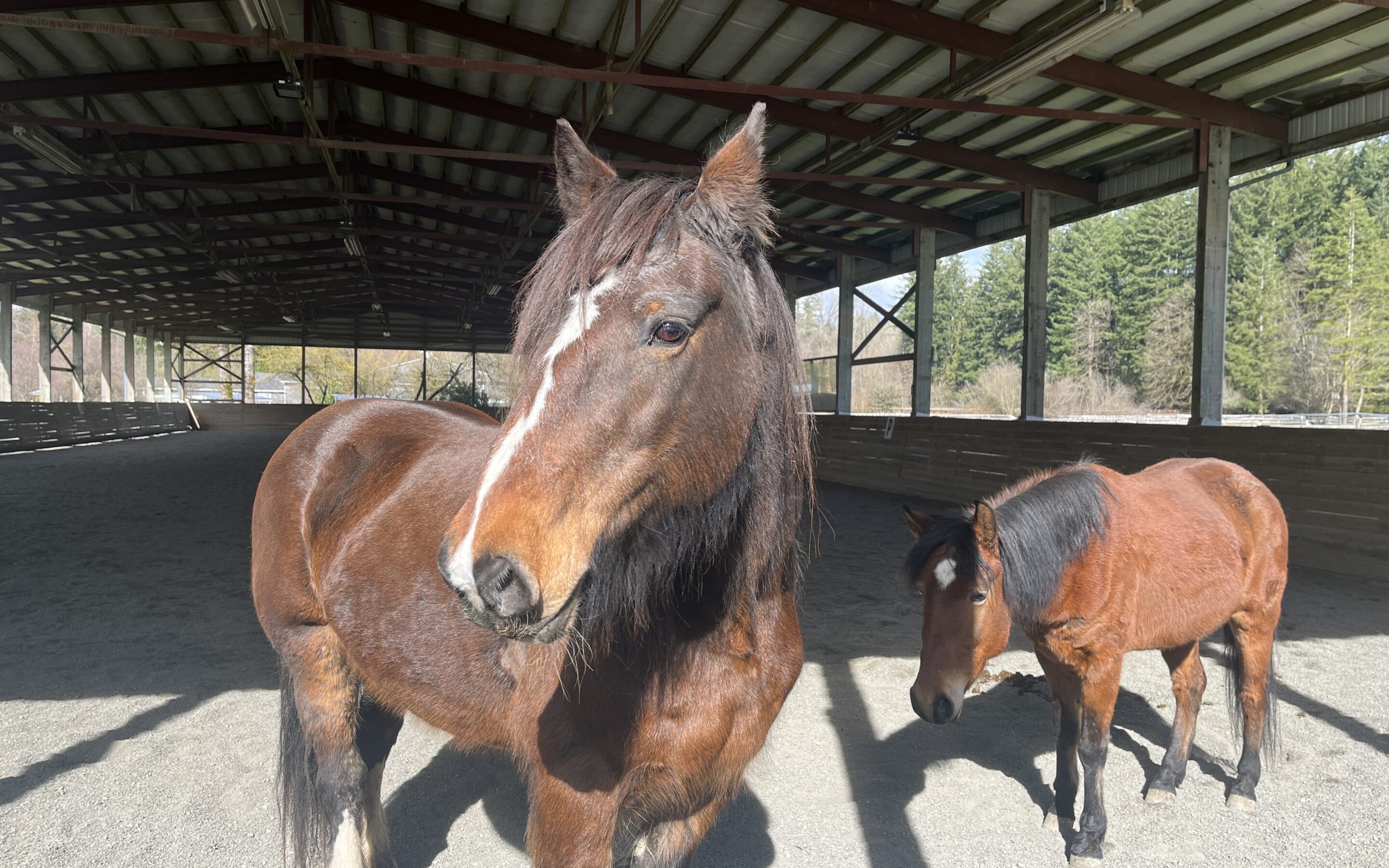 Since her stint on stall rest after her houdini moment, Barb has been occupying a one bedroom paddock. If her escapades don't allude to it, I will tell you directly that Barb is a playful and mischievous creature. If she were written into a novel, the genre would most certainly be adventure, and she would be the main character who trouble cannot help but find. But the one thing currently missing from Barb's story is a sidekick.
As far as interpersonal relationships go, Barb has not historically been everyone's cup of tea. She can play a bit rough at times, and does not always know when to call it quits. Her friend Jill – who has since found her forever home – was Barb's second pea in her pod, but even their close relationship had its ups and downs, requiring stints of separation akin to breaking up a bar fight. Ultimately, Barb is a tough cookie, in every sense of the term – mostly sweet, but liable to break a tooth if you're not careful.
All this to say, Barb has been overdue for a friend. It has become a kind of Goldilocks scenario at this point, trying to find the perfect place to slot Barb in. This herd already too big, this mare too aggressive. Finding the 'just right' is easier said than done.
And then Kelly arrived at SAFE. Sweet Kelly, a gentle giant of a mare who had plenty of experience living in a varied and diverse herd environment. Kelly, who we had no reason to believe would be anything but mellow with mostly anyone we put her out with. Kelly, who we felt could be Barb's 'just right.'
Introducing the pair on halter ropes was primarily uneventful. Barb can come in a bit hot, but paired with Kelly's aloof nature, there was no big drama in their initial interaction. If anything, Kelly just seemed rather bored with Barb, who was practically foaming at the mouth for a chance to have a new buddy. Once we let them loose together, we waited with bated breath to see what would happen. Would Barb drive Kelly crazy, wanting to play? Would Kelly in turn show Barb the underside of one of her dinner-plate hooves? Would both girls make it out alive? (Ok, that last one was dramatic — we weren't actually thinking along those lines.) But we were pleasantly surprised when.. Well, nothing really happened. Kelly gave Barb the lukewarm shoulder, and Barb quickly fell into her best impression of Kelly's little shadow, following the bigger mare around at a distance that Kelly OK'd.
It has been a good exercise for Barb, being out with a mare who doesn't necessarily want to play, but who isn't going to get either of them into too much trouble. And while Kelly isn't the most expressive of horses, she doesn't seem to dislike the company. Since their initial meeting, the pair exist in a nice harmony of tandem walks and the occasional nap together – not too close, not too far. It has been wonderful to watch a new friendship blossom, and to witness two single ladies come together.
Kelly arrived at SAFE with some significant dermatitis on her legs, with her hind limbs being the most severely affected. She had rubbed patches completely raw from itching, and had developed some sore spots on her fetlocks underneath all those lovely draft horse feathers. We had our vet out to look at her and do an intake exam, where she developed a treatment plan for Kelly that involved daily application of Quadritop on the affected areas around her fetlocks, and Equiderma lotion on the sore areas on her hocks. Weekly, we were to bathe her legs with a special soap the vet gave us.
The results after beginning the treatment were quick. Kelly was visibly less itchy, and her sores began to heal. At a follow-up appointment, our vet agreed she was making good progress. We will continue with the treatment until the dermatitis is completely gone, but it sure feels great to see such a notable difference already!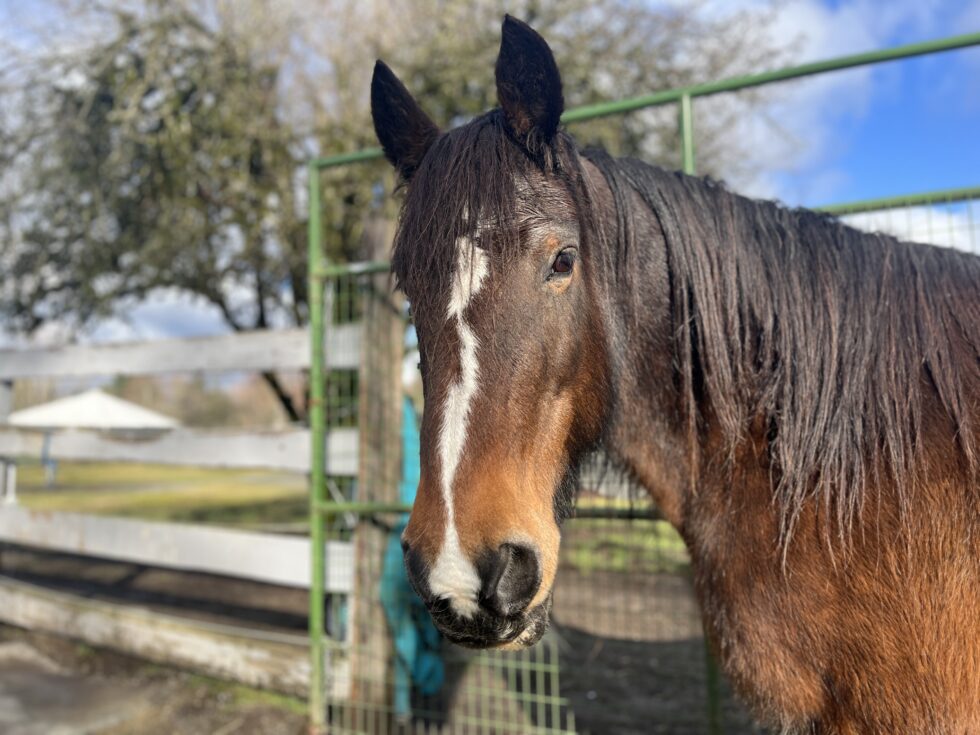 Kelly is a gentle mare and been fairly easy to work with so far. Her biggest trouble has come around picking up and treating her hooves. She was fairly naughty for the first farrier visit last month and we are hopeful with the care and work we have started she is feeling better about letting us help her. Her second farrier visit at SAFE went quite well, and though she is reluctant to lift her hooves very high or very long, she was quite cooperative all things considered. She is currently still slightly off on her front, and we are waiting to see if consistent regular trims and treatment for thrush can help eliminate the soreness or if more investigation is needed into the cause of pain. Right now, most of the Graham horse's hooves are in such bad shape, it's hard to know if there is more going on than proper hoof care will clear up. More time is needed to determine, and we will make them available for adoption when we can let perspective adopters know if there are any chronic soundness issues.

Kelly's Friends:
1. Samantha E.
2. ____________________
3. ____________________
4. ____________________
5. ____________________
6. ____________________
7. ____________________
8. ____________________
9. ____________________
10._____________________
Every horse deserves at least ten friends! Even a small monthly donation can make a difference. Plus, SAFE horse sponsors receive discounts at local businesses through the SAFEkeepers program!