Millie
| | | | |
| --- | --- | --- | --- |
| SEX: Mare | BREED: Arab | REGISTERED NAME: unknown |   |
| COLOR: bay | MARKINGS: Star, snip, two hind socks |   |   |
| YOB: 2008 | AGE: 11 | HEIGHT:  | WEIGHT:  |
| LOCATION: Redmond | ADOPTION FEE: TBD | Online Adoption Application |   |
Millie and her sire Boss Hoss were surrendered to SAFE after their owner suffered a stroke and could no longer care for them. Millie lived together with her sire for most of her life, but she seems to have avoided pregnancy, probably because of her ability to double-barrel kick. (It should be noted that keeping a mare and stallion together is asking for an unplanned pregnancy, whether the two horses are related to one another or not!) Millie came to SAFE without being halter-broken, and at 11 years of age, she was completely unhandled. Her forelock, mane, and tail were packed with burrs, and we had to get her much more comfortable with being handled by humans before we could tackle that particular grooming project. Millie's made great progress towards being gentled already by Terry, and we have high hopes for this lovely girl. All SAFE horses are adopted with a no-breeding clause, no exceptions.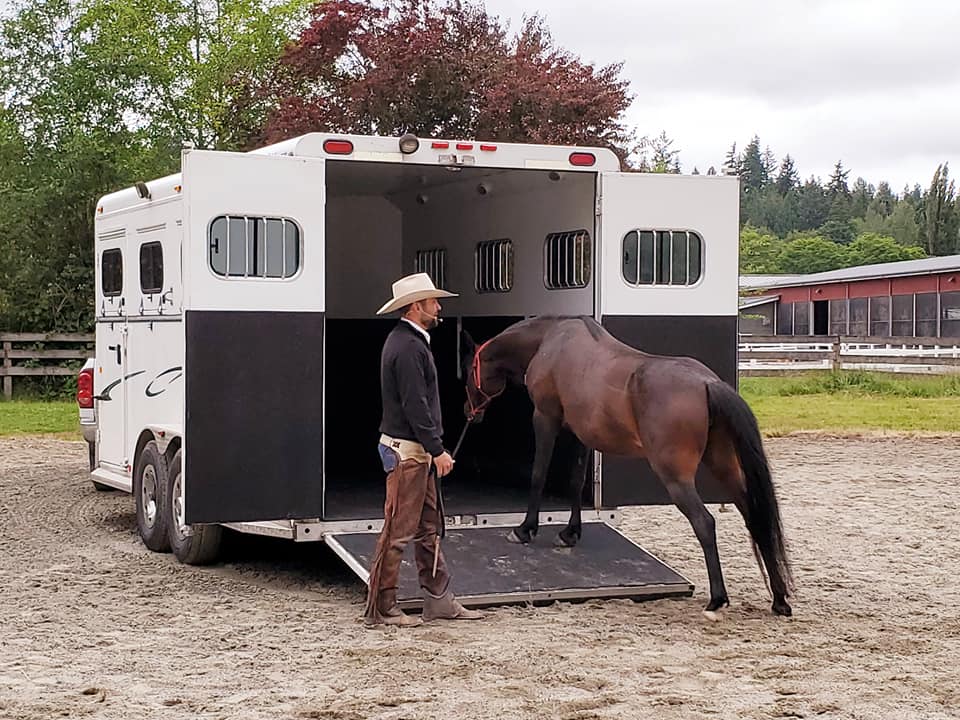 What a superstar Millie was during the recent Joel Conner Horsemanship Clinic at SAFE! The first day she took the lay of the land. It was her first time in an area with so many other horses and she was interested in meeting them all. She did well focusing on me and listening but there were moments of quiet nickers when a new friend came near. We worked on getting more comfortable with the flag as well as the rope work. She had some BIG changes to standing relaxed as I swung a rope to her side. We also addressed leading off of pressure and Joel broke down a few methods to help her give to the leading rope that were very helpful.
During the clinic, Joel demonstrated how to introduce the trailer to horses. The only other time Millie had been in a trailer was when we moved her to SAFE. That time we just let her follow her friend Hoss into the trailer. This time was a bit different. She is now halter broke and we can teach her to lead in because she wants to and not by force. This short video shows her thinking and working through what is being asked as she learns that the trailer is not a scary place to be but actually a very relaxed and peaceful space.

Millie's Friends:
1. Joanna R.
2. Julie B.
3. Gwen M.
4. Maureen S.
5. Kathy & Andy
6. _____________________
7. _____________________
8. _____________________
9. _____________________
10._____________________
Every horse deserves at least ten friends! Even a small monthly donation can make a difference. Plus, SAFE horse sponsors receive discounts at local businesses through the SAFEkeepers program!