Millie
SEX: Mare
BREED: Arabian
REGISTERED NAME: unknown
COLOR: bay
MARKINGS: Star, snip, two hind socks
YOB: 2008
AGE: 12
HEIGHT: 13.3hh
WEIGHT:
LOCATION: Redmond

ADOPTION FEE: $700
(will increase with training)

Online Adoption Application
Millie and her sire Boss Hoss were surrendered to SAFE after their owner suffered a stroke and could no longer care for them. Millie lived together with her sire for most of her life, but she seems to have avoided pregnancy, probably because of her ability to double-barrel kick. (It should be noted that keeping a mare and stallion together is asking for an unplanned pregnancy, whether the two horses are related to one another or not!) Millie came to SAFE without being halter-broken, and at 11 years of age, she was completely unhandled. Her forelock, mane, and tail were packed with burrs, and we had to get her much more comfortable with being handled by humans before we could tackle that particular grooming project. Millie made great progress towards being gentled and she is now in horsemanship training in preparation for being saddled and ridden.
All SAFE horses are adopted with a no-breeding clause, no exceptions.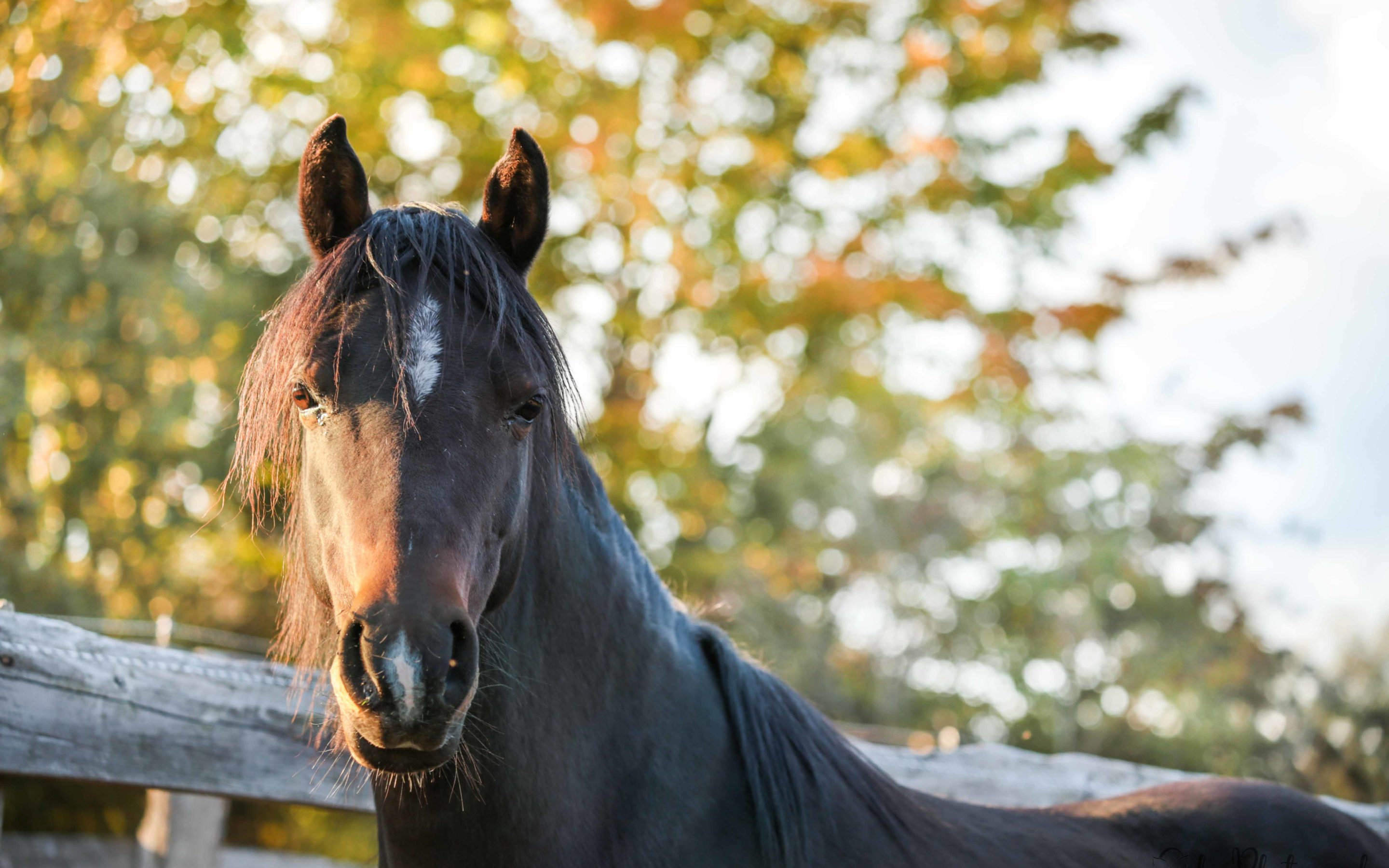 Millie has been doing great! She was worked in the Horsemanship clinic at the beginning of November and was a star. Joel used her in a round pen "join up" demonstration and showed how to help her be more accepting of the rope. Very simply put, he would swing the rope then walk backwards to take off the pressure. When she looked at him, he would stop swinging and release. This way she learned that by joining up and bringing her attention onto the person, the thing that worried her went away. She gained a lot of confidence from this exercise.
During the clinic, Joel also helped us saddle Millie for the first time. The preparation work helped her accept this pretty well, but once the stirrups started moving, they worried her and she tried a few times to kick at them. We helped support her by putting the rope around her to let her get up and going but then help her come back down and not continue to be upset. This worked very well and she got better each day!
There is a ton of things we can get done over the fall and winter to help her preparation for a first ride. She's made great progress in other areas such as learning to stand tied and coming into a stall at night. Our little frightened mare has already come so far. She is available now as a companion and we hope to make her available as a riding horse next spring.

Millie's Friends:
1. Joanna R.
2. Julie B.
3. Gwen M.
4. Maureen S.
5. Kathy & Andy
6. Rachael T.
7. _____________________
8. _____________________
9. _____________________
10._____________________
Every horse deserves at least ten friends! Even a small monthly donation can make a difference. Plus, SAFE horse sponsors receive discounts at local businesses through the SAFEkeepers program!