Pearl
| | | | |
| --- | --- | --- | --- |
| SEX: mare | BREED: Morgan/Arabian cross | REGISTERED NAME: none | INTAKE DATE: 12/5/2019 |
| COLOR: Bay | MARKINGS: star, stripe, snip | | |
| YOB: 2006 | AGE: 15 | HEIGHT: 14.2 | WEIGHT: 1064 lbs |
| LOCATION: Redmond | NOT CURRENTLY AVAILABLE FOR ADOPTION | | |
Pearl and Alder were rescued from a neglectful situation as yearlings. Their rescuer did her best to care for them, but physical limitations led her to seek a new home for them. They came to SAFE to enter our training program and get the best possible start in life. Pearl is a lovely, well built young mare with a lot of potential. She's been lightly started under saddle, but we have quite a bit more work to do with Pearl before we can offer her for adoption.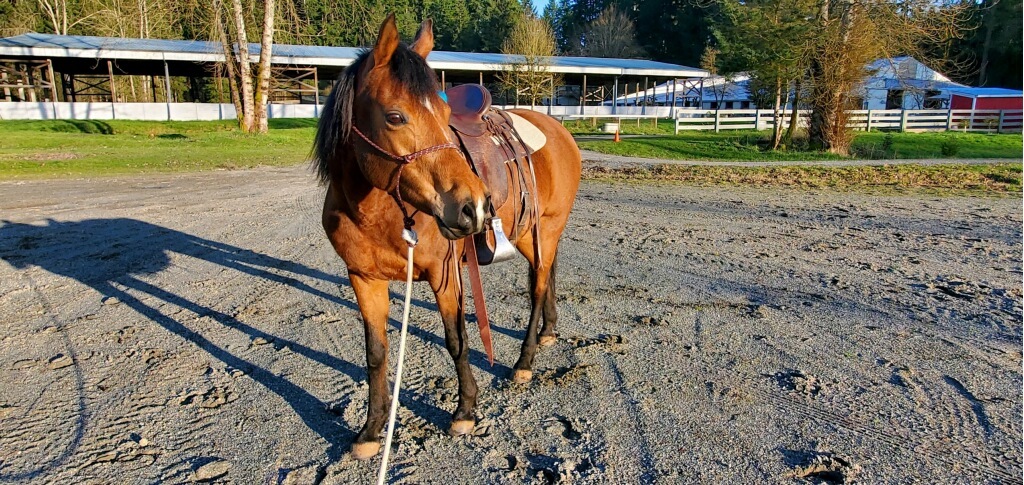 Pearl had her first ride at the Joel Connor clinic a couple of weeks ago! She isn't bothered by having a person on her back and took to it easily. Here's what Kaya had to say about her:
Pearl has come a long way since being at SAFE, but still has a long way to go before she's a gentle riding horse. She has a hard time supporting her weight with her hind end. She needs to be able to do this so she can be balanced and confidently move her front end. Helping Pearl find balance will make her less nervous because she will be able to move away easily from things that trouble her.
Right now, Pearl is the boss mare in a herd of 5 youngsters, all under 4 years old. She keeps everyone in line and teaches manners. They all adore her.

Pearl's Friends:
1. Margaret L.
2. Marcella H.
3. Jenny G.
4. Lisa O.
5. _____________________
6. _____________________
7. _____________________
8. _____________________
9. _____________________
10._____________________
Every horse deserves at least ten friends! Even a small monthly donation can make a difference. Plus, SAFE horse sponsors receive discounts at local businesses through the SAFEkeepers program!