Pomme
1997 chestnut Grade type mare
Type of Rescue: Animal Control Surrender
Intake Date: 7/28/22
Adoption Date: 8/15/22
Length of Time with SAFE: 2.5 weeks
ADOPTED!! by Debbie and Peter
Pomme (meaning 'Apple' en français) is a 25 year old sorrel grade mare, who came to SAVE with another mare, Dolly. Both were sweet as can be! Although they were animal control seizures, having been found in a state of intense neglect — skin and bones and infested with lice — it was clear from their gentle personalities that they had some history somewhere along the line of positive experiences with people. This gentle nature wasn't unnoticed and Pomme was quickly adopted after only being at SAFE for a little over two weeks!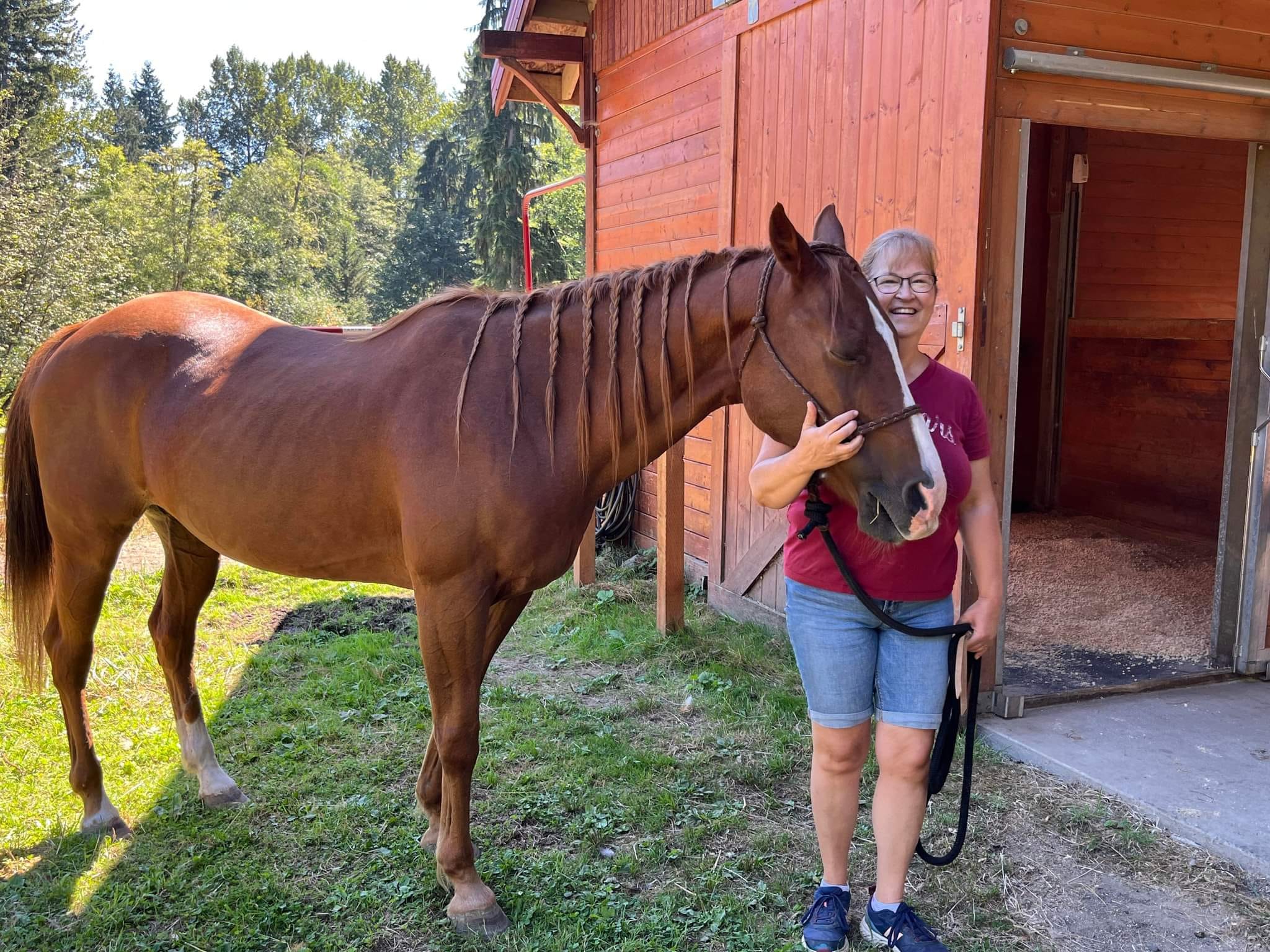 Congratulations to Pomme and her new family! This adoption may be the quickest turn around in the history of SAFE horses, but when it's right, it's right!
Debbie and Peter recently had lost their Quarter Horse mare due to colic which left their sweet 28 year old, Peanut, all alone. Their neighbor is one of our lovely fosters (who wonderfully foster failed to
Daisy
) and she recommended they give SAFE a call. After meeting our companions and chatting about the importance of their 5 year old granddaughter having an occasional easy ride, it was decided that Pomme was the perfect match.
Pomme, and her friend
Dolly
were an Animal Control seizure due to extreme neglect. Pomme was extremely skinny and both were infested with lice and badly in need of a farrier visit. The two spent a few months with Pierce County Animal Control before arriving at SAFE and looked much better than their intake photos. We very quickly realized their sweet and easy going nature. After only being at SAFE for 2.5 weeks, Pomme made her way to her forever home where she was welcomed by her new best friends, 2 legged and 4 legged, and where she will live a life filled with love and care.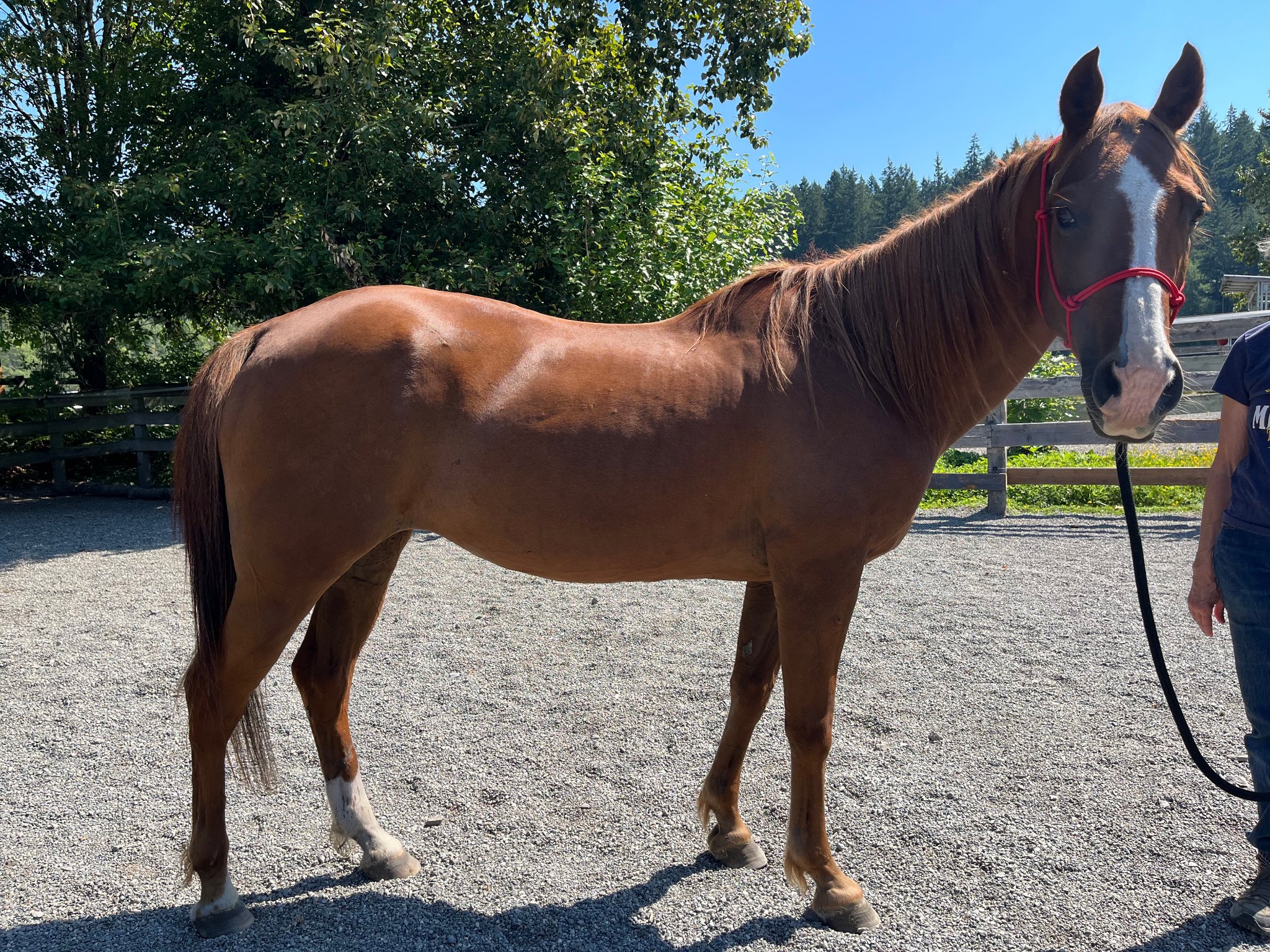 Sometimes, the rescuing begins before horses even arrive at SAFE. When the horses now known as Pomme and Dolly were first seized by animal control, they were in rough shape. Pomme, a 25-year old sorrel grade mare, had the concavity between rib cage and spine that is indicative of the lowest body condition scoring numbers, a ratty coat that had not fully shed out, lice infesting her deadlocked mane, and overlong hooves. Dolly, her 10-year old Tennessee walking horse companion, had fared a little better in this neglectful state, but not by much – while she wasn't quite as thin, she was still a bit too pointy, and had the same tangled, lice‑y mane and long feet as her friend. The mares were taken into Pierce County Animal Control's care at the end of May, and were with them until they arrived at SAFE the last weekend in July.
When they stepped off the trailer at SAFE, Pomme and Dolly were almost unrecognizable from their intake photos. Pomme, now sporting a shiny slicked-out coat, was much more round than the skeletal version of herself who had existed only a few months ago. Dolly was equally as shiny, and had put on all the weight a healthy horse should exist with. Their once tangled manes were now lice and tangle free, such that you could run your fingers through. They arrived vaccinated, having recently seen the farrier for an initial trim, and with their teeth floated and their worm-loads taken care of. These mares, who had seen so much neglect, found the softest of landings under Pierce County Animal Control, and the wonderful volunteers they work with's, care. We are extraordinarily grateful to be able to partner with such phenomenal people who do so much to aid in the transformations of horses like Pomme and Dolly.
These two mares haven't been with us for very long, but have already made an impact. Both are total sweethearts who enjoy pets, grazing with friends, and all the attention they're getting here at SAFE. It is early days yet, but we look forward to getting even more acquainted with these two and getting on the road to finding them loving homes.