Poppy
2017 pony mare
Suitability: In training
Color: black
Markings: star and snip
Height: 13 hh
Weight: 821 lbs
Adoption Fee: TBD with training

Online Adoption Application
Poppy came to SAFE in November of 2022 as part of a seizure of 27 horses from Pierce County (who we called The Graham 27).
At first glance, Poppy's small stature may make you think she is closer to a yearling than a girl of 6, but she is merely of delicate build. But don't let her size fool you, she is the definition of small but mighty. We do not believe she was started under saddle before arriving at SAFE, and she has already shown us that she will need quite a bit of groundwork before she is ready for that. She has already come a long way from the timid mare we first met, and we look forward to continuing her journey.
Little Poppy is hard at work in our horsemanship program, learning all sorts of new tricks. Because she has likely never been saddled before, we are putting her through all the paces with that as our first major goal, but we are working on other aspects of a well-rounded horse's education as well. In the below video, Terry works Poppy as though she is tied (she is NOT tied, I want to reiterate over and over again to assure you, we would never tie a horse to panels), moving her hind back and forth and having her change eyes on both Terry and the flag. This is great preparation for actually tying Poppy, as it teaches her how to move her feet if she gets bothered while tied, that moving laterally is the correct response, not pulling back. Terry also handles her feet while she is "tied," and Poppy is a very good girl about giving all four of them willingly.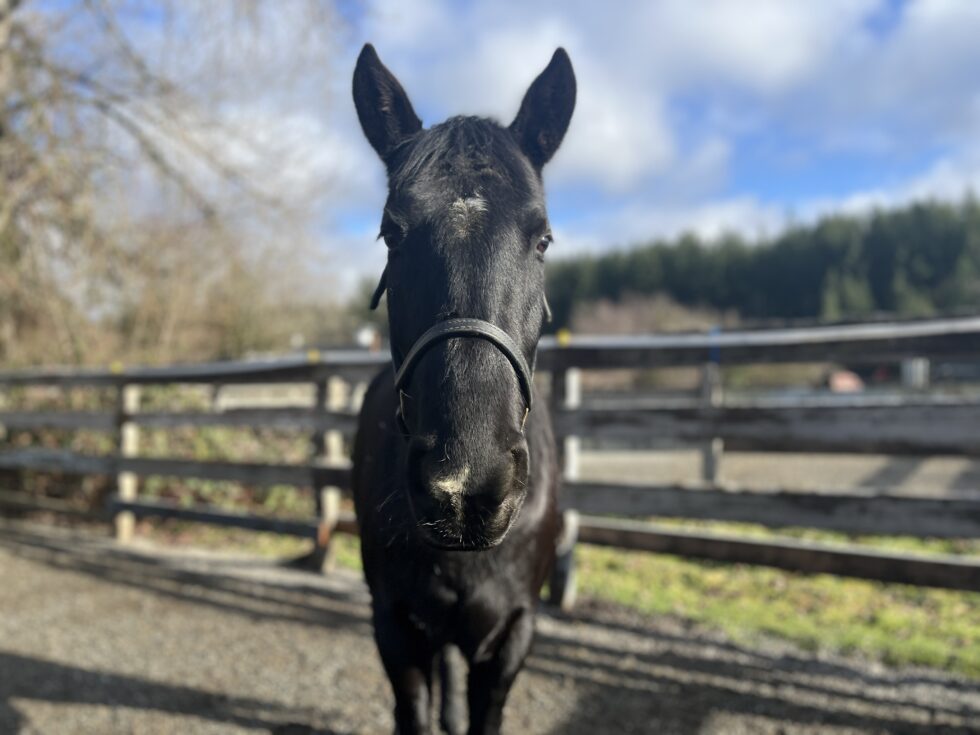 Sweet little Poppy is the more timid of the two black pony cross mares, but it's impossible to decide who is cuter.
Poppy can be difficult to catch, so she still has to wear a breakaway halter to make it easier for her to catch in the paddock, but we have been working on catch and release in the round pen with various people to get her more accustomed to multiple people approaching her and catching her up, and it has already made a huge difference in her willingness to be approached — the breakaway halter should soon be a thing of the past.
She is a nice little mover, and we have been working her through the Red Book progression with the intention of saddling her, as it is unlikely she has been saddled before. She will need a bit more time working through when aids like the flag or the rope mean something and when they don't, but she is a fast learner. She is still nervous about the flag touching her, but has made great progress changing eyes on the rope and giving to pressure.
Poppy is nearly up to date on vet and farrier care. She has a dental float scheduled, where she will also get a microchip and a teat cleaning. She is up to date on her vaccines. She was also dewormed upon arrival, as she arrived with a positive worm load. She is gentle about being groomed and having her feet handled – she has been trimmed twice since arriving at SAFE, with a 6 week trim schedule set going forward. She gets daily thrush treatments to help combat the thrush all the Graham horses arrived with.
She is currently turned out with her near twin, Moshi. The two enjoy sun bathing together and chats with their next door neighbor, Picasso.

Poppy's Friends:
1. George & Donna G.
2. Bear C.
3. ____________________
4. ____________________
5. ____________________
6. ____________________
7. ____________________
8. ____________________
9. ____________________
10._____________________
Every horse deserves at least ten friends! Even a small monthly donation can make a difference. Plus, SAFE horse sponsors receive discounts at local businesses through the SAFEkeepers program!