Quincy
2006 palomino Pony gelding
Type of Rescue: Animal Control Surrender
Intake Date: 1/26/21
Adoption Date: 8/10/21
Length of Time with SAFE: 7 months
ADOPTED!! by Annemarie
Quincy came to SAFE with three other ponies when they were seized by Animal Control for severe neglect. He was part of a bigger herd that came to SAFE the month earlier. The previous owner had hidden the 4 ponies on their property when Animal Control picked up the first group. Quincy came to SAFE as an unhandled stallion, and he was successfully gelded once we got him a bit more gentled. Because of Quincy's age, we felt a companion home would be the best choice for him. He would make a fine friend for another horse, large or small, and he would make a great project for someone who would enjoy caring for a handsome and friendly pony!

Today
Quincy now lives with Annemarie and her two horses, Nick and Ernie. The three horses quickly became friends and Quincy shares stalls with the two, going back and forth between his two new friends until his stall is built. Annemarie is great with Quincy and this once hard to catch pony has found his perfect home where he is spoiled with apple treats, love and two new best horse buddies.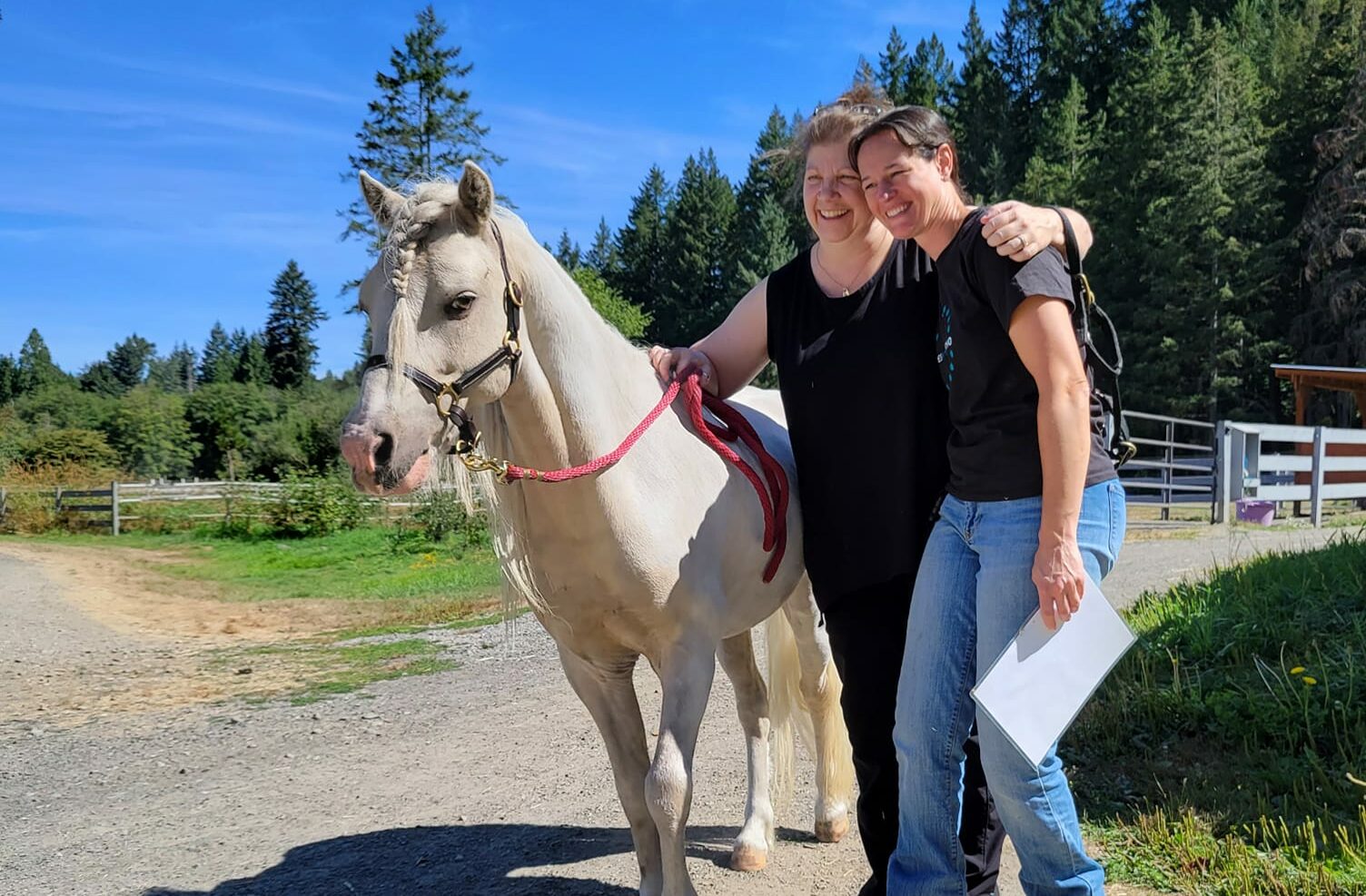 Quincy is adopted! Annemarie turned to SAFE looking for a friend for her horses, Nick and Ernie. On a sunny day in August they headed to Quincy's new home. Annemarie said he arrived without breaking a sweat and unloaded like he's been doing it his whole life.
Quincy came to SAFE as part of a 7 pony seizure from Animal Control. The ponies had been living unhandled, hungry, with overgrown hooves, large worm loads and badly in need of dentals. Quincy was a stallion and at 15 years old, he was the hardest to get him to trust humans. He was difficult to catch and was tense when you touched him. Over time he got better, but he needed to find a home with an experienced handler.
We are delighted Annemarie has the skills to give him a loving, caring home. On a recent update she told us her horse, Ernie, had opened Quincy's gate in the middle of the night and the three horses had their very first hangout together. Quincy was being kept separately while the three got to know each other slowly. She awoke to see all 3 horses hanging out and somewhere in the night Quincy, the little pony, had made it clear to Nick, a 1300 lb Friesian, that he was boss. Now the three get along perfectly. They are currently working on building Quincy a stall, but right now he likes to share, going back and forth between Ernie and Nick's stall. Annemarie has been brushing him, spoiling him with apple treats, putting on a fly mask and says catching him has been a piece of cake! He fits in perfectly and we could not be happier for this little man and his new life.