Roscoe
description: 2006 dark bay Quarter Horse type gelding
type of rescue: Animal Control Surrender
intake date: 1/5/2018
adoption date: 10/13/2018
length of time with SAFE: 9 months
ADOPTED!! by Kasey O
Roscoe and his friend Teddi were seized by Animal Control and signed over to SAFE. Both horses were malnourished and thin, with severe rainrot. Roscoe came to us pretty thin, but he made a nice recovery and transformed into quite a handsome fella! Roscoe proved to be a nice horse under saddle, and several volunteer riders enjoyed working with him during his time at SAFE. Roscoe caught the eye and the heart of his adopter, and the two are enjoying trail riding adventures together.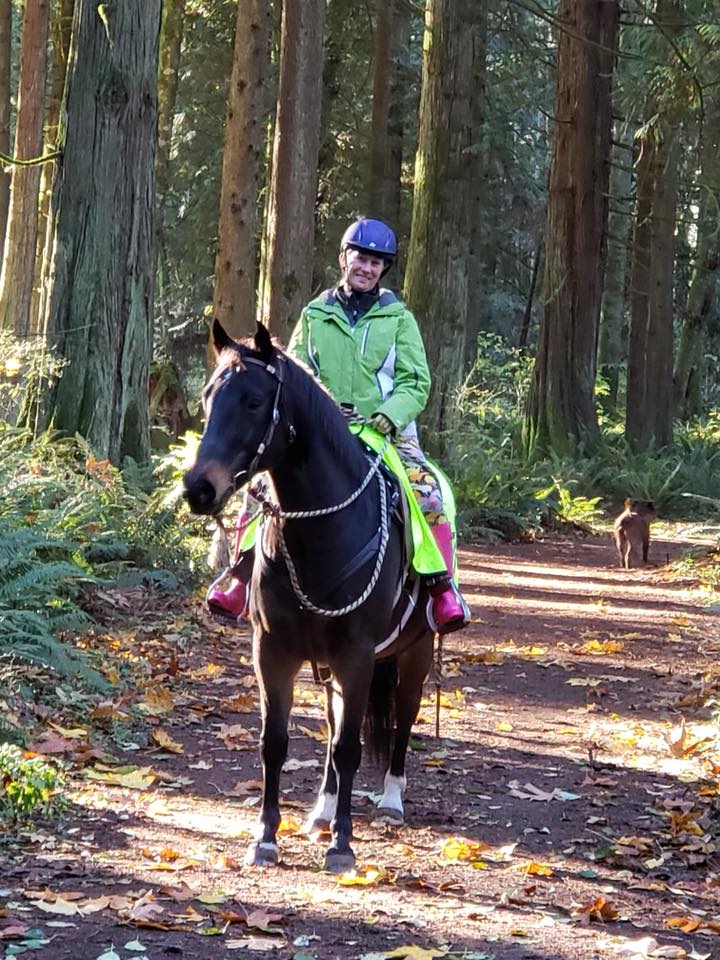 When Roscoe and Teddi arrived at SAFE, they had been mistreated and uncared for quite some time. As they gained weight, the life returned to their eyes showing us that trust can be earned no matter how horrible the past has been. Roscoe had some sort of riding history but from what we could see there was not a lot of formal education. He accepted the saddle but was not a "push button" horse. We had a few people come out to try him but they were looking for something more finished…so he waited and waited some more until Kasey came out to meet him. She was committed to making sure it was the right match and agreed to come out for a second ride before we moved forward to adoption. She and her family fully embraced our philosophy that in order to make a lifetime commitment we have to take our time and make a match that is best for both the horse and adopter. By the second visit, we knew these two were meant for each other. Never will Roscoe be in danger of neglect again and Kasey has a gentleman who returns the love she shares with him. We are thrilled to announce that this adoption is final and Roscoe is HOME! Kasey emailed us a few days again and had this to share this about meeting Roscoe and falling in love:
"For years I have been waiting for the right time. The right time came, and I still waited many more months for the right horse. I have watched the horses at SAFE for years. I perused the adoptable horses one day (again) and came to an absolute stop when I saw Roscoe and read about him. I had that little voice in my heart saying, "this is the one". I asked my husband what he thought and if he was truly ready for me to bring home a new riding horse (I have two older gals at home that I took in and gave their forever home even though I had NOT been looking for them, but they found me anyway and I love them dearly!). He said to go for it. I cried. It took a while to get it arranged, but we finally managed for me to come all the way up and meet Roscoe. A trip worth making a million times if you ask me.
I knew he was the one prior to coming up, but I left room for myself to be wrong. I also had an agreement with myself that I needed to make sure he also chose me. You see, I entered this search without an agenda…sure, I have a lot of riding disciplines I would love to go into, but I want a life riding partner that I can learn with. I wanted the right one. I wasn't trying to find a horse to fit my agenda for a discipline I had in mind, but I was lucky enough to have the freedom to find the horse, and then find out what we were meant to do together.
I digress. Back to adopting Roscoe. Long story short, he chose me. I cried. He is my horse, I am his person. I have had him home now for a little over a month and we are quickly finding our "disciplines" and I couldn't be happier. We are both learning so much, and we will continue to seek out training and help in order to grow to our potential and I cannot wait, but sure am enjoying the ride to get there! I've never had a connection to a horse like I do with Roscoe. Sometimes, it pays to wait and be patient and to put the horse and his needs first! Your horse will not fail to reward you if you do this!!
Adopting from SAFE has been an amazing experience. They take care of their horses, invest in their horses, get to know their horses…and they care about finding them the correct forever home, and I admire their commitment to the horse for the rest of his life. Very professional, very knowledgeable, very thorough. I will support SAFE as long as I can, and I will ALWAYS watch their horses first whenever considering another horse. You don't just "buy a horse" when you adopt from SAFE, but you adopt a companion and heart investment from a place that sincerely cares and shares each horse for exactly who they are. There are no hidden agendas. They are honest and true, and as a result, I have an honest and true horse that I couldn't be more thankful to have.
Sincerely, Kasey O"