Bridgit
description: 2011 brown & white Paint mare
type of rescue: Owner Surrender
intake date:12/12/12
adoption date: 5/19/17
length of time with SAFE: 4 years 5 months
ADOPTED!!
Bridgit came to SAFE as a filly, surrendered to SAFE along with another pinto filly named Jewel. Bridgit has always has the sweetest disposition and just adores people. She was quick to learn basic skills, like leading, trailer loading, standing for the farrier, bathing, and clipping. Bridgit completed 60 days of professional training, and returned to SAFE going well at all three gaits. She spent a long time as a SAFE horse, partly because of some intermittent lameness issues that were difficult to diagnose. She did become a solid riding horse and a favorite of our volunteer riders. Bridgit was adopted in 2017 and became a three generation horse, enjoyed by grandma, mom, and kids. She is beloved in her adoptive home.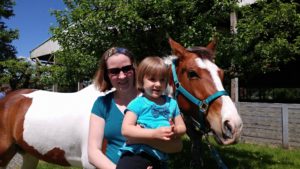 All the horses that pass through the gates of Safe Harbor are special and placing them into wonderful new homes is the best part of our work. SAFE is happy to announce that Bridgit's new family has been found and she is adopted! Bridgit's sweet and gentle disposition was exactly what Kristina and her family needed. The family was looking for what we call a "unicorn," one that is good for the whole family to be around and ride. It is very hard to find a rescue horse that can meet the needs of 3 generations of riders: grandma, daughter and granddaughter but Bridgit is just that exceptional! Everyone she meets is an instant friend and she doesn't have a mean bone in her body. With her soft big doe eyes and youthful energy radiating innocence and joy, this mare is very unique.
Kristina has been out on the trails enjoying Bridgit and she is doing great going out alone or with her new companion Oreo. The little pony gelding and Bridgit are great compadres. The reports and photos of Bridgit we've received during her trial period have been delightful. This extra special mare has found an exceptional family to love her and take care of her for the rest of her life!