Freya
SEX:
mare
BREED:
Morgan type
REGISTERED NAME:
none
INTAKE DATE:
7/29/21
COLOR: chestnut
MARKINGS: Star and Strip, RH sock

For Novice Handler



YOB: 1991
AGE: 31 yrs old
HEIGHT: 15.0 HH
WEIGHT: 975
LOCATION: Redmond, WA
ADOPTION FEE: $300
Freya is a sweet and lovable Morgan type mare, and for a gal in her 30's, she is very healthy! She arrived at SAFE with another gelding, Nyx. Sadly, their owner was diagnosed with pancreatic cancer and was struggling to care for them. They both had very overgrown hooves and a month before coming to SAFE a farrier trimmed their hooves too short. Once we were able to get the farrier in to see them, Freya was so good and now a few months later is completely sound.
Freya also has very good teeth for her age. That means she still gets most of her nutrients from the hay we feed her and doesn't need to live off of grain like a many senior horses. We do give her a little senior feed, just for the nutrients, but overall, this lady is on no medications. Freya takes life in stride, loves other horses and looks out for her buddies. When turned out with other horses she is very respectful.
Her gentle nature has given us the chance to offer our volunteers the opportunity to learn how to properly lead and groom a horse. With Freya as the model, we know everyone will be safe and taken care of. At this point in her life, she wouldn't be good for saddling and going on long rides, but we would be open if a family occasionally wanted to put a kid on her bareback and take short walks. Her ideal home could be someone looking for a horse to teach their kids the responsibility of caring for a horse or maybe someone who needs a companion pet that they can groom and love on. Freya loves attention and stands enjoying each moment of her scratches and massages. Freya is worth her weight in gold for how gentle she is and we are excited to find Freya the perfect home to live out her golden years.
All SAFE horses are adopted with a no-breeding clause, no exceptions.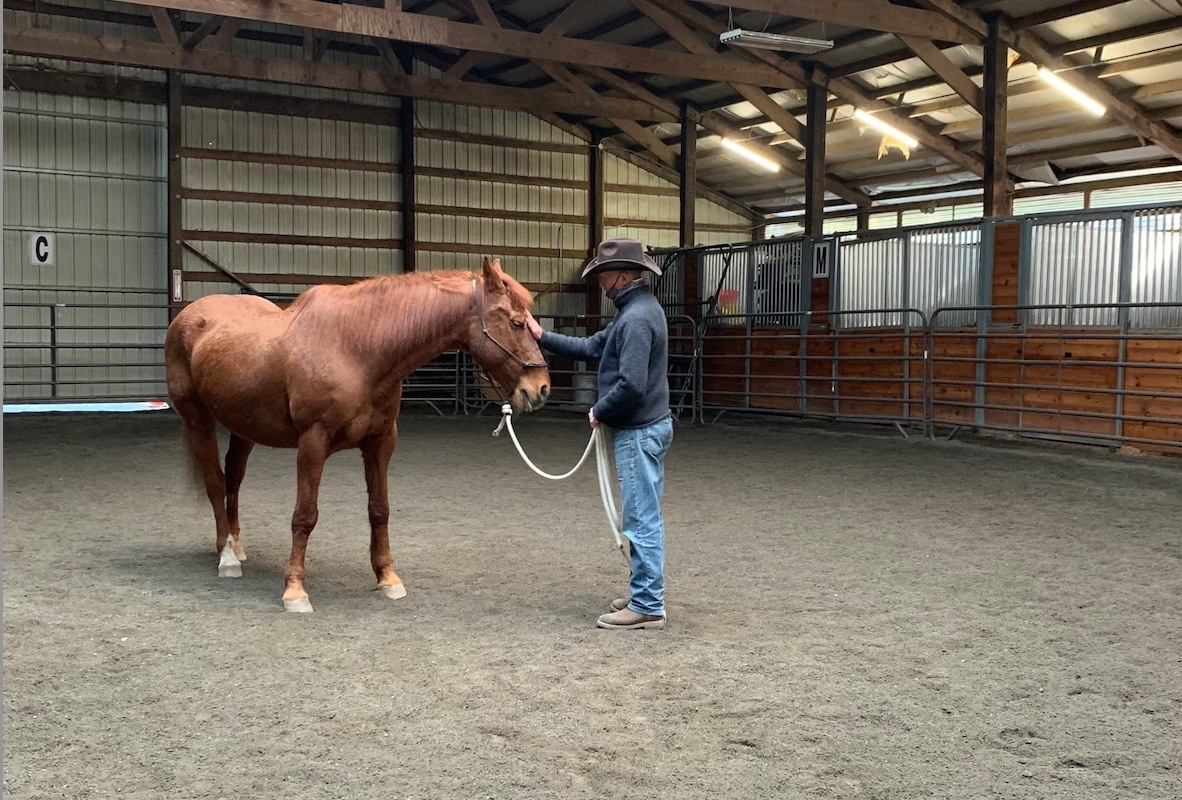 One of our volunteers, Bob M. came to watch and participate in a horsemanship weekend at SAFE. Here's what he had to say:
"A few weekends ago, I attended the first 'in house' horsemanship gathering that Terry organized and hosted. At the end, I got my first experience doing a bit of groundwork with Freya and found it very valuable. As I heard from others more experienced, Freya is 'very soft' and was a good partner to start with. Kaya's insights on where to stand, move and use the lead rope were very helpful. It was clear the more comfortable and clear I am, the better I will be able to communicate with my equine partner.
Having attended a couple of Buck Brannaman's clinics, as well as several at SAFE with Joel Conner, I know 'softness' is a high priority in this style of horsemanship. Interestingly, softness is also a foundational goal in Tai Qi, the Chinese movement practice. In my Tai Qi studies, the goal is to be soft, long and round in our movements. That may seem a bit incongruous with horsemanship, but I believe the principles are the same. For the horse, or the person, learning to let go of held tension and response patterns increases freedom of movement and supports the capacity for thoughtful responses rather than unconscious reactions.
Coupled with 'softness', and apparently a process to achieving it, is the concept of 'pressure and release.' This initially sounded like teaching through avoidance of something negative. My sense now is more of clearly defining boundaries so the horse can understand what is being asked of it. The 'good deal' is offered first followed by more intensity, and even a 'bump' when needed, to get more attention. All is done with the goal of getting to softness and an increased rapport and collaboration between horse and human.
Pressure and release has been a constant throughout the many exercises I've observed in groundwork and while watching riders. My ability to recognize it is growing, and I've had few experiences feeling it as well. In addition to my session with Freya, I have been working on 'leading at a distance' with Owen. He's a very good teacher because he has a tendency to creep up and crowd a bit. This has given me the opportunity to be clear in my communication, to get him to step back and stay back, as we walk. We're still a bit inconsistent, but now I can feel where he is through the lead rope – and he's recognizing that a turn of my head means he needs to step back. I'm also learning how important it is to make sure a horse is 'with me' and paying attention – and that seems to depend on how clearly I'm with the horse.
Another observation from the workshop was watching Terry work with several horses to get them to be more comfortable seeing with both eyes. That's a bit of an awkward way to say it, but it's common for horses to favor one eye and one sense of direction. They are often very uncomfortable turning away from that 'good' side and so they are limited in their options of movement. It's easy to imagine how knowing you can turn left and right would lead to being much more comfortable overall.
Ending work sessions on a positive note was also emphasized in the day. Rather than just stopping at a particular time or out of frustration with a difficult goal, emphasis is on leaving the horse with a feeling of accomplishment, however small it might be. I can certainly feel the significance of that in my own life, so it makes sense horses' respond similarly.
Observing clinics has been an important part of my education at SAFE in this last year. Initially, all was rather overwhelming and I couldn't really see or understand what was going on. However, over time that is changing and Terry's ability to communicate what she and the horses are doing is extremely valuable. Input from Casey and Lisa and other horsemanship volunteers was very helpful as well. So much experience and generosity of learning at SAFE! I look forward to future clinics and gatherings and encourage volunteers to attend who want to understand how SAFE has such a positive impact on our incredible horses."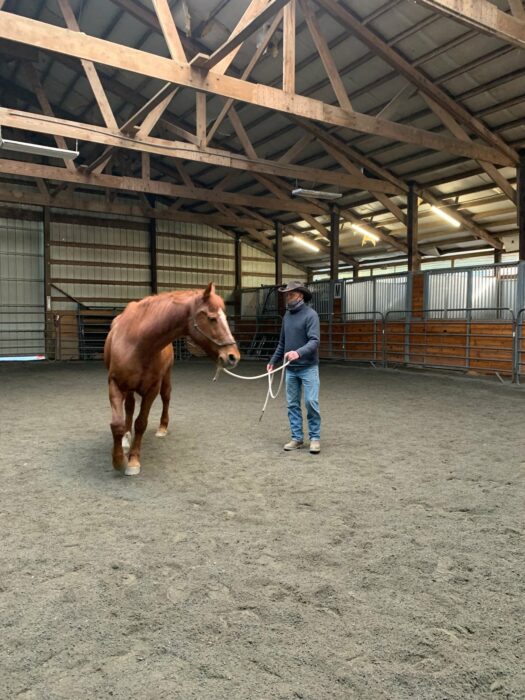 Freya's Friends:
1. Lisa G.
2. Margaret L.
3. Sarah P.
4. Henry E.
5. Kristin L.
6. _____________________
7. _____________________
8. _____________________
9. _____________________
10. ____________________
Every horse deserves at least ten friends! Even a small monthly donation can make a difference. Plus, SAFE horse sponsors receive discounts at local businesses through the SAFEkeepers program!