Glory
description: 2015 Haflinger cross mare
type of rescue: Animal Control Surrender
intake date: 3/13/2018
adoption date: 2/9/2019
length of time with SAFE: 11 months
ADOPTED!! by Melissa N of Dayton WA
Glory's Story
Glory and her herdmates were seized by Animal Control after being starved and neglected by their owner. Glory and her friends Fancy and Justin, were signed over to SAFE on March 13, 2017. They came from the same place as Roscoe and Teddi, who were also taken away from their owner by animal control. Glory is the daughter of Bowie, the Haflinger stud who was also seized from the property. After regaining her health and good weight, Glory was saddled at SAFE and worked lightly in the roundpen. She was turned out for the summer and brought back to SAFE in the fall to be started under saddle.
Glory Today
Glory grew into a cute 3‑year-old mare with a lot of potential and was adopted in February 2019. We were lucky to find Melissa to help her grow and mature into a saddle horse with an appropriate training program.
Glory has a great foundation thanks to SAFE volunteers, who brought her along in the round pen and lightly under saddle. She was a pleasure to get to know, and we're looking forward to updates from Melissa on Glory's progress!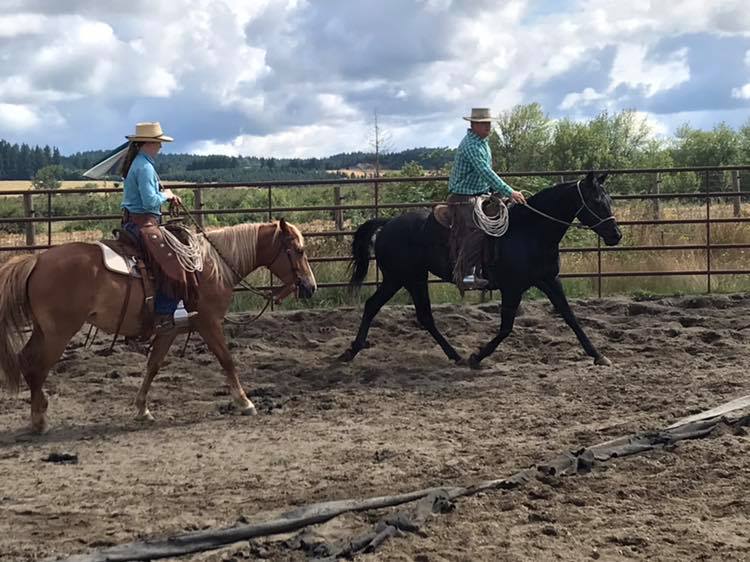 We sent Luna out to Nick Donohue for her start under saddle, and it was so nice to see a SAFE horse helping another SAFE horse. Thanks for the flagging assist, Glory!