Justin
breed: 2004 dark bay Quarter Horse type gelding
type of rescue: Animal Control seizure
intake date: 3/3/2018
adoption date: 5/2/2019
length of time with SAFE: 1 year, 2 months
ADOPTED by Kim!
Justin's Story
Justin and his herdmates were seized by Animal Control after being starved and neglected by their owner. Justin and two fillies, Fancy and Glory, were signed over to SAFE on March 13, 2018. They came from the same place as Roscoe and Teddi, who were also taken away from their owner by animal control.
Justin bounced back well from his neglect. He was reunited with his good friend Roscoe, and the two spent happy days in the pasture together, side by side. While he was with SAFE, he completed 60 days professional training and was an uncomplicated, easy-to-handle partner under saddle.
Justin Today
Justin found his home with Kim! She fell in love with him right away–hard not to, since he's is big sweetheart who loves a little head snuggle and has a heart of gold. Justin's settled in with his new brother, Linus, and is stretching his legs in ample pasture. We wish them the best of luck and many happy years together!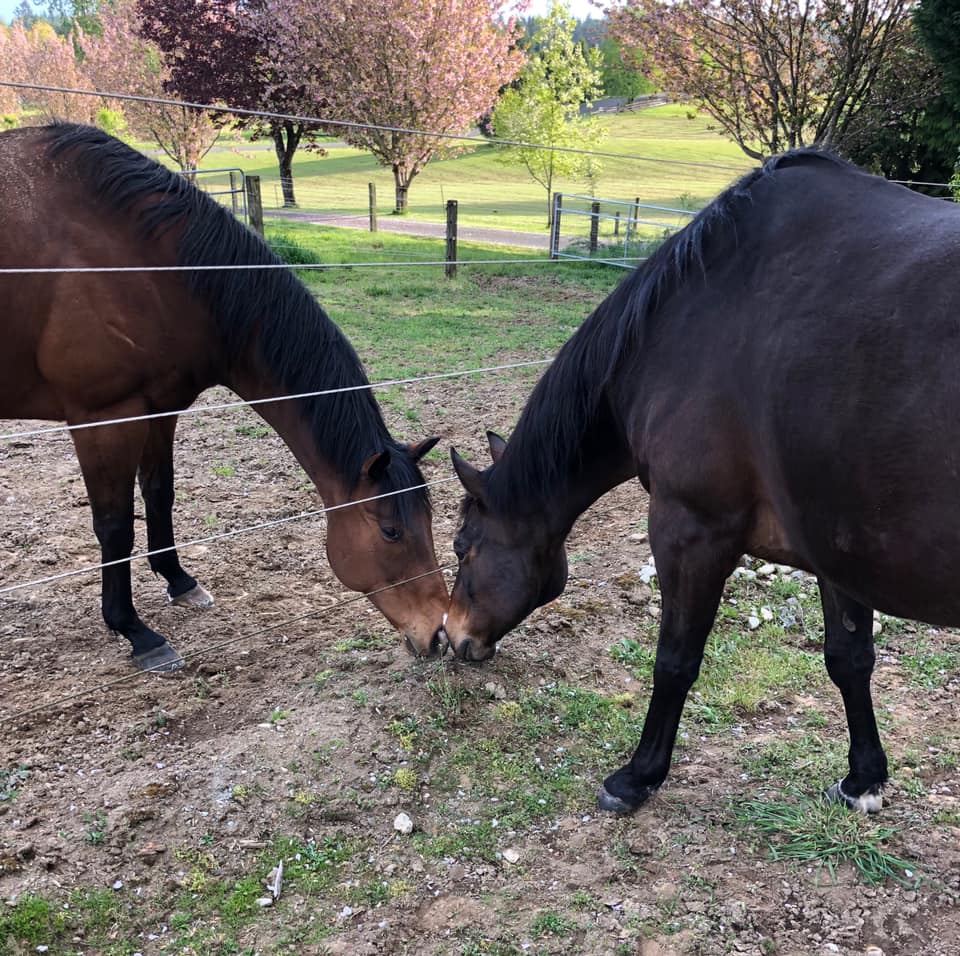 Justin has found an outstanding home with Kim! They are a great pair and Justin has a new brother named Linus. They are all doing well and loving the pasture together! Kim had many OTTB and when she met Justin, she saw in him characteristics of her old partners. His gentle ground manner and thoughtful nature were a big part of why she fell in love with him. She took her time getting to know him at SAFE before taking him home and we are thrilled that everything has gone well since the move.
Kim is a very thoughtful and responsible horse owner. She fell in love with Justin I think at first sight but she was careful to make sure he was the right match for her. Kim and her husband Kerry have a beautiful home. It is a perfect place for the horses to enjoy pasture time and stretch their legs. Kim had this to say about her new partner: "He is so very very good and I love him so much…I watch him in the field and just know he was meant to be mine."
We are all so grateful that Kim came to SAFE looking for her next riding partner. Justin is an extremely lucky boy to have such a great family to call his own. We wish them the best of luck and many happy years together!