Marta
SEX:
Mare
BREED:
Arab
REGISTERED NAME:
MWF Marta
 
COLOR:
Bay
MARKINGS:
Stripe and one front sock
 
 
DOB:
Feb 18, 1992
AGE:
27
HEIGHT:
14
WEIGHT:
LOCATION:
Redmond

On Adoption Trial
 
 
Marta's Story
Marta is one of 16 horses seized by Pierce County Animal Control on Nov 8, 2011. These horses were part of a breeding operation, and all 16 were starving. At the time of the seizure, Marta was thin with rainrot and hair loss, overgrown hooves and a badly matted tail. We know very little about Marta apart from her breeding. 
Marta Today
With proper care and good diet, Marta has blossomed into a lovely mare. She's embraced a life of leisure as a companion horse after being rescued from starvation, though at 26 years old she still has plenty of energy for a good gallop and romp.
Very much a social butterfly, Marta nickers for her people and makes a great pasture mate. She also stands well for the farrier and vet. If you're looking for a sweetheart companion horse, look no further!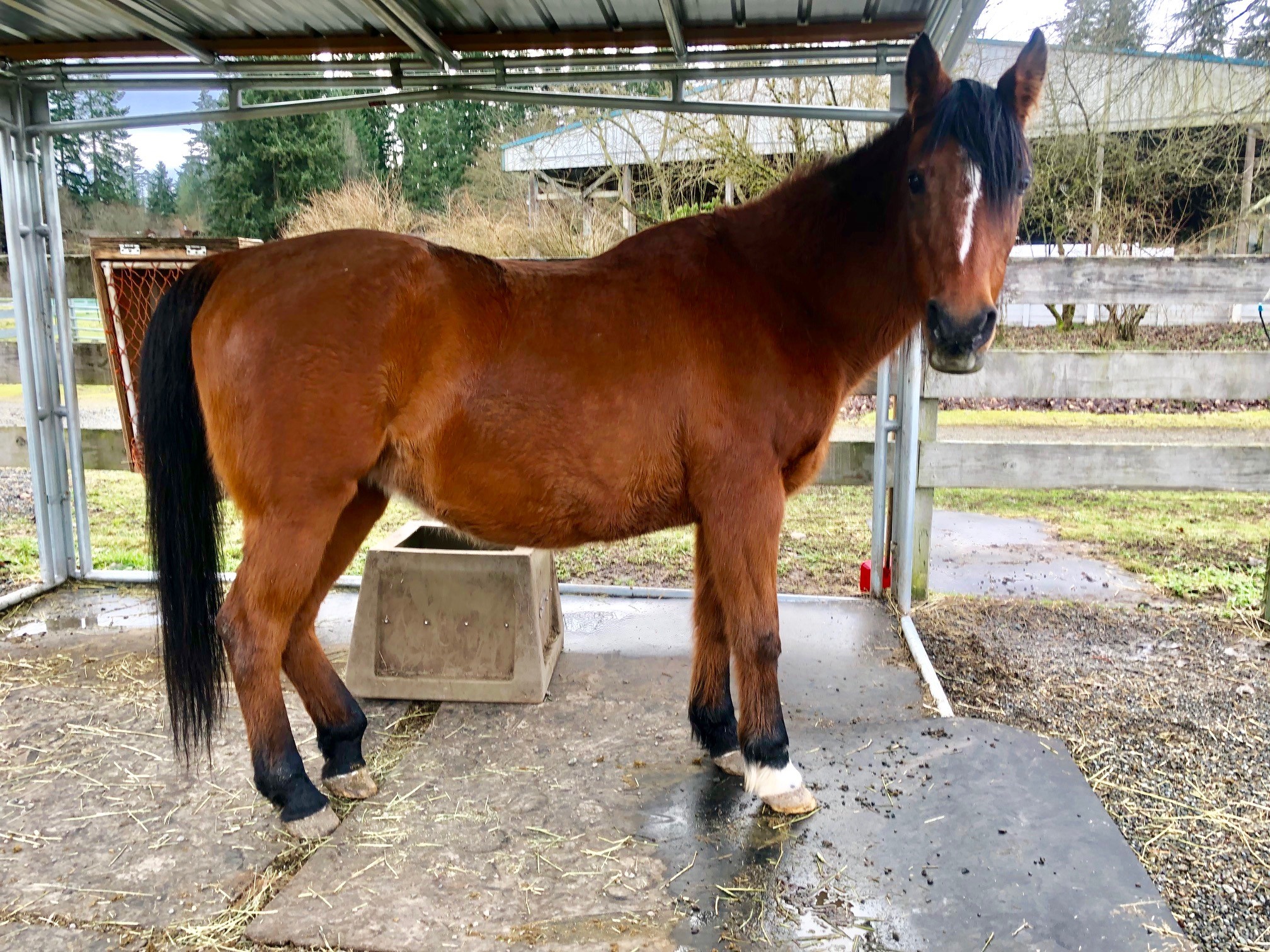 At the end of December, Marta had a dental with Dr. Fray of Pilchuck Veterinary Hospital. Marta has been dropping weight lately, and an oral exam revealed why. Once she was sedated, Dr. Fray found the beginning signs of Equine Odontoclastic Tooth Resorption and Hypercementosis (EOTRH). EOTRH is a painful dental disease that can occur in older horses. The disease is progressive and has no cure other than surgery to remove affected teeth in more advanced cases, but it appears that Marta's case is not severe enough yet to warrant surgery.
Dr. Fray recommended that Marta be switched to a diet of strictly pelleted feed to provide her with the nutrients she needs in a form that is easier for her to  chew. She can have access to hay if she wants to chew on it, but it can't be her main source of calories since she just nibbles on it. She has also been  started on Equioxx, a medication for pain management.
In order to be able to closely monitor both her weight gain and the EOTRH, we decided to bring Marta back from her foster home. She has been here just a few short weeks, but in that time since being transferred to the new diet and being put on the pain meds she is gaining her weight back steadily. She will munch on a few mouthfuls of hay, but much prefers her sloppy mashes of senior feed.
She is a happy camper and seems to be enjoying her new surroundings, and has developed friendships with her two stall neighbors, Stella and Amelia. We are enjoying having her around Safe Harbor Stables again.

Marta's Friends:
1. Gwendolyn M.
2. Lisa P.
3. Meribeth G.
4. Samantha G.
5. Victoria G.
6. _____________________
7. _____________________
8. _____________________
9. _____________________
10._____________________
Every horse deserves at least ten friends! Even a small monthly donation can make a difference. Plus, SAFE horse sponsors receive discounts at local businesses through the SAFEkeepers program!