Nashville
SEX:
Mare
BREED:
Quarter Horse
REGISTERED NAME:
Smart Zipleana (AQHA)
COLOR:
Chestnut
MARKINGS:
Blaze
DOB:
April 17, 2006
AGE:
11
HEIGHT:
14.3
WEIGHT:
916 lbs
LOCATION:
Redmond
ADOPTION FEE:
TBD
Online Adoption Application
Nashville and her five herdmates were surrendered to SAFE by their owner, who was no longer physically or financially able to properly care for them. The horses were in decent weight but had not had farrier or dental care in some time. Nashville's x-rays were clean apart from a slight clubfoot in her LF, but she is sound and should be fine with proper hoof care. The horses have all been trimmed by SAFE's farrier Daphne Jones, and despite their badly overgrown hooves, we are confident that they will fully recover from their neglect. Nashville has had two foals in her lifetime and is the dam of Valor, also surrendered to SAFE.We are told that she has had 60-90 days of prior training, but we plan to put her through our training program as an unstarted horse to give her a good foundation. She is a pretty mare with a mild disposition, and will make someone a fine friend someday soon.
All SAFE horses are adopted with a no-breeding clause, no exceptions. Nashville will be offered for adoption as a riding horse or a companion horse only. Nashville's adoption fee will be determined once she starts training and will be in the range of $1,500 – $2,500.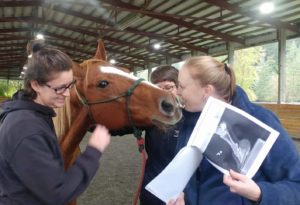 Last September we noticed that Nashville appeared lame during her groundwork sessions. Cantering seemed problematic for her and she had a tough time keeping her leads and not "bunny hopping." It was concerning considering her son, Valor, had just had surgery to fix his locking stifles.
A lameness evaluation was performed by Dr. Renner from Rainland. On exam the pain seemed to be originating more from her lumbar area, but it was difficult to pinpoint and therefore difficult to diagnose. He recommended we do a bute trial to see if pain medication would make her sound again. The answer we would get from that trial would give us information about which diagnostic route to proceed with.
A bute trial was performed in October and Nashville seemed greatly improved with the anti-inflammatory medication on board. Using grant money from Pilchuck Veterinary Hospital, we had Dr. Devine perform a recheck on her. She came to a similar conclusion—it seemed to be originating from the lumbar/sacral area and we were looking at a needle-in-a-haystack kind of situation.
At that point we had some decisions to make. We could have a bone scan performed to get a better idea of where the pain was originating, we could begin doing diagnostic nerve blocks, or we could give her some time off and see if she showed any improvement. There were a lot of aspects to think about regarding that decision. The biggest obstacles were the fact that Nashville hadn't had much prior handling and would not have been gentle enough for nerve blocks, and also that she had never been started under saddle. Spending large sums of money doing diagnostic procedures on a horse that may never be a riding horse is not the best use of funds. We opted to start with the easiest and least expensive route and give her time off, along with some chiropractic adjustments performed by Dr. Meyer of Pilchuck.
Dr. Devine came out last December to evaluate her again, and her lameness seemed improved. She gave us the OK to put her back to work, and we will reassess her lameness again if it reappears. Today Nashville is doing well. There are still some minor concerns and she is not 100%,but the work she's doing now does not seem to cause her any discomfort. We will continue to get her gentler and started as a riding horse so we can better evaluate any lameness if it returns.

Nashville's Friends:
1. Lillian H
2. _____________________
3. _____________________
4. _____________________
5. _____________________
6. _____________________
7. _____________________
8. _____________________
9. _____________________
10._____________________
Every horse deserves at least ten friends! Even a small monthly donation can make a difference. Plus, SAFE horse sponsors receive discounts at local businesses through the SAFEkeepers program!