Nashville
SEX:
Mare
BREED:
Quarter Horse
REGISTERED NAME:
Smart Zipleana (AQHA)
COLOR:
Chestnut
MARKINGS:
Blaze
DOB:
April 17, 2006
AGE:
12
HEIGHT:
14.3
WEIGHT:
916 lbs
LOCATION:
Redmond
ADOPTION FEE:
$1,000
Online Adoption Application
Nashville's Story
Nashville is an incredibly sweet mare who came to SAFE virtually unhandled. Despite this lack of education and experience, Nashville is taking very well to the introductory work of SAFE's Horsemanship program! She was recently started under saddle, shows a great willingness to learn, and is excelling quickly! This mare will make an excellently soft and willing riding partner for someone with the proper handling and continued education.
All SAFE horses are adopted with a no‐breeding clause, no exceptions.
Nashville Today
Nashville is relatively uncomplicated and needs an intermediate rider or beginner working with a trainer who can offer her a balanced seat, soft hands, and support to help her build strength and find balance under saddle. She is still green in arena work and will need some support through the next stages of her education. In her introductory trail rides, she was steady in the lead or in the rear, brave, and enjoyed being outside.
Nashville shows a great willingness to learn, a keen mind, and a lot of try. She handles very nicely, does well turned out with her small herd, and stands well for the vet and farrier. She is a wonderfully clever girl who we feel will bloom with patience and consistency.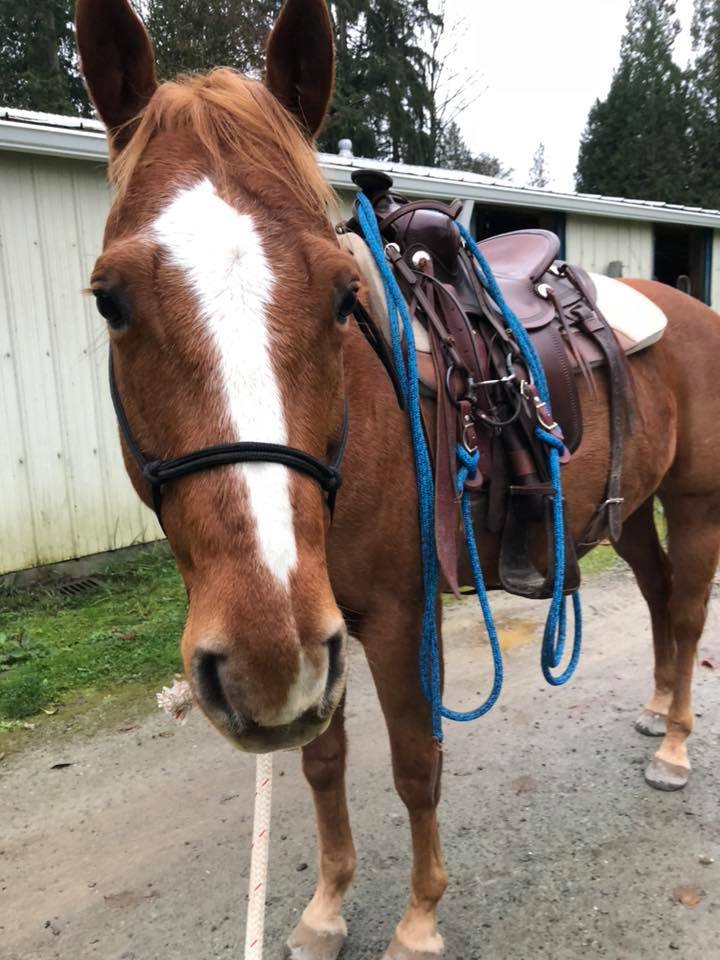 I worked with Nashville for all 3 days of this recent Joel Conner clinic. Every time I ride this horse I like her more and more! During the groundwork portion I focused on getting her to have a better expression. She often pins her ears when asked to do something and Joel helped me work on my energy level and timing to get a change in her. By the end of the session she had a much more pleasant expression and I felt like we made good progress.
Since the last clinic, Nashville and I have been working on getting her to be more punctual. She is now more responsive to my seat for upward transitions, but we still had a little more work to do in this area. I have been simultaneously working on getting a more pleasant expression under saddle. This is a balance for me between getting more "go" while also keeping her relatively content about doing it. Going forward I'll be working to fine tune upward and downward transitions; more energy going upward into the trot and lope, coming back down after a few good strides, and maintaining punctuality with both.
Every time I participate in a clinic I get more and more insight into how I can improve my horsemanship. Nashville has been a fun partner to experience this with.
Below, photos of volunteer Phoebe riding Nashville:

Nashville's Friends:
1. Lillian H
2. _____________________
3. _____________________
4. _____________________
5. _____________________
6. _____________________
7. _____________________
8. _____________________
9. _____________________
10._____________________
Every horse deserves at least ten friends! Even a small monthly donation can make a difference. Plus, SAFE horse sponsors receive discounts at local businesses through the SAFEkeepers program!