Nashville
breed: 2006 chestnut Quarter Horse mare
registered name: Smart Zipleana (AQHA)
type of rescue: Animal Control seizure
intake date: 8/17/2017
adoption date: 2/15/2019
length of time with SAFE: 1 year, 6 months
ADOPTED by Anna and Tim!
Nashville's Story
Nashville is an incredibly sweet mare who came to SAFE virtually unhandled. Despite this lack of education and experience, Nashville is taking very well to the introductory work of SAFE's Horsemanship program! She was recently started under saddle, shows a great willingness to learn, and is excelling quickly! This mare will make an excellently soft and willing riding partner for someone with the proper handling and continued education.
All SAFE horses are adopted with a no-breeding clause, no exceptions.
Nashville Today
Nashville found a home! This relatively uncomplicated mare needed someone like Anna, who has taken Nashville home to hang with her goats, continue her education with Anna's trainer, and go on long trail walks.
Our volunteer riders found Nashville was green in the arena but on her introductory trail rides, she was steady in the lead or in the rear, brave, and enjoyed being outside. Nashville always showed a great willingness to learn, a keen mind, and a lot of try. We think she'll make a perfect match for Anna.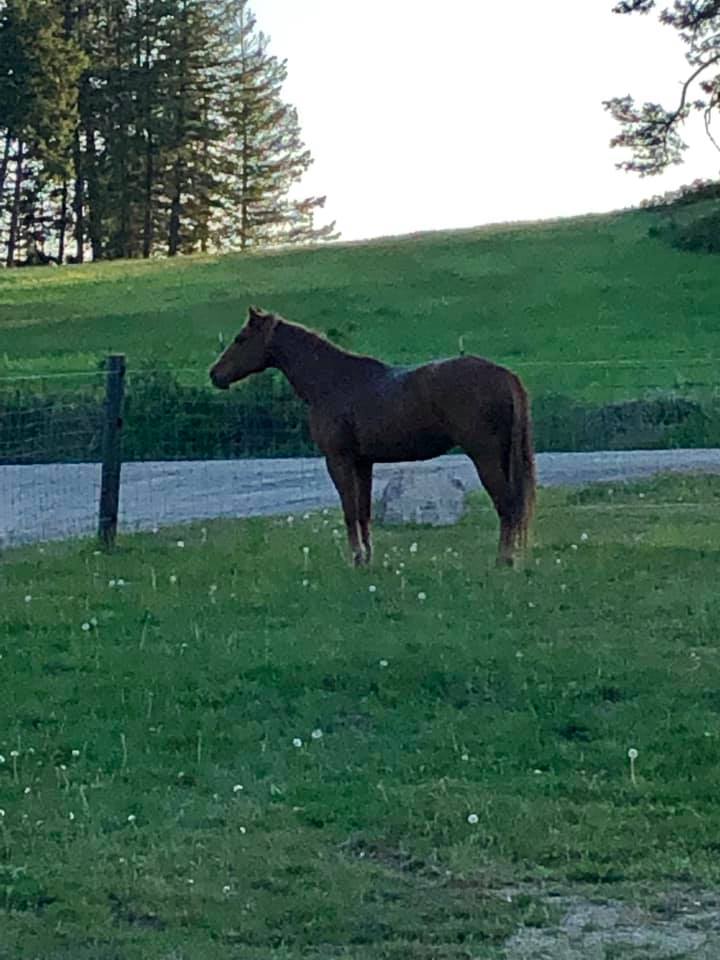 Finally, we can shout it from the roof tops: Nashville has found a HOME!!
This very well-minded mare met a wonderful family and they accepted her for who she is and what she had to offer. Over the last few months this mare had met a few families but nothing came to fruition. When Anna and her husband Tim came across the state to meet Nashville they both fell in love and this deserving mare was a perfect match! We are confident that this pair will grow together with the support of her community and Nashville has found a loving forever home.
One delightful thing about this partnership is that despite Nashville only having a year under saddle, her gentle temperament is exactly what Anna wanted in a partner. They plan on having lessons with their local trainer and go on lots of long trail walks. Nashville is living at their home and has taken well to the companionship of their goats. Anna says: "She's sassy but it's part of her charm! She's family now and stuck with us!"
We are elated to have found such an awesome family for this girl. She is going to have a beautiful loving home for the rest of her life! Happy trails, Nashville, and cheers to a bright future!