Razin
2017 black Pony gelding
Registered Name: none
Type of Rescue: Animal Control Surrender
Intake Date: 1/5/21
Adoption Date: 4/2/21
Length of Time with SAFE: 3 months
ADOPTED!! by Heather
Razin's story: Razin and three other horses were seized by Animal Control after a 5th horse on the property died due to neglect. The survivors all suffered from overgrown hooves, lice, malnutrition, enormous worm loads, and lack of dental care, causing painful ulcerations in their mouths. Razin was the smallest of the group at 10hh and he looked very much like a baby, but his teeth showed that he was at least 4 years old. He looked like he might be a cross between a pony and a mini horses. He's very dark bay with a bleached mane and tail, a star and snip, and two socks on his hinds. Razin was not down with being caught or touched when he first arrived, but he was a quick learner and it wasn't long before it was easy to catch him. We also discovered after he arrived that he was a cryptorchid, which required surgery. The procedure went well, and Razin became a gelding for real.
Razin Today: Razin lives a great life with his horse friend, Liam, a dog named Quinn, donkeys and a wonderful new home with Heather.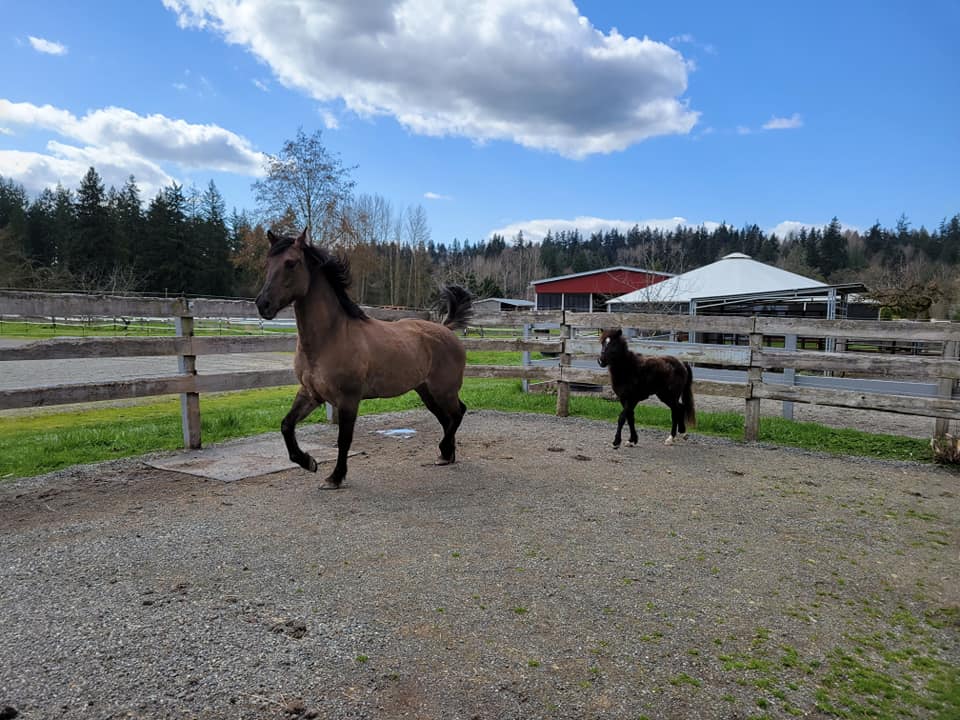 We all felt the hope that the new year would bring us once 2020 was in the rear-view mirror. Of course, that took more time than most of us would have liked, but for a few horses at SAFE, 2021 was a start to a new, positive life. Razin and two other mares arrived at SAFE just five days after the start of the year. They had been living unhandled and severely neglected, suffering from overgrown hooves, lice, malnutrition, and enormous worm loads. Their lack of dental care caused painful ulcerations in their mouths. Little Razin was full of spunk from the start. He was the hardest one to catch when we picked him up, but also the most curious when volunteers were cleaning their paddock. Not long after, we heard from Animal Control, who had originally seized the horses, that there were another 4 ponies the owner had been hiding on his property. Two were stallions and another was a mare with a 6‑month-old foal. We gladly opened our gates to them too.
Once we realized that the owner had not gelded any of the male horses on the property, we started to wonder about our little boy Razin and why would they have chosen to only geld him. A blood test was unconclusive, but an ultrasound determined that Razin was in fact a cryptorchid, which meant his testicles had not descended. SAFE held a fundraiser and was able to raise more than enough money for his surgery.
It wasn't long after his surgery that Heather came to SAFE to meet Razin and brought along her riding horse Liam and dog, Quinn to make sure it was a perfect match. Liam and Razin hit it off right away! We let them loose in one of our open paddocks and they ran around having fun. Terry, our Operations Director, even caught a video of Razin cuddling Liam while Liam stood there seemingly to not notice.
Razin, now Logan, headed to his new home at the beginning of April and made himself right at home with all his new friends, including some donkeys! It's as if he's been there forever, cuddling on Liam and even walking into Heather's house when the door is left open. Our little squirt, Razin, has found a perfect forever home surrounded by many friends where he can just be himself.