Sage
| | | | |
| --- | --- | --- | --- |
| SEX: Mare | BREED: pony | REGISTERED NAME: none | |
| COLOR: bay | MARKINGS: | | |
| YOB: 1995 | AGE: 23 | HEIGHT: 13.0hh | WEIGHT: |
| LOCATION: Redmond | ADOPTION FEE: $300 | Online Adoption Application | |
Sage and Pyrrha were seized by Animal Control due to neglect and lack of care. The two mares had essentially been abandoned in a field and left to fend for themselves for quite some time. They were both in poor weight with massive amounts of dirty, matted fur all over their bodies. Sage was so furry when Animal Control dropped her off, she resembled a small yak! But underneath all that hair was a lovely pony. Our veterinarian was concerned that Sage might have Cushing's, so we began a trial of a medicine called Prascend. When we rechecked her ACH levels in mid June, she was back to normal, however, our vet has told us that she will likely need to be on a low dose of Prascend for the rest of her life. Sage is totally worth the extra effort! She's a nice girl in search of a good home where she will get the treatment she deserves for the rest of her life.
All SAFE horses are adopted with a no-breeding clause, no exceptions.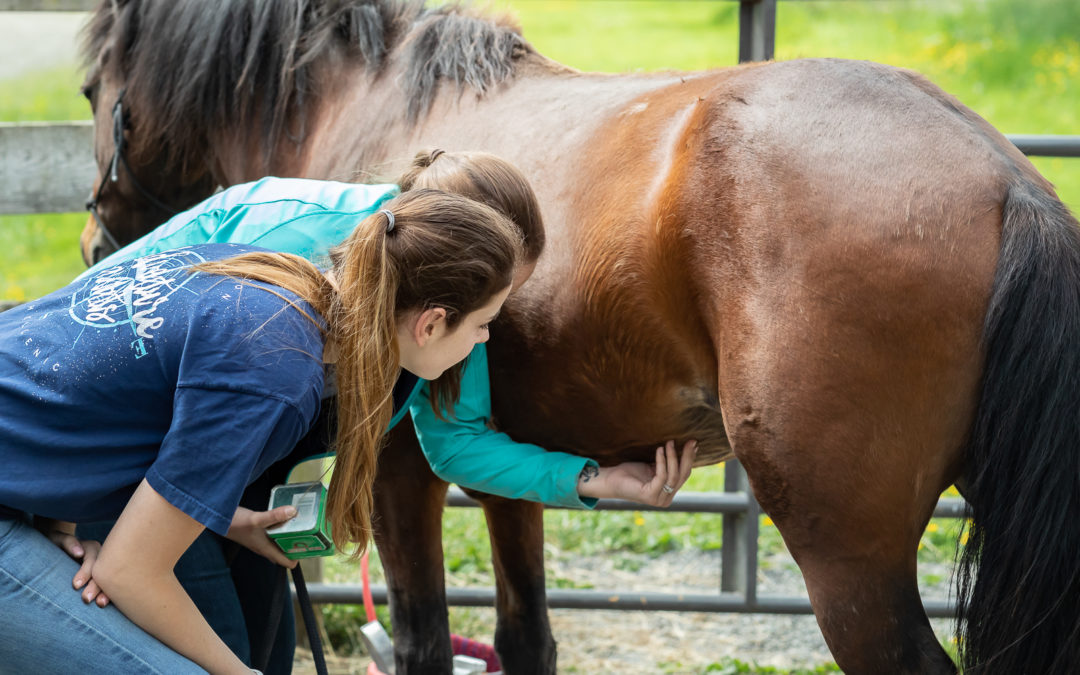 Sage got a visit from Dr. Fleck today to recheck her ACTH level. She's been on a trial dose of Prascend for several weeks since her level came back at the high end of normal at her last vet visit, and she looks and acts like a new horse. We'll have answers from the bloodwork in a few days, but Dr. Fleck recommends that we just keep her on the Prascend indefinitely regardless of the test results.
So what does this mean for Sage? It means she does not have a definitive diagnosis of pituitary pars intermedia dysfunction (PPID, also know as Cushing's), but she also is a senior pony who had an elevated ACTH level and would benefit from being on this medication for the remainder of her life. She's in the grey area. This isn't the news we had hoped for, but it's also not the end of the world. Sage is on a low dose of Prascend, so the cost of her medication is essentially half that of an average-sized horse.
We are also starting Sage on an antihistamine for summer bug allergies. She's been getting an oral supplement that works as a bug repellent from the inside out, and also on a monthly dose of Ivermectin as recommended by our vets. Those products have helped with her "sweet itch" and healed the raw spots on her belly that are caused by it, but she started rubbing her mane last week so we knew she needed a little something extra in the treatment department.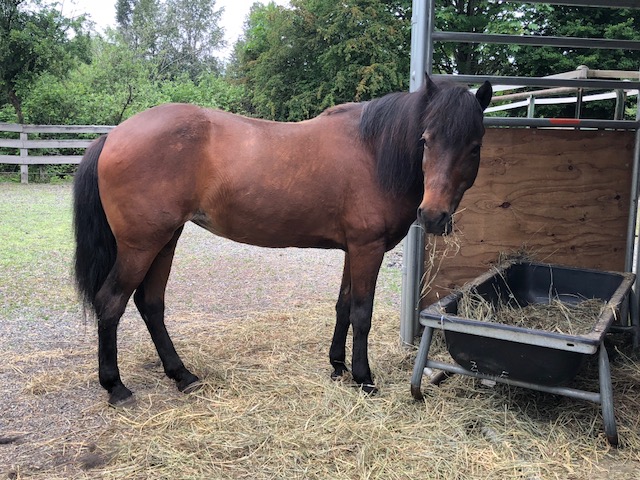 Our little Sage has blossomed! She came to us with a long, dull coat from neglect and malnourishment–so long and scruffy, in fact, that some of us referred to her endearingly as our little yak-pony. But after some good nutrition, a few baths, and a round with the clippers, she is a beautiful little pony.
When Sage first arrived, Dr. Fleck suggested we test her for pituitary pars intermedia dysfunction (PPID), also referred to as equine Cushing's disease. Her physical appearance and aged pony status checked several of the boxes that are considered to be characteristic of this disease. Blood was drawn, and her ACTH level came back at the high-normal end of the acceptable range. This does not diagnose her as Cushingoid necessarily, but was enough of a nod toward pre-Cushing's status that she has been prescribed Prascend, a medication that manages PPID. We will be re-testing her ACTH levels in a few weeks, and at that point will have a better idea of whether or not she will need to be considered a PPID horse and need lifelong management of this disease. Several factors other than PPID can cause an increased ACTH level, and Sage also fit those characteristics–most notably, a horse under stress from undernourishment and neglect. We are hopeful that now that she is at SAFE, getting proper care and appropriate nutrition will cause her blood levels to fall back to a more normal range.
Regardless of her PPID status, one thing will probably never change for Sage… her eating habits are less than tidy. But we love her anyway.

Sage's Friends:
1. Jessica F.
2. Yaffa C.
3. _____________________
4. _____________________
5. _____________________
6. _____________________
7. _____________________
8. _____________________
9. _____________________
10._____________________
Every horse deserves at least ten friends! Even a small monthly donation can make a difference. Plus, SAFE horse sponsors receive discounts at local businesses through the SAFEkeepers program!