Sage
| | | | |
| --- | --- | --- | --- |
| SEX: Mare | BREED: Pony | REGISTERED NAME: none | |
| COLOR: Bay | MARKINGS: | | |
| YOB: 1995 | AGE: 23 | HEIGHT: 13 | WEIGHT: |
| LOCATION: Redmond | ADOPTION FEE: $300 | Online Adoption Application | |
Sage's Story
Sage and Pyrrha were seized by Animal Control due to neglect and lack of care. The two mares had essentially been abandoned in a field and left to fend for themselves for quite some time. They were both in poor weight with massive amounts of dirty, matted fur all over their bodies. Sage was so furry when Animal Control dropped her off, she resembled a small yak! But underneath all that hair was a lovely pony. Our veterinarian was concerned that Sage might have Cushing's, so we began a trial of a medicine called Prascend. When we rechecked her ACH levels in mid June, she was back to normal, however, our vet has told us that she will likely need to be on a low dose of Prascend for the rest of her life.
All SAFE horses are adopted with a no‐breeding clause, no exceptions.
Sage Today
Sage came to SAFE a shaggy, slightly pushy pony, but Horsemanship groundwork at SAFE has made her a polite equine citizen.
She has lots of personality and is in good health for her age, though with slightly elevated ACTH levels, she benefits from a low dose of Prascend. (She also appreciates an antihistamine in the summer for her bug allergies.) She stands well for the vet and farrier but will benefit from continued groundwork to yield her feet. Sage plays nice with others and would make an excellent companion, not to mention a cute addition to the herd!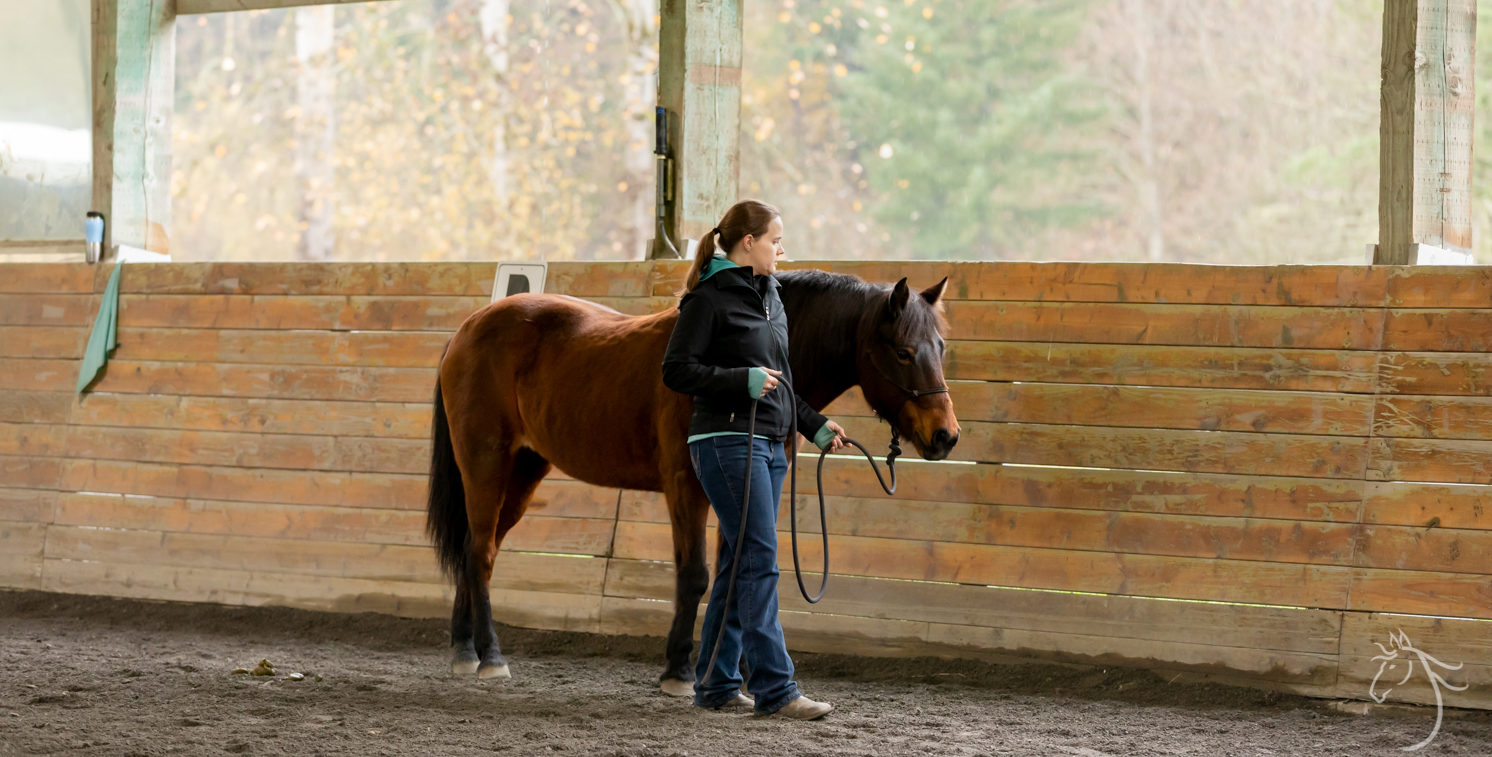 Melinda C worked with Sage during the recent Joel Conner clinic:
I had the opportunity to work with Sage for a groundwork session during this Joel Conner clinic. Prior to this weekend, I had only done groundwork with her a few times when she first arrived at SAFE. She has always been a sweet pony, but when she came to us it was clear that people had not given her many boundaries in her former life. With consistent groundwork she has come a long way in becoming a polite equine citizen.
At the beginning of the session, Sage and I were "feeling each other out," and quickly established a good working relationship. She clearly understands that someone in a horse/human partnership needs to be the leader. If the human partner is unsure, Sage thinks she needs to be the leader. But if her human partner shows to her that they're capable of taking that leadership role then she happily follows along. It seemed to me like that is pretty black and white with her.
We assume that Sage has been ridden at some point in her life since she is in her 20's, but we had yet to put a saddle on her due to some healing sores on her belly from her insect sensitivity. Her girth area is healed now that fly season is over, and I saddled her without fuss on Saturday. After some assessment, Joel got on her briefly. someone being on her back, but we won't know more until we are able to spend some time working on this with her. For now she will continue to be listed as a companion horse, but we will see if maybe we can add "leadline pony" to her resume.

Sage's Friends:
1. Jessica F.
2. Yaffa C.
3. Lisa P.
4. _____________________
5. _____________________
6. _____________________
7. _____________________
8. _____________________
9. _____________________
10._____________________
Every horse deserves at least ten friends! Even a small monthly donation can make a difference. Plus, SAFE horse sponsors receive discounts at local businesses through the SAFEkeepers program!