Sapphire
breed: 2004 grey Arab mare
type of rescue: owner surrender
intake date: 7/17/2013
date of passing: 8/29/2015
length of time with SAFE: 2 years, 1 month
Sapphire's Story: Sapphire was living in a situation of neglect on a local reservation. Animal Control officers in King County had been monitoring the mare's condition for a period of time, but when tribal police found her running loose down a road, SAFE was called in to negotiate a surrender with the horse's owner. Sapphire was signed over to SAFE, and taken immediately to a vet hospital to treat several wounds she had sustained, most notably a series of infected lacerations caused by a rope that had been wound around her hind legs. A large section of her tail had been burnt off at some point as well. Though it took a significant amount of time and patience to get through to her, Sapphire eventually came to the understanding that she was never going to be hurt again. She started into training about ten months after her rescue and was making great progress under saddle. Tragically, Sapphire's life was cut short by a very serious bout of colic from which she could not be saved. She was humanely euthanized to end her suffering on Aug 29, 2015. Rest in peace, sweet brave soul.
There's no real way to properly express what happens when we lose a horse. Today, we said a too-early goodbye to Sapphire due to a colic.
Sapphire was discovered down in her stall this morning by her foster caretakers in deep distress. Dr Holohan from Pilchuck was called out, and Sapphire was tubed and medicated in an attempt to relieve her discomfort. Unfortunately her condition continued to worsen, and early this afternoon she was transported to Pilchuck Veterinary Hospital. She was down in the trailer when she arrived. Everything possible short of surgery was tried to give her a chance but her condition was declining very rapidly, and she was suffering. The decision was made to end that suffering and let her go. Sapphire was humanely euthanized at 3pm this afternoon.
Terry Phelps, SAFE's trainer and Operations Director, came home to a power outage and wrote the following words about Sapphire's passing:
It never gets easier when making the decision euthanize a horse. It plain sucks and is without a doubt is one of the most difficult things we have to do as stewards for the animals in our care. Today was one of those hard days.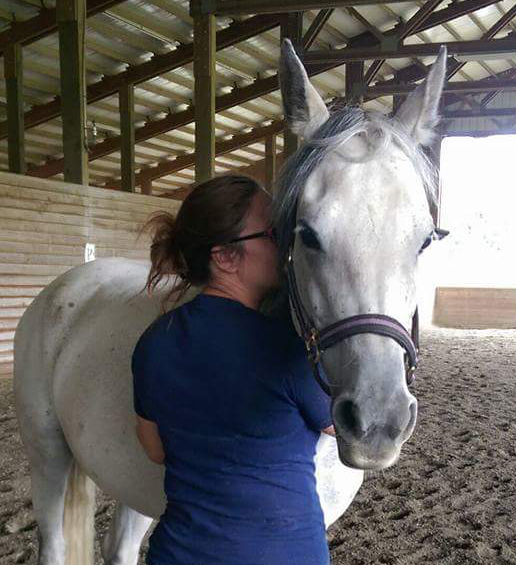 What happened isn't a bad thing or even a bad day. A bad thing would have been Sapphire never getting rescued. A bad thing would have been her spending the rest of her life tied to a tree, unloved, uncared for and simply forgotten. A bad thing would have been SAFE never stepping in, pulling her from the hell in which she had been living for years and giving her the chance for a new life.
Today was a hard day. It was a hard day to say goodbye to a beautiful girl who against all odds had survived the inferno. It was hard holding my friend who had trusted enough in me to protect her, to help her accept humans back into her life, and today having to let her go. It was hard to watch the volunteer who had a special bond with Sapphire spend an entire day loving and supporting her, providing all the healing energy and strength she could, and in the end having to say goodbye. It was hard to watch a kind trainer who took Sapphire into her home, gave her friendship and taught her it was ok to let someone ride her as she made an amazing transformation, and today stand beside her in the final moments. It was hard to watch the woman who was on the rescue team that pulled her from the wreckage and took on chance on this mare to come stand by her side once again as she let go of a body that could not take any more pain.
Rescuing horses is not for the faint of heart. It takes tremendous amounts of courage by the people and the horses involved. All of the SAFE horses have incredible transformations, but I consider Sapphire's remarkable.
Today was a good day. Sapphire was surrounded by those who loved her dearly – not alone or forgotten. She is at peace now, having known real love and kindness, and she will never suffer again. Sapphire's ability to trust and let us into her life was a gift. Setting her free from pain was the last gift we could have given back to her. The day I met Sapphire I made her a heartfelt promise to never hurt her, always protect her and provide a safe environment for her to live. I was blessed to have earned her friendship, her love and her sweet nickers. Today, saying goodbye, I kept my promise and we were there for her until the end. We love you, sweet grey mare. We will carry you forever in our hearts. Thank you for your friendship and your trust.