Sebastian
SEX:
gelding
BREED:
Arabian
REGISTERED NAME:
none
INTAKE DATE:
8/4/22
COLOR: flea bitten grey
MARKINGS:
YOB: 2002
AGE: 20 yrs old
HEIGHT: 14.0 HH
WEIGHT: 757 lbs
LOCATION: Redmond, WA
ADOPTION FEE: TBD
Online Adoption Application
Sebastian is a 20 yr old Arabian gelding who was found abandoned at the Tree Farm. Snohomish County Animal Control posted publicly looking for their owner. No one came forward and no brands where found, so they were released to SAFE for rehabilitation. He has bad swelling in all 4 legs and sheath and will have our vets out to help determine the best course of action and medical plan for this sweet boy.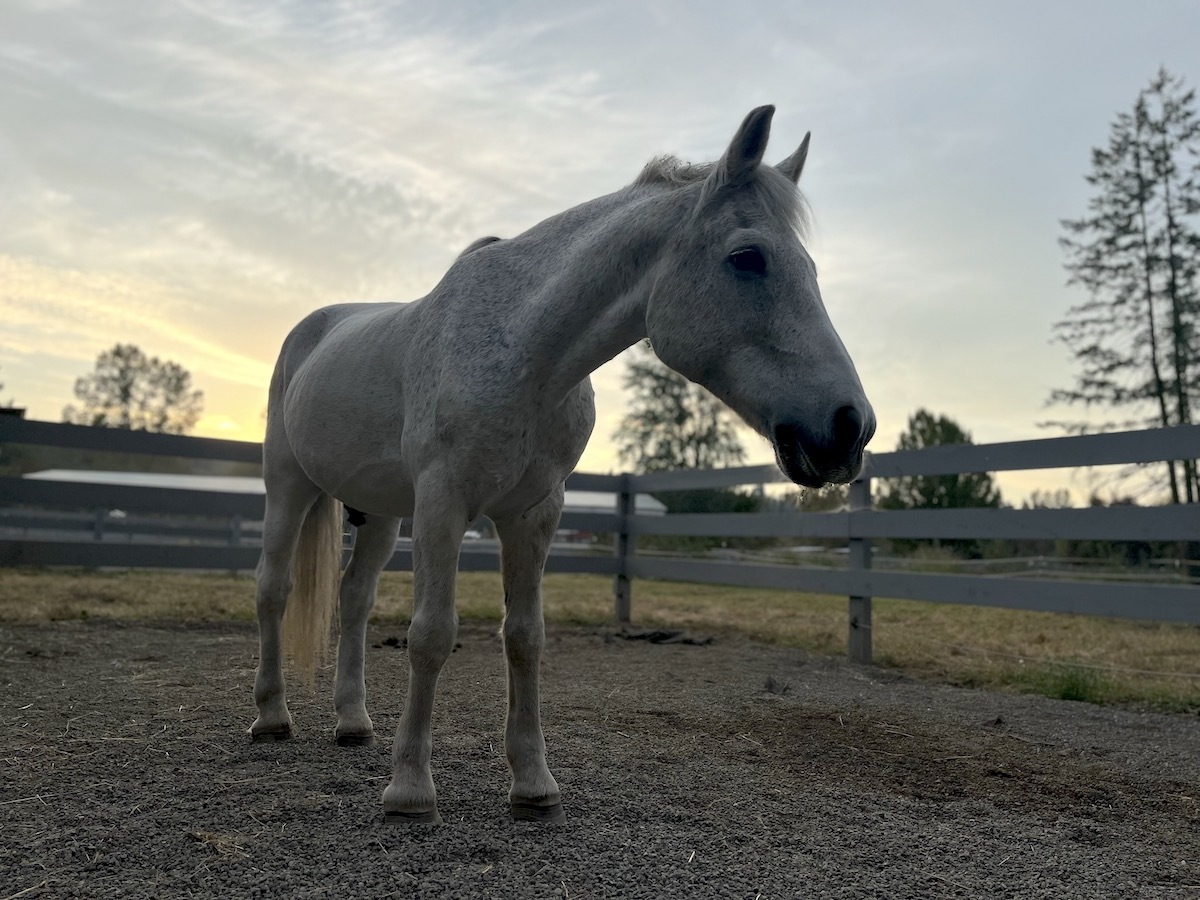 Sebastian arrived at SAFE a little over a month ago, and already looks like a different horse. He has put on a substantial amount of weight, and while he still has a bit to gain to obtain optimal rotundness, he is certainly looking more like a horse should. His early blood work results came back with unhealthy liver levels — a frequent reality for older, malnourished horses. Since he has been in our care, we have been supplementing his feed with milk thistle, an herb proven to help bolster liver function, and hope to see improvement when we retest his blood in the coming weeks. When he arrived, he was quite swollen, and we have seen improvement on this front as well.
Sebastian's time at SAFE has been quite eventful thus far. He saw the farrier here for the first time (likely not the first time he's ever seen a farrier, but he will require a bit reacquainting before he is entirely comfortable with the process). He will soon be added to our grooming program, where the list of volunteers assigned to brush and love on sweet old Sebastian will grow. Already, he has quite a few fans of his gentle nature — he is most certainly an easy horse to spend time with. He gets regular grass time alongside his friend Bijou, the two typically enjoying a roll in unison before getting to work munching.
While he is not quite out of the medical woods yet, we are looking forward to continuing to nurse this old guy to health and give him the loving retirement he deserves.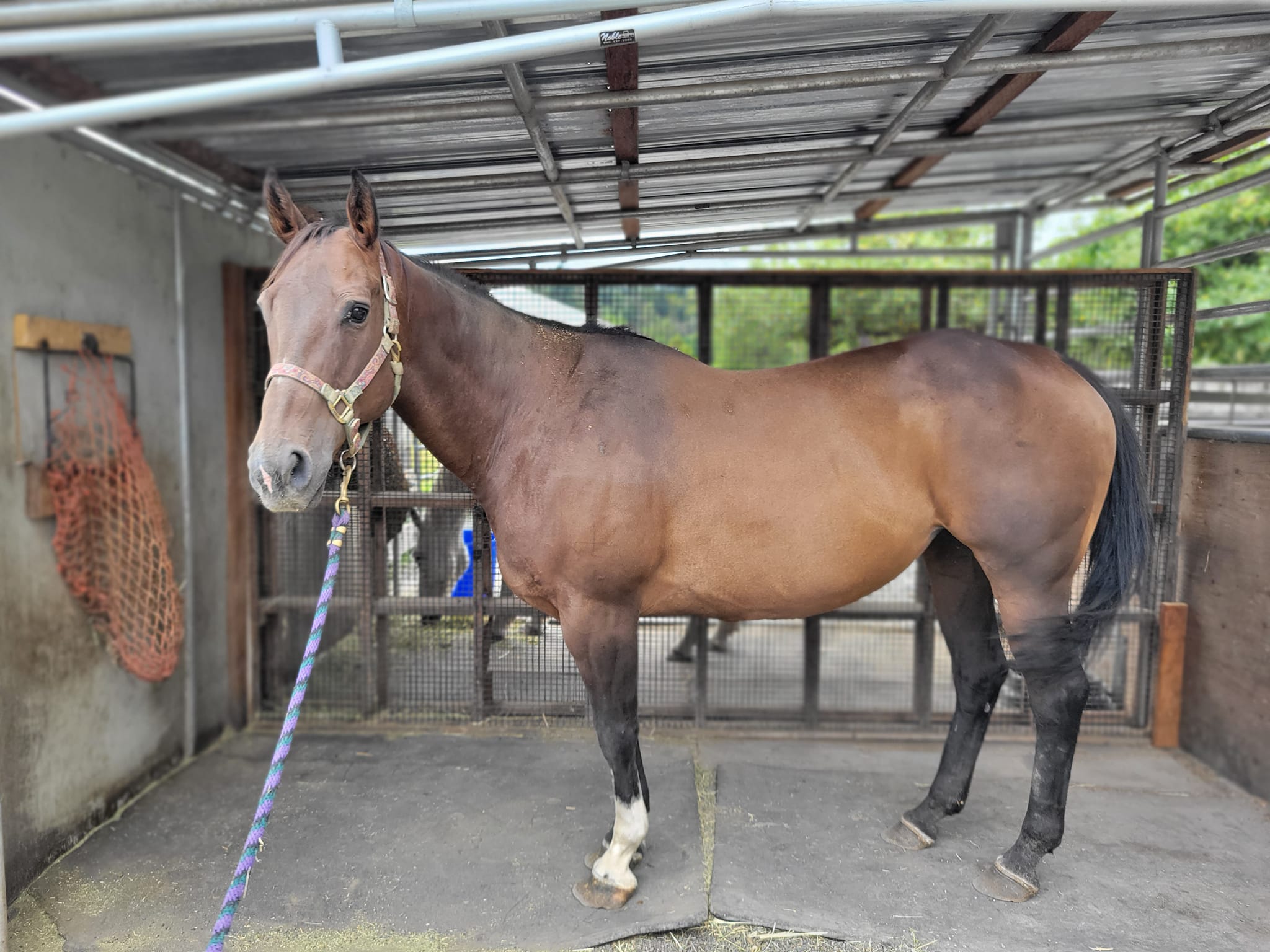 Sebastian and Bijou were found abandoned at the Tree Farm in Arlington. Snohomish County Animal Control posted publicly searching for their home, but after no one came forward, they were released to SAFE. Bijou is a 10 year old Quarter Horse mare who is very sweet and may have been a riding horse in her past. Her hooves are very flat and we hope to schedule a visit with the farrier soon to fit her for shoes.
Our newest senior gelding, Sebastian, is a 20 year old flea bitten grey Arabian who has some medical concerns. His legs and sheath are swollen and we are waiting to hear back on bloodwork from our vet to determine the best medical plan going forward. Right now, the two are in separate paddocks next to each other, but are most often are found standing right next to each other in their shelter keeping an eye on one another. Recently our staff gave them both a bath and they were perfect angels for it. We look forward to learning more about their individual personalities as we bring them back to health.

Sebastian's Friends:
1. Whitney-Bear B.
2. Jean E.
3. Jean B.
4. _____________________
5. _____________________
6. _____________________
7. _____________________
8. _____________________
9. _____________________
10._____________________
Every horse deserves at least ten friends! Even a small monthly donation can make a difference. Plus, SAFE horse sponsors receive discounts at local businesses through the SAFEkeepers program!