Sebastian
2003 grey Arabian gelding
Type of Rescue: Animal Control
Intake Date: 8/4/2022
Adoption Date: 11/16/2022
Length of Time with SAFE: 3 months
ADOPTED!! by Carla

Sebastian is a 20 yr old Arabian gelding who was found abandoned at the Tree Farm. Snohomish County Animal Control posted publicly looking for their owner. No one came forward and no brands where found, so they were released to SAFE for rehabilitation.
It wasn't long before we introduced Sebastian to a herd mate, Camille, and the two became best paddock buddies. Both needed several mashes a day and were able to free feed on hay so the match seemed perfect. They two seemed to enjoy each other's company and were always never far from each other.
We are so happy when Carla came to meet Camille, she decided immediately that Sebastian could come home too. Now these two live happily ever after with s few donkeys and a couple of our alumni, Renee and Angel.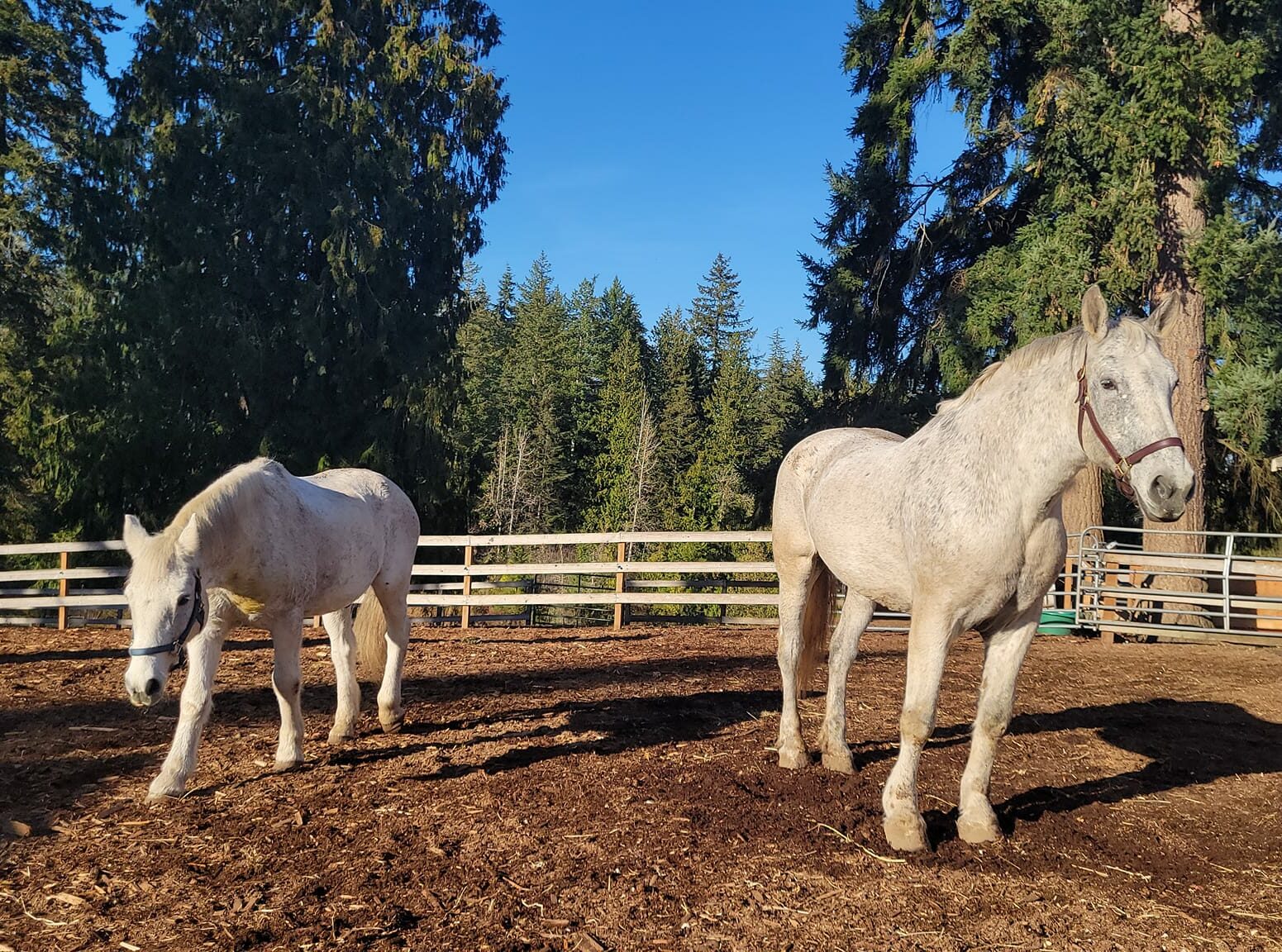 It's not often we get the privilege of adopting two of our horses together to the same home, so when we do, it sends "Ooohs" and "Ahhhs" throughout our community. Though Camille and Sebastian were only at SAFE a short while and their friendship was still so new, the volunteers and staff enjoyed seeing the two spend time together in their new besties paddock. Whether it was spending time simply standing next to one another or very politely eating their own mash meals 3 times a day, the two seemed very content and happy to be in each other's presence.
Sebastian came to SAFE in August with another mare, Bijou, after the two were found abandoned at the Tree Farm in Arlington. Snohomish County Animal Control posted publicly searching for their home, but after no one came forward, they were released to us. Upon arrival, Sebastian was underweight, with swollen legs and sheath and we were worried about his long term health. Luckily, after multiple tests over the course of his time with us, nothing came up alarming. His sweet nature allowed us to offer our volunteers the chance to walk him around the property for very slow, 'stop and smell the roses' kind of exercise and daily enrichment. He enjoyed daily turnout with his former buddy, Bijou, and you would often find him laying down resting in the sun, instead of gobbling up every grass morsel, but he seemed happier just to be with another horse.
Camille arrived with a very sad history. Her owner was literally working her to death when Pierce County Animal Control stepped in and seized her. Covered in horrific wounds, and extremely underweight, she spent two months recovering with a lovely foster family, helping her heal and gain about 300 lbs! She was a very gentle mare, but on arrival was closed off and not interested in much at all. Everyone was worried, but after a week or so a brightness returned to her eyes and you would often find her in her shelter looking forward to her meal delivery service several times a day. At the end of summer, when we had to close off a portion of her paddock due to the rainy mud season and we needed to find this big lady more space. Luckily we had sweet Sebastian to introduce and that's where the story starts to get even better.
Their amazing adopter, Carla, is not new to SAFE at all. In fact she adopted two bonded retired mares, Angel and Renee in October 2020. Carla's property is full of senior horses and mules living out the rest of their days surrounded with friends on rolling hills, not being asked of anything except to enjoy the sunshine on their back, the crunch of grass and the companionship of each other.
After a casual conversation with our shared farrier, Daphne Jones and Carla recently losing her draft mare, this perfect match started to unfold. Carla shared that on a recent walk she had the thought if a draft horse was given to her, she would take it. She came home, pulled up our website and there was Camille. After talking with Daphne, she reached out to meet her and instantly fell in love. With tons of experience we couldn't have dreamt of a better home for big girl. To our delight, when Carla met Sebastian, and without a blink of an eye, said "He can come home too!"
The two arrived to their final home on a gorgeous day the week before Thanksgiving. Both slowly took in their surroundings, Camille leading the way with Sebastian as her little mini me shadow. The next morning Carla caught the two napping next to each other in the sun. Shortly after, Sebastian had a roll and Camille trotted around bucking and leaping! After having such sad stories upon their arrival to SAFE, it makes our hearts melt seeing what a wonderful life the two of them will now have together. Thank you, Carla, for bringing these two into your herd and thank you, Daphne, for spreading the word about our sweet horses.