Angel
| | | | |
| --- | --- | --- | --- |
| SEX: Mare | BREED: Quarter Horse | REGISTERED NAME: Mach Gun Smoke (AQHA) | |
| COLOR: Sorrel | MARKINGS: Star, snip, LH sock | | |
| DOB: April 1, 1990 | AGE: 29 | HEIGHT: 14.0 | WEIGHT: 888 lbs |
| LOCATION: Redmond | ADOPTION FEE: $300 | Online Adoption Application | |
Angel's Story
Angel and her five herdmates were surrendered to SAFE by their owner, who was no longer physically or financially able to properly care for them. The horses were in decent weight but had not had farrier or dental care in some time. Because of Angel's age, we took her in as a Hospice case, with the intention of providing her with a couple months of good care before letting her pass peacefully. However, she is quite the spirited old gal, and remarkably healthy and sound. Perhaps there is another chapter to her story yet to be written, and a new life as someone's beloved pet and companion. Angel seems very unaccustomed to being handled, and has a lot of fear. She was quite difficult to catch when first we met, and it took over 2 hours to catch her in the field the first time we tried. Now it takes about 5 minutes to convince her to let herself be caught, which is a definite improvement. There is some sort of abnormality with her left hind foot, but she seems to get around on it just fine. We were only able to trim her front hooves when our farrier was out, so Angel will need continued practice with having her feet handled so we can get her hinds taken care of. All SAFE horses are adopted with a no-breeding clause, no exceptions. If we determine that she should be made available for adoption, Angel will be offered as a companion horse only.
Angel Today
Angel takes her time getting to know new people. She has come a long way with basic groundwork; a consistent routine with "her" person will really make her shine. Angel is still a work in progress when it comes to having her hooves handled but every time with our farrier things get easier. We are now able to trim all 4 hooves–BIG progress for a mare that was unhandled until SAFE picked her up! We monitor her closely for comfort, but nothing at this time seems to be slowing this mare down.
We would prefer that Angel be adopted with her best friend Renee, a 20-year-old mare, also available for adoption as a companion or riding horse. They were surrendered together and are life-long pals and would love to share a pasture with some new friends.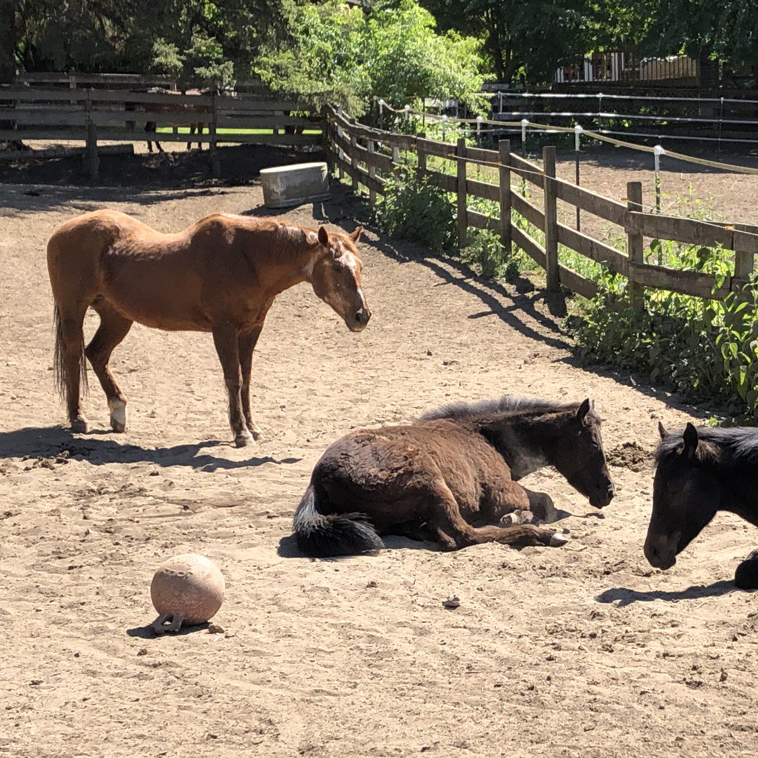 Angel is living the good life these days. She gets to be in a lovely, large turnout paddock 24 hours a day with her best friend Renee as they do the very important work of being aunties to our three resident babies. Angel takes this role very seriously. She loves the weanlings as if they were her own daughters, she helps teach them horse manners, and she watches over them while they take naps. You'll often find all three foals napping at the same time, with Angel standing guard over them.
Angel gets daily attention from her human friends, too. In an effort to make sure she is still easy to handle when we need her to be and not reverting to her former fearful self, Melinda spends time on most weekdays grooming her and practicing haltering/releasing, and volunteer Mona S. still does weekly freedom-based training sessions (during which she has made great strides in learning to trust new people).
This geriatric mare still has a ton of spirit and hasn't seemed to slow down at all. She is still sound and light on her feet, and she has no trouble keeping up with the youngsters! She truly is a beautiful soul. Angel really does enjoy the company of people she knows, and when she lets you into her "inner circle," it's an incredible feeling.

Angel's Friends:
1. Kit T.
2. Lynda C.
3. Jane M.
4. Lara L.
5. John R.
6. Leslie D.
7. Rebecca S.
8. Kastle H.
9. Heidi F.
Every horse deserves at least ten friends! Even a small monthly donation can make a difference. Plus, SAFE horse sponsors receive discounts at local businesses through the SAFEkeepers program!