Angel
| | | | |
| --- | --- | --- | --- |
| SEX: Mare | BREED: Quarter Horse | REGISTERED NAME: Mach Gun Smoke (AQHA) | |
| COLOR: Sorrel | MARKINGS: Star, snip, LH sock | | |
| DOB: April 1, 1990 | AGE: 27 | HEIGHT: 14.0 | WEIGHT: 888 lbs |
| LOCATION: Redmond | ADOPTION FEE: $300 | Online Adoption Application | |
Angel and her five herdmates were surrendered to SAFE by their owner, who was no longer physically or financially able to properly care for them. The horses were in decent weight but had not had farrier or dental care in some time. Because of Angel's age, we took her in as a Hospice case, with the intention of providing her with a couple months of good care before letting her pass peacefully. However, she is quite the spirited old gal, and remarkably healthy and sound. Perhaps there is another chapter to her story yet to be written, and a new life as someone's beloved pet and companion. Angel seems very unaccustomed to being handled, and has a lot of fear. She was quite difficult to catch when first we met, and it took over 2 hours to catch her in the field the first time we tried. Now it takes about 5 minutes to convince her to let herself be caught, which is a definite improvement. There is some sort of abnormality with her left hind foot, but she seems to get around on it just fine. We were only able to trim her front hooves when our farrier was out, so Angel will need continued practice with having her feet handled so we can get her hinds taken care of. All SAFE horses are adopted with a no-breeding clause, no exceptions. If we determine that she should be made available for adoption, Angel will be offered as a companion horse only.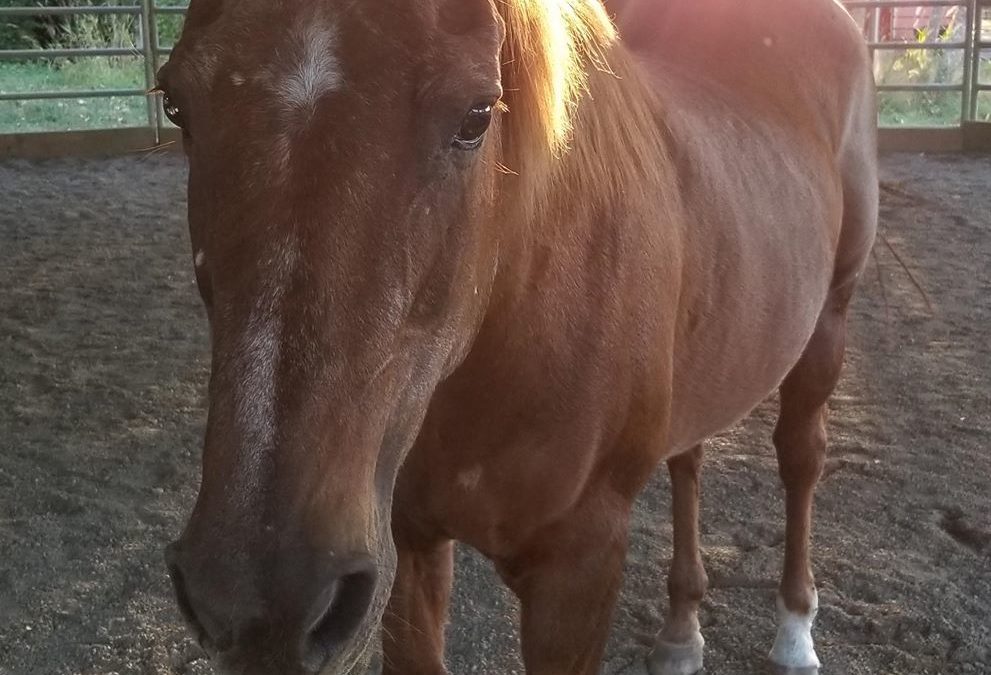 Volunteer Kaya M. has been getting to know Angel and is her special friend. Kaya has a very kind, positive attitude that is helping this frightened old mare open up to a new friendship. Here is what Kaya had to say about her interactions with Angel:
Angel has been a fun and unique challenge for me so far. I've only recently started working with her and she has already taught me so much! I've never spent time with a horse who is so not trusting of people and it's been amazing to notice the little changes in the way she responds to me. Angel is so smart, it's easy for her to figure out the best way to kind of escape the pressure and find the release. Today I was able to get her to calmly transition back and forth between walk and trot at liberty based off of my feel and she was licking and chewing all the time. The "hooking on" exercise is so easy for her as well. She is so sensitive, it has helped me to realize how small my movements can be to get a reaction. Angel is still not great about changing eyes and has an especially difficult time with her right eye. We will keep working on this, slowly but surely!

Angel's Friends:
1. Kit T.
2. Lynda C.
3. Jane M.
4. Lara L.
5. Judy G.
7. Leslie D.
7. Rebecca S.
8._____________________
Every horse deserves at least ten friends! Even a small monthly donation can make a difference. Plus, SAFE horse sponsors receive discounts at local businesses through the SAFEkeepers program!