Stevie
description: 2013 black Mustang gelding
type of rescue: Owner Surrender
intake date: 6/19/2016
adoption date:12/8/2017
length of time with SAFE: 1 year 5 months
ADOPTED!! by Diana
Stevie is a young mustang gelding who was born at a wild horse sanctuary. Stevie was adopted by a family who fell in love with his photo, and ultimately decided to take a second young mustang, Lacey, as well. Unfortunately their adopter was forced to rehome the two youngsters due to personal circumstances. Two years later, the original owners were contacted by the person who had taken them, who also was unable to keep them. Concerned for their safety, both owners turned to SAFE for help. We evaluated the horses with the assistance of our veterinarian at Mt Rainier Equine, who found them to be in decent health and soundness, but pretty thin. Stevie needed to gain about 150 pounds. The two horses were surrendered into our care.
After he was fully recovered, Stevie was started under saddle by Joel Conner and made great progress learning to be a riding horse. He was ridden at SAFE 4–5 days per week by one of our volunteer riders who helped him develop into a wonderful partner under saddle. He found his forever home with Diana who was looking for a riding partner she could grow with.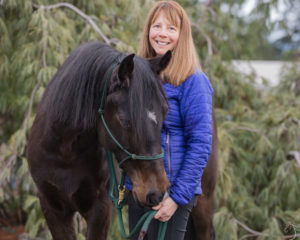 We are so excited to announce the placement of Stevie into a wonderful forever home with Diana! The pair hit is off right away. Diana was looking for a riding partner she could grow with and was taken with this dark eyed love bug! Diana took time to get to know Stevie before moving him. She asked a lot of great questions and was a very conscientious adopter. Casey and Diana met a few times and worked together with Stevie to help make it a smooth transition.
Diana wanted to find him a name that connected him to the Pacific Northwest and his mustang heritage. Stevie, now known as Chinook, is settled into his new home and has already won the hearts of all the mares on the property!
Here is a little of what Diana had to say about how he is doing: "He's made tons of new friends — his bestie is Crystal, an appendix quarter horse. And all the mares thus far seem to have a massive crush on him! His nick name is Curious George because he loves to stick his nose (literally) in everyone's business. Don't worry … I make sure he minds his manners. He's settled in to his new home very nicely and is well behaved. I'm there every day and he continues to be a very quick learner and enjoys our lessons 2x / week. He also loves to go for walks around the farm, especially to visit the chickens and turkeys on the property. Thank you guys for the amazing foundation you have given him, especially Casey's dedication. Please let everyone know that we're continuing to advance his skills and I'll keep in touch with progress."
Chinook is a shinny example of rescue done right. He came into SAFE skinny, scared, and neglected and transformed into a beautiful well, behaved partner who has the foundation to go and do whatever Diana wants. He knows how to connect to people and truly ready for a wonderful life with his new family!