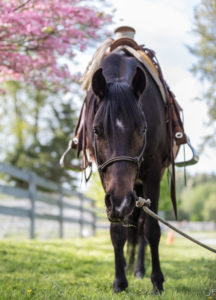 Stevie did very well while in training with Joel Conner. He accepted a rider well and there were no issues. Joel said that Stevie was the most well prepared horse that SAFE has ever sent him. Thanks to all the hard work Casey put into him, this phase of his training was easy.
Stevie returned to Safe Harbor and Casey has been working with him 4-5 times a week. She rode him at the Joel Conner clinic last month and he did very well with all the other horses and commotion. Casey said that Stevie has been fun to work with and while he is still very green she feels comfortable on him and is enjoying the process of teaching him new things.
When she started riding him, he was pretty mouthy, sticking his tongue out and flapping it around. We also saw him doing this while in his stall so we had Dr. Fleck take a peek at him. Dr Fleck said he had some sharp points and needed a dental float sooner than expected. Stevie was hauled over to Rainland Farm Equine Clinic for his float and had his wolf teeth removed. After a few days off to recover, Casey said he was 100% better and his mouth was quiet again with no sticking his tongue out. When horses have training issues, it's always good to check that there are no underlying medical issues. A easy fix like a dental float makes all the difference in the world and keeps your riding partner happy and content with the work!
Casey has been working with Stevie for about a month now and things are going really well. She is still primarily using just one rein but has been able to start picking up on two for a soft feel. Stevie is starting to react to her seat and is learning downward transitions from seat aids. This young gelding is very responsive and has a lovely canter.
Stevie is going to be a very nice riding horse. He is young and sound with no conformation issues. He is ready to start meeting prospective adopters and with the foundation we have given him, he can be taught to go in any direction, western or english. We have not taken him out on a trail ride yet but will be venturing out soon. Stevie is suitable for an intermediate rider with help of a trainer or an advanced rider who has experience with green horses. If you are interested, please contact us at adopt@safehorses.org or submit an adoption application on our website.
Here are some recent photos of Casey working with Stevie at Safe Harbor this week.