Tabitha
description: 2005 bay tobiano gaited mare
type of rescue: Animal Control Surrender
intake date: 4/15/2018
adoption date: 3/29/2019
length of time with SAFE: 11 months
ADOPTED!! by Alyssa J of Carlton WA
Tabitha's Story
Tabitha and her herd mate Asha were seized from their owner by animal control officers, who were called to the property by a report of a horse that was down and stuck in mud. When they arrived, they discovered that the horse had been severely starved. They were unable to save that horse, but seized two other mares that were living on the property.
Tabitha Today
Tabitha had 30 days professional training in late 2018 and was very gentle and easy to handle. She was then ridden extensively at SAFE and received an excellent Horsemanship foundation that helped her develop balance and peace as a riding horse.
She is a sensitive and forward mare with an incredible amount of try and heart, so we were delighted to match her up with Alyssa, who adopted Tabitha–now known as Willa–in March 2019. They hit the trails just in time for a beautiful spring!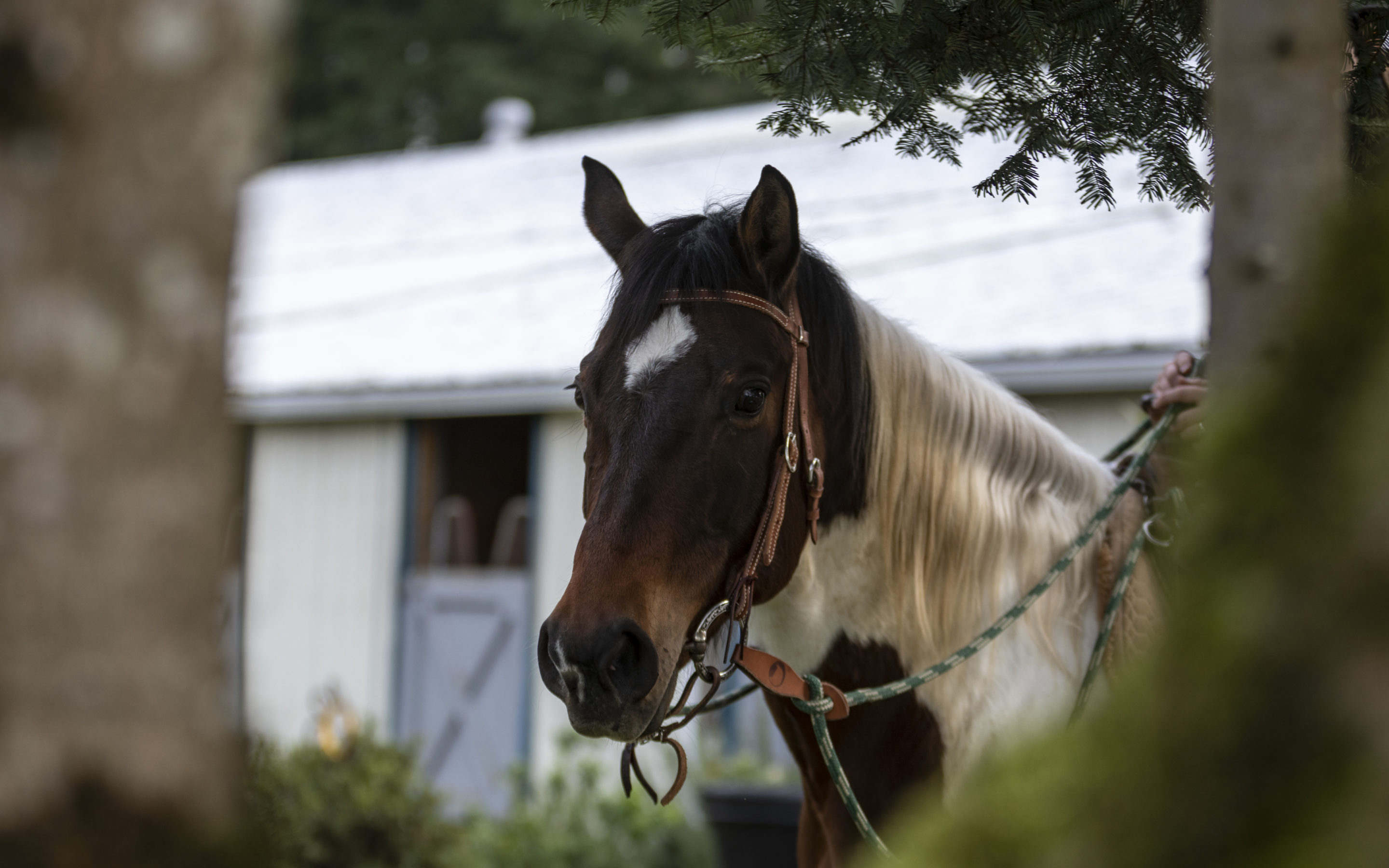 Tabitha came to SAFE in April of 2018 from a situation of extreme neglect. She currently in excellent health and SAFE has gotten her up to date on all vaccines, dental and farrier work. She has been a very easy to handle for our volunteers, vets, and farriers. Tabitha loads and trailers very well, she has no vices, and has gentle ground manners.
SAFE was unsure about her training background so we began with the basics in our horsemanship program. Tabby is a very forward mare with a lot of life. We have taken things slowly to gain her confidence, trust, and build her physical strength to become a riding horse. Tabitha is sound but does best with front shoes or boots while working. We have ridden her in the arena, around the property, and out on a short trail ride with buddies. She did very well and over time will relax as a trail horse. Until she has more miles out on trails, she could use the support of a steady buddy.
We have been working on helping Tabitha find balance while carrying a rider. We have seen a good amount of changes in her relaxation since getting started and she continues to improve with consistent work. She is best suited for an advanced beginner or intermediate level rider. She is a sensitive horse and it takes very little to get her moving. If she is adopted to a more novice rider, it would be helpful to have access to a trainer to help continue her education. Every ride on this mare gets better and better and she is a joy to work with.
Tabitha is dominant in a herd setting and does well turned out with submissive mares. She takes a little time getting used to new friends but once they are bonded, she enjoys their companionship. We are accepting applications now. Please fill out our online application. Tabitha is a kind and loving mare. She is ready to find her perfect match and a family of her own.