Shasta and Sunny D
Shasta and Sunny D were seized by Animal Control in 2011 after a third miniature horse on the property died from starvation. The two surviving horses had thick furry coats and did not appear to be thin…until you touched them and found that they were actually quite emaciated. Once in SAFE's care, their health was restored and their bright, sunny personalities started to emerge. We soon discovered that these two little horses were remarkably friendly and calm around people — adults and children alike — as well as other horses and even dogs.

We decided that rather than offer them for adoption, we would keep them and put them to work as tiny Ambassadors for horse rescue, a cause they are perfectly suited for! They attend SAFE events like our Fill The Trailer days at Reber Ranch, the SAFE Benefit Horse Show, and even fancy events like Heart of the Horse! People are very curious about them, and even those who are scared of horses can feel safe around these sweet and gentle minis. Our volunteers love Sunny and Shasta too — especially when they are enjoying some time in turnout where they love to gallop, buck, and roll, making everyone laugh and smile. If you've never had the opportunity to meet Sunny and Shasta, we hope you will come to our next Open House at SAFE Harbor and say hello!
Sunny D — 13 year old Mini Horse gelding (born 11/23/2008)
Shasta — 21 year old Mini Horse mare (born 5/5/2000)
Penned by Best Buddy to Shasta and Sunny and volunteer, Debbie Meyer.
March is traditionally known as the month to celebrate the luck of the Irish (and those who choose to symbolically be Irish) on St. Patrick's Day. March also is the month that those who are fans of and mad (as in crazy!) about college basketball look forward to the March Madness competition. As a result, it was felt March would be a good time to pen a yearly update on Shasta and Sunny D, SAFE's mini horse ambassadors and permanent residents. After all, SAFE is lucky to have them; and most who meet them become mad (as in crazy!) about them!
As a refresher, Shasta is the redhead who is the slightly taller of the two and mama of Sunny. She will be celebrating her 23 birthday on May 5, 2023! Sunny is more of a strawberry blonde with a somewhat fuller mane, and he will turn 15 on November 23, 2023! Both were given a SAFE landing in 2011 after being seized by Animal Control for neglect. Once they regained their health and it was discovered how special they are, they were made SAFE ambassadors and permanent residents.
In their roles, they represent SAFE and its mission at onsite and offsite events; and they were busy during the post Covid year of 2022 as SAFE again opened its gate and welcomed the public back to its events and felt safe to attend offsite events. The onsite events included SAFE Open Houses, the first Heart of the Horse gala fundraiser at the SAFE Harbor Stables and a number of Picnics with the Ponies which the minis co-hosted. Their offsite appearances included a child's birthday party where they were surprise guests; a rodeo-themed social event at the Inglewood Golf Course where they were the hits of the party; and the Olson
Tack Shop's Holiday Open House at which they were very popular guests. Despite their busy event schedule, they always find the time to welcome the newbie horses to SAFE and check in with the residents during their guided walkabouts across the property; warm the human hearts of all who see them galloping, rolling, sunbathing or grooming one another in miniland or simply sticking their heads through the miniland gate to acknowledge the humans, horses, cats or dogs who pass by; serve as patient models during grooming classes for SAFE volunteers; AND help raise money to care for all the SAFE horses!
No greater financial contribution did Shasta and Sunny make in 2022 than from their participation in the Sweethearts of the Rodeo competition which drove over $48,000 for the care of all the SAFE horses, exceeding the goal of $40,000! In this friendly competition, the SAFE community was asked to donate to their favorite SAFE horse in the categories of Rodeo Queen, Rodeo King and/or Rodeo Clown, along with asking others to join them in doing the same. The horse whose team raised the most money in the respective categories won the title of Rodeo Queen, Rodeo King and Rodeo Clown. Shasta won the title of Rodeo Queen with a come-from-behind win after she passionately pointed out in a video that while her closest competition was the perfect Princess, she was the better Queen! Sunny competed for the title of Rodeo Clown and helped raise money, too, although he did not care to win that title, assuring his supporters that he did not mind losing as long as his mama won the title of Rodeo Queen!
Shasta and Sunny have been busy; and SAFE is lucky to have these adorable littles as part of their Ambassador squad. For all their hard work, they continue to be treated regularly by their Best Buddy (a SAFE volunteer who is most mad (as in crazy!) about them) to Masterson Method® sessions with Natalie, MMCP (Masterson Method® Certified Practitioner). The Masterson Method® is a unique form of interactive equine bodywork, where horse and human work together to find and release areas of tension. Most creatures enjoy and all benefit from bodywork; and Shasta and Sunny continue to be no exceptions as evidenced by their licks and yawns during their sessions. Shasta and Sunny also have been enjoying extra grooming from the additional volunteers who have joined their grooming team to help them shed their winter fluff and look their best for their events. In addition, Shasta appreciates all the volunteers who take the time to make sure she eats her mash to help maintain her ideal weight, as that is especially important to older gals!
Anyone who has the opportunity to spend time with or around Shasta and Sunny D can be considered lucky and who knows how many more mad (as in crazy about them!) fans they will have by their next update!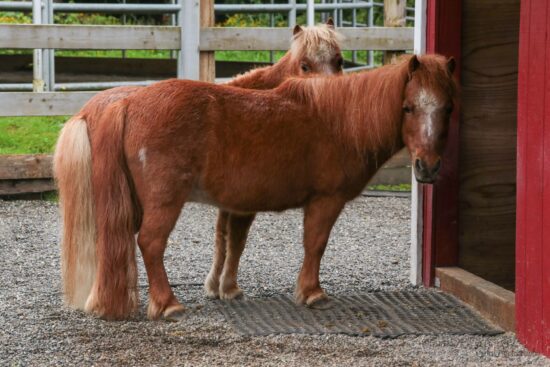 Shasta
&

Sunny D's Friends:

1. Debbie M.

2. _____________________

3. _____________________

4. _____________________

5. _____________________

6. _____________________

7. _____________________

8. _____________________

9. _____________________

10._____________________

Every horse deserves at least ten friends! Even a small monthly donation can make a difference. Plus, SAFE horse sponsors receive discounts at local businesses through the SAFEkeepers program!