As you may have heard by now, this year's Heart of the Horse fundraiser was a huge success, raising an all-time high of $320,000! Most of that money was raised at the Heart of the Horse Barn Party. However, contributing to the overall total was the online Silent Auction which brought in over $18,000 and the results of the volunteers' Sweethearts of the Rodeo competition for Rodeo Queen, Rodeo King and Rodeo Clown which drove over $48,000, exceeding its goal of $40,000!
While the competition results were announced and a coronation ceremony had for Rodeo Queen SHASTA, Rodeo King DOMINO and Rodeo Clown SPARKY, we wanted to thank everyone who made a donation to the team of their favorite SAFE horse and to those who also asked others to join you in doing the same. In the end, all the money raised by this friendly competition helped all the SAFE horses so everyone won!
However and now that the dust has settled over the Sweethearts of the Rodeo, we thought it would be fun to share some "behind-the-scenes" insight into the category wins …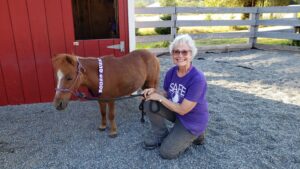 Rodeo QUEEN:
Total amount raised $27,000!

Team Shasta drove $12,350 from 48 donations in a come-from-behind win.

Team Esme drove $10,325 from 17 donations, graciously accepting 2

nd

Place after Shasta passionately pointed out in her video, "Esme is the perfect Princess, but I am the better Queen!"

Team Pepper drove $2,500 from 2 donations.

Teams Darla, Valentine, Nova, Tanis and Jill drove $1,825 from 23 donations.
Rodeo KING:
Total amount raised $18, 198!

Team Domino drove $2,395 from 19 donations and another $1,930 from a Facebook Fundraiser in a neck-to-neck race with Cramer until the end.

Team Cameron drove $3,750 from 11 donations, sneaking into 2

nd

Place at the very end.

Team Cramer drove $3,523 from 46 donations.

Teams Artie, Owen, Edward and Mac drove $6,600 from 45 donations.
Rodeo CLOWN: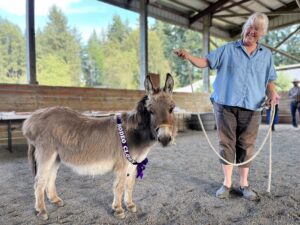 Total amount raised $2,870!

Team Sparky drove $1,030 from 19 donations and was the one to beat from the beginning.

Team Ruckus drove $675 from 5 donations but had already "won" by being adopted into a loving family at the start of the competition!

Team George drove $465 from 8 donations.

Teams Sunny D and Otto drove $800 from 8 donations and Sunny assured us he did not mind losing as long as his Mama won Rodeo Queen!
The $$ amounts are certainly impressive, but so are the over 250 individuals and businesses who contributed, many of whom were not even aware of SAFE before your asks. Not only was a lot of money raised, at least one new volunteer also was recruited in the process! So … whether you reached out via social media or the "old-fashioned" way of asking in person or calling/emailing and then following up, as needed … THANK YOU from SAFE management, staff and most importantly … ALL the SAFE horses!