Bandit
SEX:
mare
BREED:
Quarter Horse
REGISTERED NAME:
none
INTAKE DATE:
10/1/21
COLOR: bay
MARKINGS:
For Novice Handler
YOB: 1997
AGE: 24 yrs old
HEIGHT: 14.2 HH
WEIGHT: 988 lbs
LOCATION: in foster
ADOPTION FEE: $300

Online Adoption Application
Bandit is a 24 year old Quarter Horse type mare who arrived at SAFE with two other herd mates, Brandy and Topper. Sadly, their owner was in hospice and needed for a place for their horses. Bandit is a friendly mare and she'll be offered for adoption as a companion. She currently lives in foster with Brandy in Monroe, WA.
All SAFE horses are adopted with a no-breeding clause, no exceptions.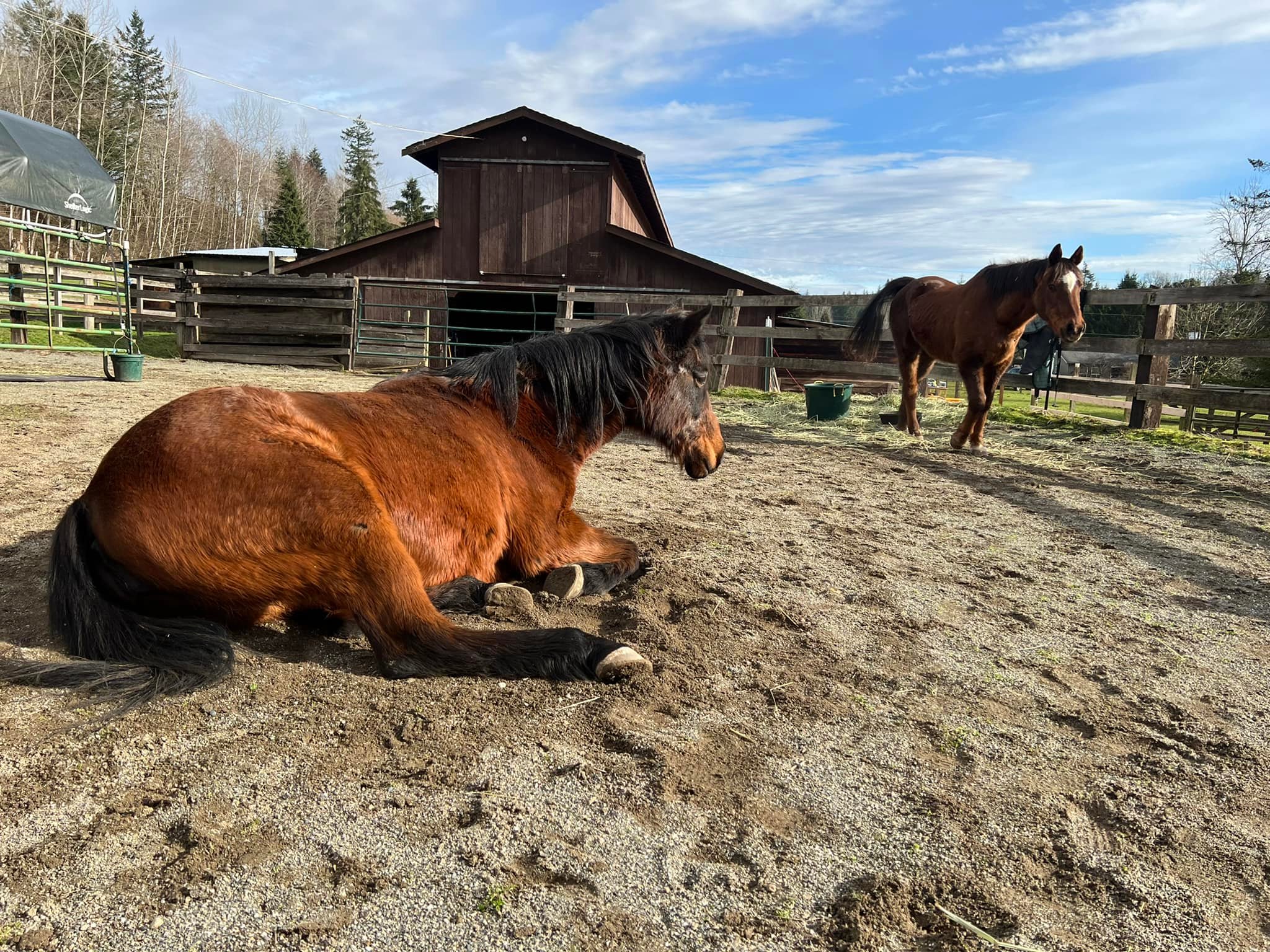 Brandy and Bandit have arrived at their foster home with long-time SAFE volunteer, Sarah V! A group of SAFE volunteers spent a sunny weekend day putting the finishing touches on the girl's new home, and then it was time for the pair to arrive. They had a lovely first day at the farm, exploring and grazing in the sunshine alongside their new neighbors – a herd of alpacas. The little herd caused quite the stir with both girls, especially with Brandy, who watched them for hours.
A few days later, the girls were introduced over the fence to Duke, their foster brother, and expressed towards him the same curious, friendly energy. They even got to enjoy some turnout in adjoining grass pastures together.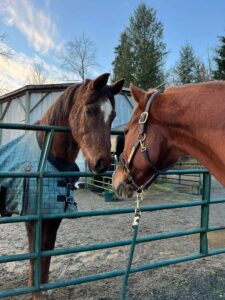 Another foster brother for them: Hopper the dog, just one letter away from sharing the name with their previous paddock mate, Topper the pony. Hopper provided them with a warm welcome, bringing his rawhide treat as an offering to the girls. According to his mom, this is his seal of approval!
Overall, the girls are settling in very nicely at their new home, and we look forward to continued updates from their foster mom!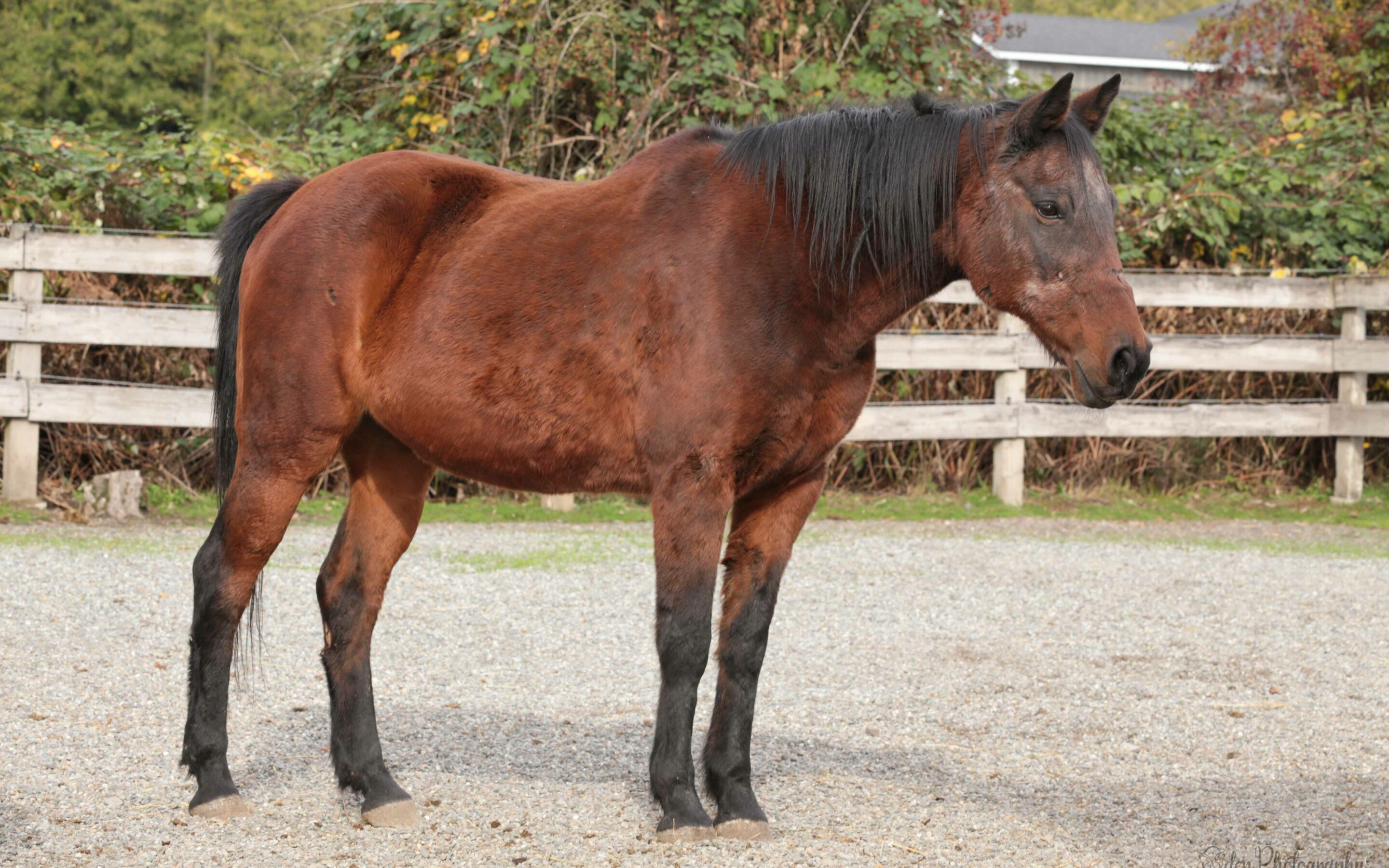 We've spent quite some time getting to know these two mares since their arrival at SAFE in October, 2021. We've observed that both have a "been there, done that" wisdom about them. They seem like two old ladies chuckling to themselves about days gone by and all the mischief they had gotten into together. Brandi is definitely the herd leader and Bandit is completely happy to follow her lead. They are both gentle to groom and handle. After being at SAFE for some time now, Bandit is easy to halter and enjoys her grooming and neck scratching sessions. The two are sweet enough to participate in volunteer grooming sessions and are no trouble when haltered and groomed. Both of them seem to enjoy the human companionship and are becoming favorites among the volunteers.
When Bandit came to SAFE, previous caretakers reported she was difficult for the farrier and needed veterinarian sedation for trims. She has now successfully been trimmed twice with our farrier, without sedation, and each time she became more relaxed. During the most recent trim, our farrier was impressed with Bandit's progress and commented that Bandit seemed very relaxed and well-mannered. The farrier's initial concern that it might be difficult for Bandit to get past her anxiety with hind leg trims faded after this session with Bandit's good behavior.
Both mares' teeth have been examined by our veterinarian. They have very little tooth available to be filed down and both were stressed by the equipment needed to perform the procedures. Because the exam indicated that not a huge amount of work could be done, we decided best to not cause them too much anxiety and did not do dentals. Going forward we will watch their weights and, due to the lack of grinding surface remaining on their teeth, supplement both with senior complete feed as needed to maintain good weights. Both mares have exhibited reluctance to be separate stalls, particularly Bandit. For the future, they will do best in a living situation that allow them 24-hour access in and out of shelters and where they can keep an eye on each other. They are currently content living as SAFE, sharing a run through shed and large paddock.
We are currently looking for an ideal foster home that will keep both mares living their best lives together. They are advanced in age but not in spirit, and we look forward to giving them a lovely retirement together.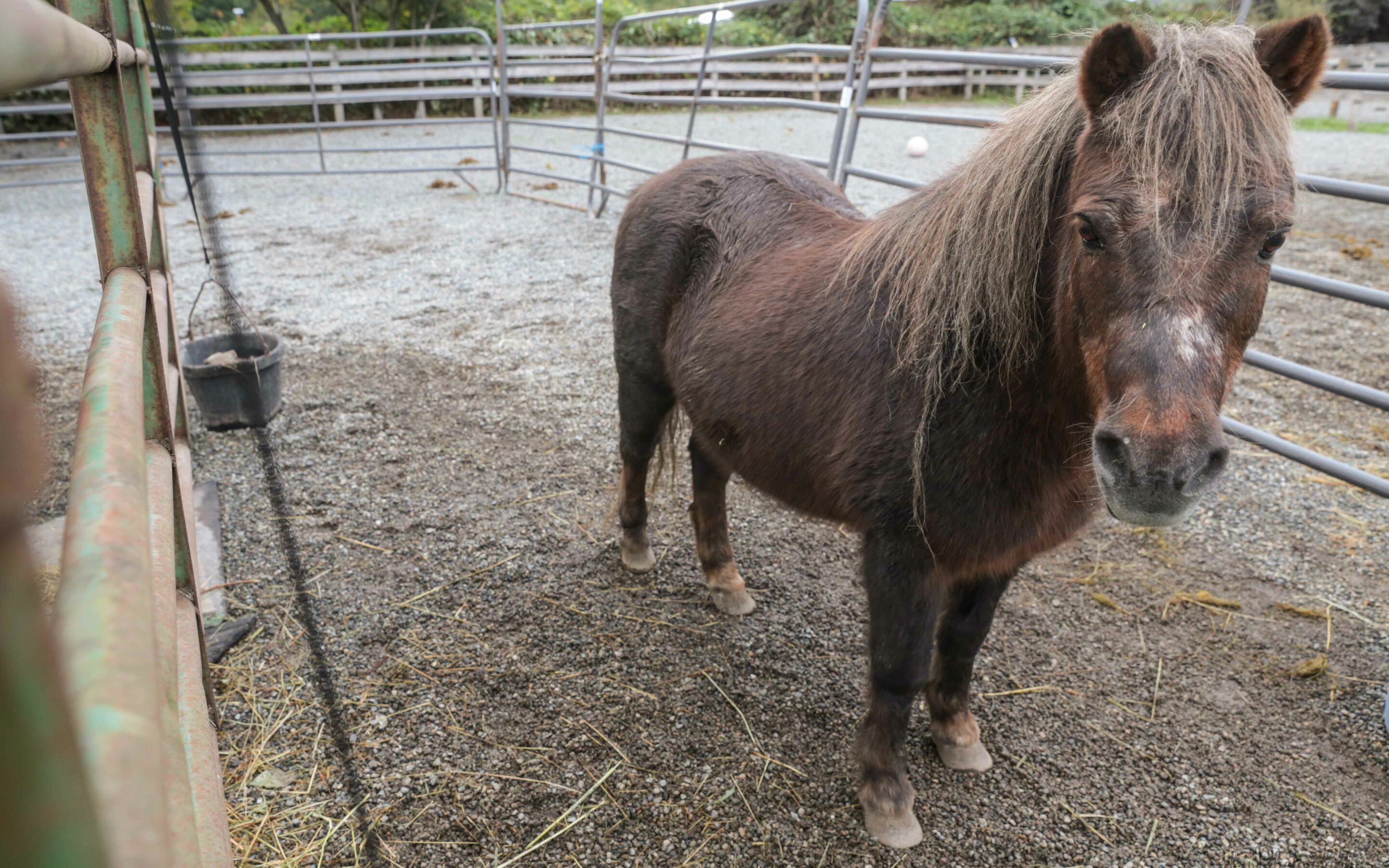 Brandy, Bandit and Topper all arrived at the beginning of October. Sadly, their owner had terminal cancer and was in hospice care. One of their last wishes was to ensure that her horses were safe and taken care of. Their friends helped them locate SAFE, we were able to help so we headed to Port Orchard to pick them up. Brandy is a little shy about being haltered so we set up a little shoot to load her in the trailer. Once Brandy was in, Bandit and Topper quickly followed. They traveled like champs and no one broke a sweat on the way over.
Topper is a fluffy little guy who came in about 100 pounds overweight. We set him up next door to Brandy and Bandit in his own paddock so we could help him lose weight. He now is getting his hay soaked for 30 minutes to help remove the sugars and is already looking better. Brandy seems to be the top dog and Bandit is a very good listener and moves out of her way so she can have first pick over her eating spot. All three horses need a dental and in preparation for coming into the barn we did a trial run. Each one got to practice walking into a stall and as long as they still knew where their friends were, they all walked in like champs. They must be familiar with barn life. The three have settled into the routine at SAFE, looking forward to morning and evening grain time with eager nickers.

Bandit's Friends:
1. Jean-Claude A.
2. Kim D.
3. Susanne M.
4. _____________________
5. _____________________
6. _____________________
7. _____________________
8. _____________________
9. _____________________
10._____________________
Every horse deserves at least ten friends! Even a small monthly donation can make a difference.