Breve
2016 Chocolate Palomino Pony of America mare
Type of Rescue: Animal Control Surrender
Intake Date: 1/5/21
Adoption Date: 7/24/21
Length of Time with SAFE: 7 months
ADOPTED!! by Jane and Eric
Breve and two other horses were seized by Animal Control after a 5th horse on the property died due to neglect. The survivors all suffered from overgrown hooves, lice, malnutrition, enormous worm loads, and lack of dental care, causing painful ulcerations in their mouths. Breve is a small pony (11.0hh). She's a lovely chocolate palomino with a pretty blaze and one white foot.
Today: Breve has been adopted along with Checkers by Jane and Eric. We think Checkers may have been Breve's mom since they came from the same herd. Now the two live on 21 acres, with people who love them and will never have to worry about food or medical care again.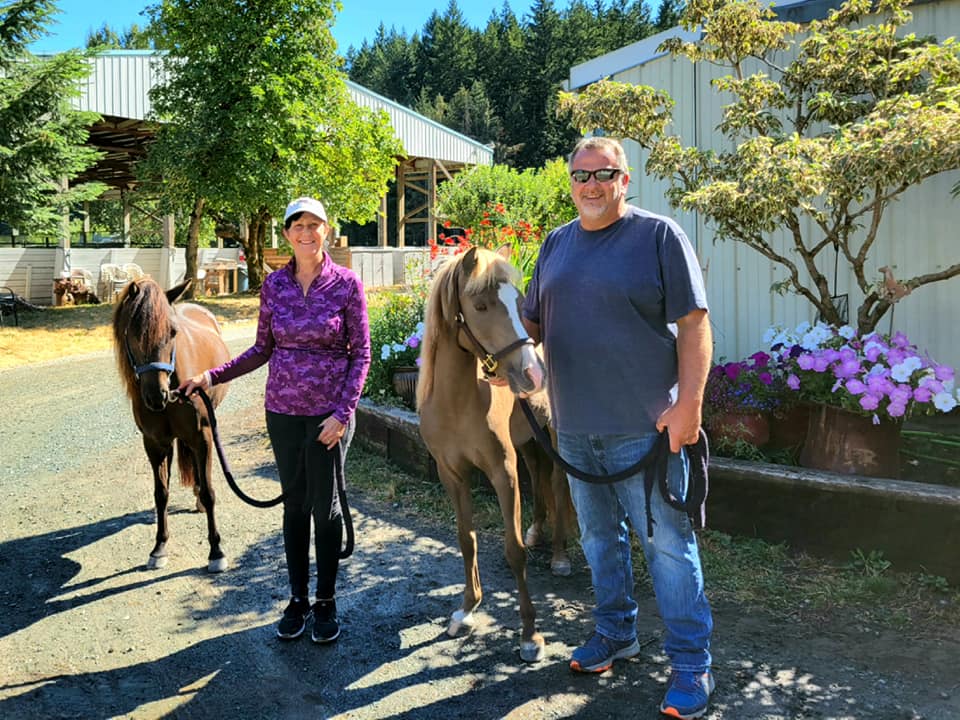 Checkers and Breve might be mother and daughter, but the two ponies didn't arrive at SAFE at the same time. Their previous owner hid four more ponies on their property after Animal Control came to seize the initial group. A few weeks later, AC discovered there were more ponies and eventually the whole herd ended up at SAFE.
Breve arrived at SAFE first, along with Sundae and Razin. Checkers came later with her 6‑month-old baby, Minnie, plus two more pony stallions. The whole herd needed a lot of attention. None of them were used to being haltered or even handled by people. Their coats were matted, they were malnourished, and they were in bad need of a dental and a visit from the farrier, but first we had to get them used to people! Checkers seemed to be the most outgoing of the adult ponies and understandably a little protective of Minnie. Breve kept her distance and seemed to give comfort for the littlest pony, Razin, who followed her around. Eventually they all entered the horsemanship program and figured out that humans aren't so bad and just like that we had a plethora of cuteness at the farm.
Jane and Eric live on 21 acres and their daughter recently moved, taking her pony, Ruckus (a SAFE Alumni!) with her. They needed to fill their beautifully restored 4 stall barn so they came to meet Breve and Checkers. They visited a few times to get to know these two and were extremely excited to take them home. Last month, Breve and Checkers headed to their new home. Their barn doors even have an extra opening for pony sized necks to look out! Now Checkers and Breve will live happily ever after together and maybe one day have a few big horse buddies in the other two stalls next door.