Cameo
description: 2009 bay Arabian mare
type of rescue: seizure
intake date: 12/20/2012
adoption date: 3/1/2020
length of time with SAFE: 7 years, 2 months
Adopted by Janelle!
Cameo's Story
Cameo is one of 39 horses seized by Pierce County Animal Control after they were discovered living in filthy, deplorable conditions, trapped in stalls and paddocks piled high with their own waste, in barns with no light and no ventilation. The horses were in large part unhandled and they suffered from a lack of vet and farrier care. Because she did not receive proper handling and training, Cameo was quite wild and difficult to handle when she arrived at SAFE. But with kind and patient handling, she learned to trust us. She made slow but steady progress working with trainer Brittney Stewart and learned to be safely caught, haltered, led, and groomed. Brittney introduced her to the bridle and bit, and in early September, she left for training with Andrea Lucianna. Going to training was initially a difficult experience for Cameo, but Andrea worked with her very slowly and carefully, and gained her trust and acceptance. Thanks to a grant from the ASPCA Equine Fund, we were able to keep Cameo in training for more than 6 months, giving her the time that she needed. When she graduated from training in April 2014, she was going nicely at all three gaits.
Cameo was adopted in 2017 and headed off to become a dressage horse with her new owner. Unfortunately, she became lame. Her adopter was unable to find a new placement for Cameo, and she was returned to SAFE.
Upon returning, we evaluated Cameo's soundness and started her back in our groundwork and under saddle program.
Cameo Today
Cameo is a pleasure to work with but she isn't easy; she is very sensitive and can teach her handler a lot about correct pressure and release. That's why we were so excited to find her perfect trail riding partner in Janelle in March 2020. We wish them the best!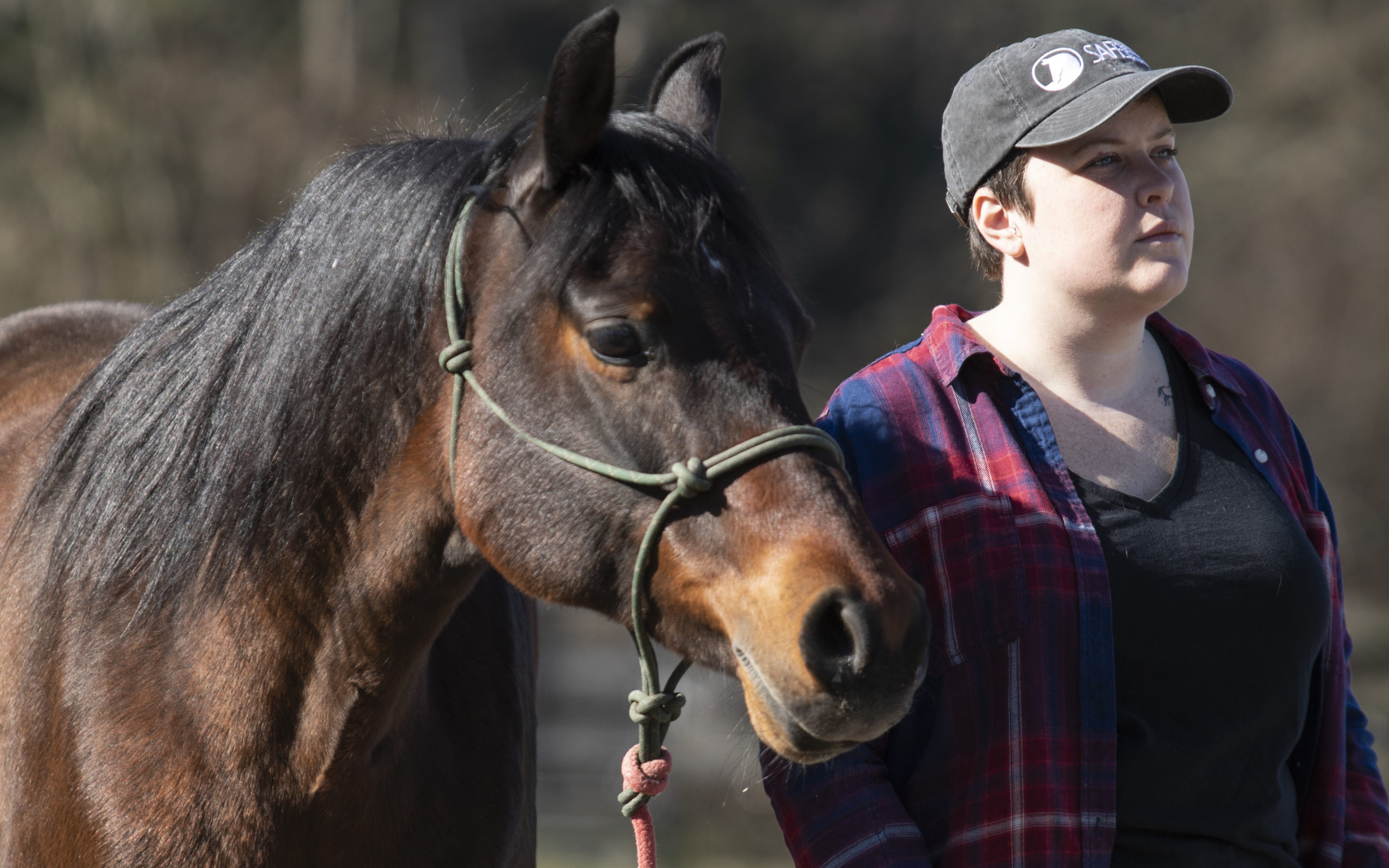 Terry worked with Cameo in this month's Joel Conner Clinic. Here's her report on the progress that she and Kaya have made with this mare:
Cameo was a star pupil at our horsemanship clinic this past weekend. Kaya has been working with her for the past few weeks, conditioning and strengthening her for riding by working in hand over trot poles and through groundwork. We have ridden her a bit too but had not been constant through the winter. Joel helped Cameo and I work through some of her braces while being ridden. She made some significant changes with his help and by Sunday felt and looked like a completely different horse. She was smooth, with a relaxed neck and shoulder, had an absolute lovely soft gait. She was able to feel easily through the transitions from the walk, trot to the lope and down again. It was a very special weekend for her, and I am excited to see her progress this year.
Kaya did some amazing work with Cameo in our morning groundwork sessions. She had some major breakthroughs and her horsemanship skills are growing in leaps and bounds. Cameo is a pleasure to work with but she isn't easy! She is very sensitive and can teach her handler a lot about correct pressure and release. It was lovely to see Kaya and Cameo's bond grow through the weekend. Here is what she had to say about the clinic with Cameo:
I recently started working with Cameo on groundwork and was able to learn with her in the groundwork section of the Joel Conner clinic. This was a great opportunity for me to practice with a super sensitive horse and it was a fun experience! During the first hour or so on Friday, Cameo was spooked by the sound of another horse in the trailer that was practice loading. This moment, combined with the information that she had been difficult to load in the past, led me to believe that we would have our work cut out for us when her turn came to practice loading, but I was pleasantly surprised! Joel worked with Cameo first and his method was so effective. Making outside of the trailer work and inside of the trailer peaceful had a huge effect on Cameo. I continued working on this the next few days and by Sunday, Cameo was practically loading herself and licking and chewing in the back corner of the trailer. This was also a great learning moment for me as Joel showed me how to be safe about loading and get out of the way of danger when necessary.

Cameo and I also worked with a tarp a lot. While she needs more of this exercise, by Sunday, I could throw the tarp over her while she stayed relatively relaxed with an even, balanced walk. The final exercise that Joel had us working on Sunday was one of my all-time favorite moments in a clinic. It was simply working on backing up, but with a focus on getting this movement with as small a cue as possible. At first, I didn't think much of it; this is one of the first things that Terry taught me, and I felt like I had a really good handle on it. But Joel noticed how on the ball Cameo was and asked that I try to get her to back up without even a perceptible hand motion. Cameo hooked on to this quickly and soon we were backing up off my feel alone. It was kind of indescribable. Being able to look at this horse, whose default is generally looking anywhere but at me, and feeling like she was tuned into my thoughts and waiting for me to ask her to move was amazing. I'm grateful for this experience with Cameo, she is definitely a special horse!

Cameo's Friends:
1. Sundee R.
2. Shar C.
3. Taryn B.
4. Nancy B.
5. Victoria G.
6. _____________________
7. _____________________
8. _____________________
9. _____________________
10._____________________
Every horse deserves at least ten friends! Even a small monthly donation can make a difference. Plus, SAFE horse sponsors receive discounts at local businesses through the SAFEkeepers program!