Cameo
| | | | |
| --- | --- | --- | --- |
| SEX: Mare | BREED: Arabian | REGISTERED NAME: none |   |
| COLOR: Bay | MARKINGS: |   |   |
| YOB: 2009 | AGE: 10 | HEIGHT: 14.1 | WEIGHT: 954 lbs |
| LOCATION: Redmond | ADOPTION FEE: $1,200 | Online Adoption Application |   |
Cameo's Story
Cameo is one of 39 horses seized by Pierce County Animal Control after they were discovered living in filthy, deplorable conditions, trapped in stalls and paddocks piled high with their own waste, in barns with no light and no ventilation. The horses were in large part unhandled and they suffered from a lack of vet and farrier care. Because she did not receive proper handling and training, Cameo was quite wild and difficult to handle when she arrived at SAFE. But with kind and patient handling, she learned to trust us. She made slow but steady progress working with trainer Brittney Stewart and learned to be safely caught, haltered, led, and groomed. Brittney introduced her to the bridle and bit, and in early September, she left for training with Andrea Lucianna. Going to training was initially a difficult experience for Cameo, but Andrea worked with her very slowly and carefully, and gained her trust and acceptance. Thanks to a grant from the ASPCA Equine Fund, we were able to keep Cameo in training for more than 6 months, giving her the time that she needed. When she graduated from training in April 2014, she was going nicely at all three gaits.
Cameo was adopted in 2017 and headed off to become a dressage horse with her new owner. Unfortunately, she became lame. Her adopter was unable to find a new placement for Cameo, and she was returned to SAFE.
Cameo Today
We have evaluated Cameo's soundness and started her back in our groundwork and under saddle program. We're happy to report she is ready for adoption as a riding horse!
Cameo is a pleasure to work with but she isn't easy; she is very sensitive and can teach her handler a lot about correct pressure and release. She is best suited for an experienced rider who will continue to work through her braces to find her lovely, soft gaits and transitions.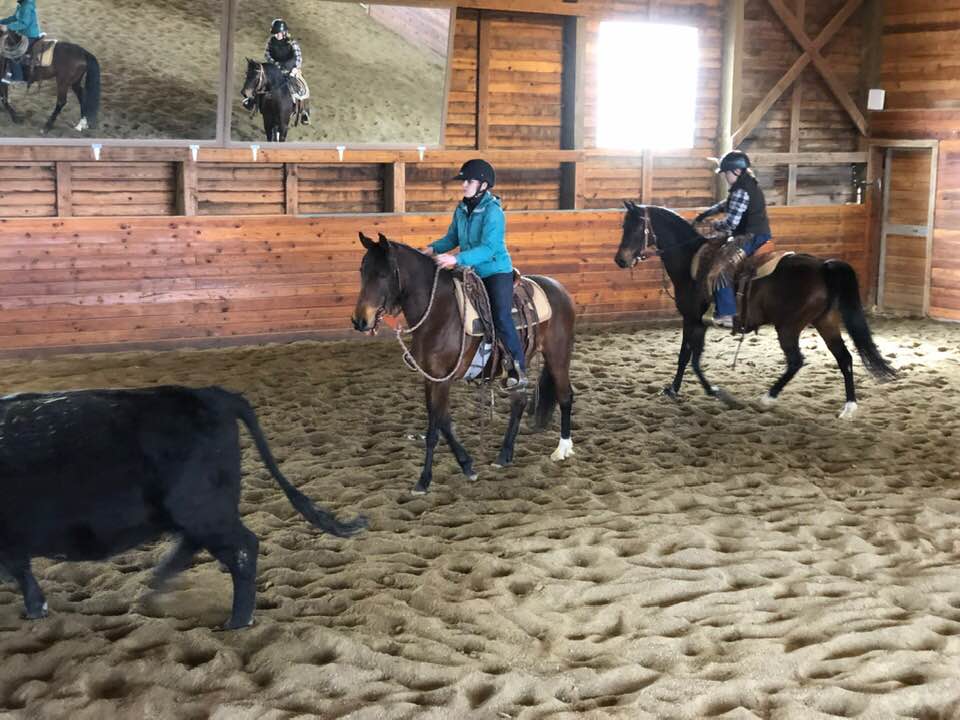 We enjoyed an amazing 3 days working with Joel Conner in Ellensburg. Our goal was to get the first rides on Fancy and give Stella and Cameo experience off property. We did that and so much more.
I'm impressed by how well-prepared Fancy was for her first rides and what a peaceful and understanding experience Casey gave to her. She was relaxed and accepting of a rider without issue. She made big changes each day and it was a perfect way to introduce her to carrying a rider. She going to be a phenomenal mare with a very bright future!
Stella blew us all away with her mad cow horse stills! She's a natural, brave and took right to it! Huge changes in her soft feel and finding a serious stopping power in her hind end!! She is gets right to work off site and settles in to it like she's at home. Such a gifted mare and Casey has done a fantastic on taking her through the snaffle bit…I dare say I can see her going to the hackamore by the end of the summer!!
Cameo lived through the cows and with Joel's help got close enough to move them on her own. So much to still sort out for this mare but the experience was perfect to help her issues with leaving and disconnecting. She looks and feels like a completely different horse as this Horsemanship work helps her let down. Balanced, connected and content this mare is going to make it!
We can't thank Joel enough for his guidance and encouragement. Joel, your support of SAFE, our mission and our horses in inspiring and is such a gift to our community. Thank you for helping us create better lives for our horses and changing the way people see a rescue horse!!

Cameo's Friends:
1. Sundee R.
2. Shar C.
3. Taryn B.
4. Nancy B.
5. Victoria G.
6. _____________________
7. _____________________
8. _____________________
9. _____________________
10._____________________
Every horse deserves at least ten friends! Even a small monthly donation can make a difference. Plus, SAFE horse sponsors receive discounts at local businesses through the SAFEkeepers program!