Cameo
| | | | |
| --- | --- | --- | --- |
| SEX: Mare | BREED: Arabian | REGISTERED NAME: none | |
| COLOR: Bay | MARKINGS: | | |
| YOB: 2009 | AGE: 9 | HEIGHT: | WEIGHT: |
| LOCATION: Redmond | ADOPTION FEE: $300 | Online Adoption Application | |
Cameo is one of 39 horses seized by Pierce County Animal Control after they were discovered living in filthy, deplorable conditions, trapped in stalls and paddocks piled high with their own waste, in barns with no light and no ventilation. The horses were in large part unhandled and they suffered from a lack of vet and farrier care. Because she did not receive proper handling and training, Cameo was quite wild and difficult to handle when she arrived at SAFE. But with kind and patient handling, she learned to trust us. She made slow but steady progress working with trainer Brittney Stewart and learned to be safely caught, haltered, led, and groomed. Brittney introduced her to the bridle and bit, and in early September, she left for training with Andrea Lucianna. Going to training was initially a difficult experience for Cameo, but Andrea worked with her very slowly and carefully, and gained her trust and acceptance. Thanks to a grant from the ASPCA Equine Fund, we were able to keep Cameo in training for more than 6 months, giving her the time that she needed. When she graduated from training in April 2014, she was going nicely at all three gaits.
Cameo was adopted in 2017 and headed off to become a dressage horse with her new owner. Unfortunately, she became lame. Her adopter was unable to find a new placement for Cameo, and was returned to SAFE. We need to evaluate her soundness and make some decisions as to what her next steps are going to be.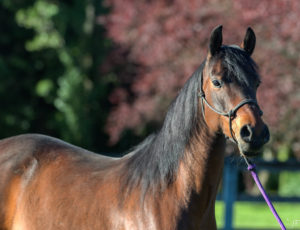 Cameo is getting back to work and doing very well. We are keeping things easy to start with, working on groundwork, saddling, and hooking up with her handlers. Already we are seeing good changes! Here is an update from her volunteer rider Claire:
"Cameo has come a long way in just a few sessions I've been able to work with her. Since she was stuck in a stall for so long recovering from her injury, she had a lot of excess energy to burn off, which was very apparent when I worked with her. A few weeks ago, I would saddle her (which she was initially troubled about), then turn her loose in the round pen. She would gallop around, unbalanced, and refuse to look at me. She also spooked consistently at one end of the round pen and wouldn't go near it. Eventually, I was able to get her to calm down and we ended on a good note (even if she was super sweaty since she is so out of shape!). But the last time I worked with her, it was night and day. She was totally comfortable being saddled, moved out really nicely and calmly in the round pen, and even went to the side of the round pen that she was afraid of. She was listening to me the whole time, and she walked and trotted with me without a halter on. She is incredibly smart and it is a pleasure to work with her!"
Here are some lovely photos that Jessica Farren took of Claire and Cameo working in the round pen this week. What a BEAUTIFUL mare Cameo has become!

Cameo's Friends:
1. Julie M.
2. _____________________
3. _____________________
4. _____________________
5. _____________________
6. _____________________
7. _____________________
8. _____________________
9. _____________________
10._____________________
Every horse deserves at least ten friends! Even a small monthly donation can make a difference. Plus, SAFE horse sponsors receive discounts at local businesses through the SAFEkeepers program!