Cameron
SEX:
gelding
BREED:
Arabian
REGISTERED NAME:
MWF Cameron
INTAKE DATE:
8/20/21
COLOR: bay
MARKINGS: star
YOB: 1991
AGE: 30 yrs old
HEIGHT: 15.2 HH

WEIGHT: 945 lbs

LOCATION: Redmond, WA
ADOPTION FEE: $300
This 30 year old registered Arabian gelding came to us in very poor shape. His hip points and croup are clearly visible because he is severely emaciated. Sadly, his owner passed away three years ago, leaving him in the care of her husband, who was inexperienced with horses, and unable to recognize that the horse's health was declining. Cameron also has a systolic heart murmur and may show some neurological problems in his hind end.
Because of the number of medical issues Cameron has, he will need a very special adopter who is experienced with senior horses. If such an adopter doesn't come along, SAFE will ensure the best quality of life for Cameron. We're going to do everything we can to keep him comfortable but we will not let this grand old horse suffer. He is currently bright eyed and happy. He is hand walked once or twice daily. Cameron enjoys these strolls, likes attention, and is groomed multiple times during the week. He seems very happy to be at SAFE where he can see other horses, and where food comes often and on schedule.
A Horse of Many Names …
Cameron, Cam, Cam My Man … these are all the names by which he is lovingly referred. As you may recall from an earlier update, Cameron has been participating in the SAFE Handwalking Program since last October. The program was developed to accommodate the need for the SAFE horses to stay active, especially those recovering from some mishap or those companion horses who do not get regular stimulation through the SAFE Horsemanship Program as they are readied to become adoptable riding horses. As a result, Cameron has a harem of SAFE volunteers (aka Admirers) who met the criteria for the SAFE Handwalking Program, wanted to practice their horse leading and handling skills and committed to walk him for 30-minute intervals during their assigned day and scheduled slot each week. Following is what one of those Admirers, Debbie M, has to say about her time with Cam …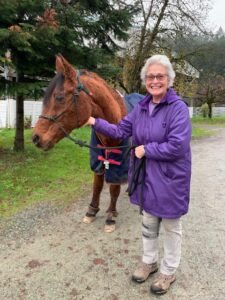 What a special boy Cam is and smart, too! While he would prefer to take the lead as evidenced by his tendency to forward walk if being led on his left side, he usually will back up on his own when I stop to first ask him to do so and always if a second ask is needed or on the rare occasion when he needs to be asked a third time. He obviously is more accustomed to being walked on this left side and seems to be more comfortable with his handler being on that side. However, he is adapting quite nicely to being led on his right side, too, so we spend time doing both on our walks for more mental stimulation. For variety, we walk the main loop between the barn and around the outdoor covered arena; traverse the open arena in multiple directions; spend time in the covered arena; and on occasion, meander to the back paddocks so we can say "Howdy!" to all the horses who come to their fence lines to observe us enjoying our walk. As with most horses, grass is quite tempting; but he accepts the fact with minimal resistance that he is not allowed to munch on any during our walks. It is as if he knows munching on grass may not be good for his tummy … or at least I would like to think so! Always the gentleman, Cameron will lower his head and guide his nose into the halter for the start of our walk and patiently wait for his halter to be removed at the end of the walk … unless the SAFE "food truck" is delivering a meal to his neighbors and he knows his paddock soon will be visited! Cam is My Man on our weekly walks. I sincerely appreciate his patience with me and what he is teaching me and thoroughly enjoy spending time with him. On behalf of all of his Admirers … Thank you to SAFE Management for giving us this opportunity.

Cameron's Friends:
1. Susanne M.
2. Skye G.
3. Leslie D.
4. Ann D.
5. Tori L.
6. Lylee H.
7. Gwen B.
8. Ginny M.
9. Andrea M.
10. Samantha E.
Every horse deserves at least ten friends! Even a small monthly donation can make a difference. Plus, SAFE horse sponsors receive discounts at local businesses through the SAFEkeepers program!