Echo
SEX:
mare
BREED:
Grade
REGISTERED NAME:
none
INTAKE DATE:
7/2/21
COLOR: black
MARKINGS: irregular star
YOB: 2010
AGE: 11
HEIGHT: 13.3 HH
WEIGHT: 1200
LOCATION: Remond, WA
ADOPTION FEE: $2,000
Echo is an eleven year old grade mare who was part of a two horse animal control seizure. Sadly, the other horse was suffering extreme neglect and the vet recommended the most kind thing was to euthanize. Echo was a little worried about being haltered when she first arrived, but once she realized humans give good scratches, she leaned in and enjoyed the attention. Her feet were also badly overgrown, our farrier has recommended that we do small trims over 2–3 weeks to get her feet back to normal. Upon arrival her body score was a 9 and after being here for a few months she has slimmed down and looks amazing. The staff has been working with her in the horsemanship program and she is doing great.
All SAFE horses are adopted with a no-breeding clause, no exceptions.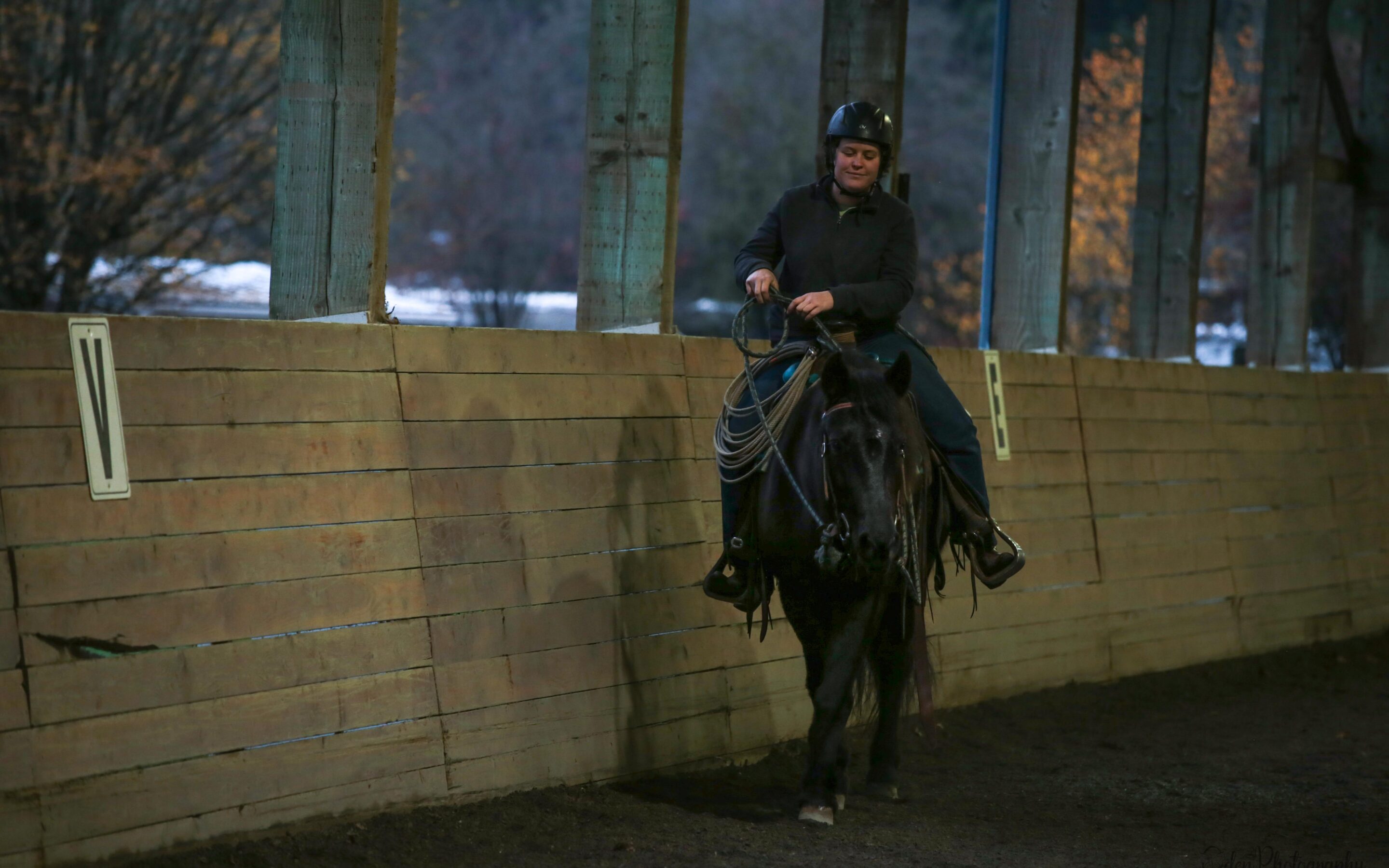 One of our volunteer riders, Candi, recently rode Echo on the last day of the Joel Connor Clinic. Here is what she said about Echo.
"One look into Echo's eyes and you see a sweet mare who is finding her groove once again. In the last month she has been introduced into the horsemanship program by Kaya. In November, Echo participated in the Joel Conner clinic. On the third day of clinic, I was able to ride Echo for the first time. We worked on bending, hindquarters, unified circles and a soft feel. The soft feel means the rider uses their body language to help horse follow them just like they are leading a dance and the horse is following. Along with teaching Echo to move her feet while maintaining a soft feel she is finding comfort. She was calm and relaxed throughout the entire session even with several horses and riders moving around her.
Echo is wonderful mare who wants to connect with her rider. She will benefit with continued training in horsemanship even well after adoption. This will help her not only in the arena but on the trails as well."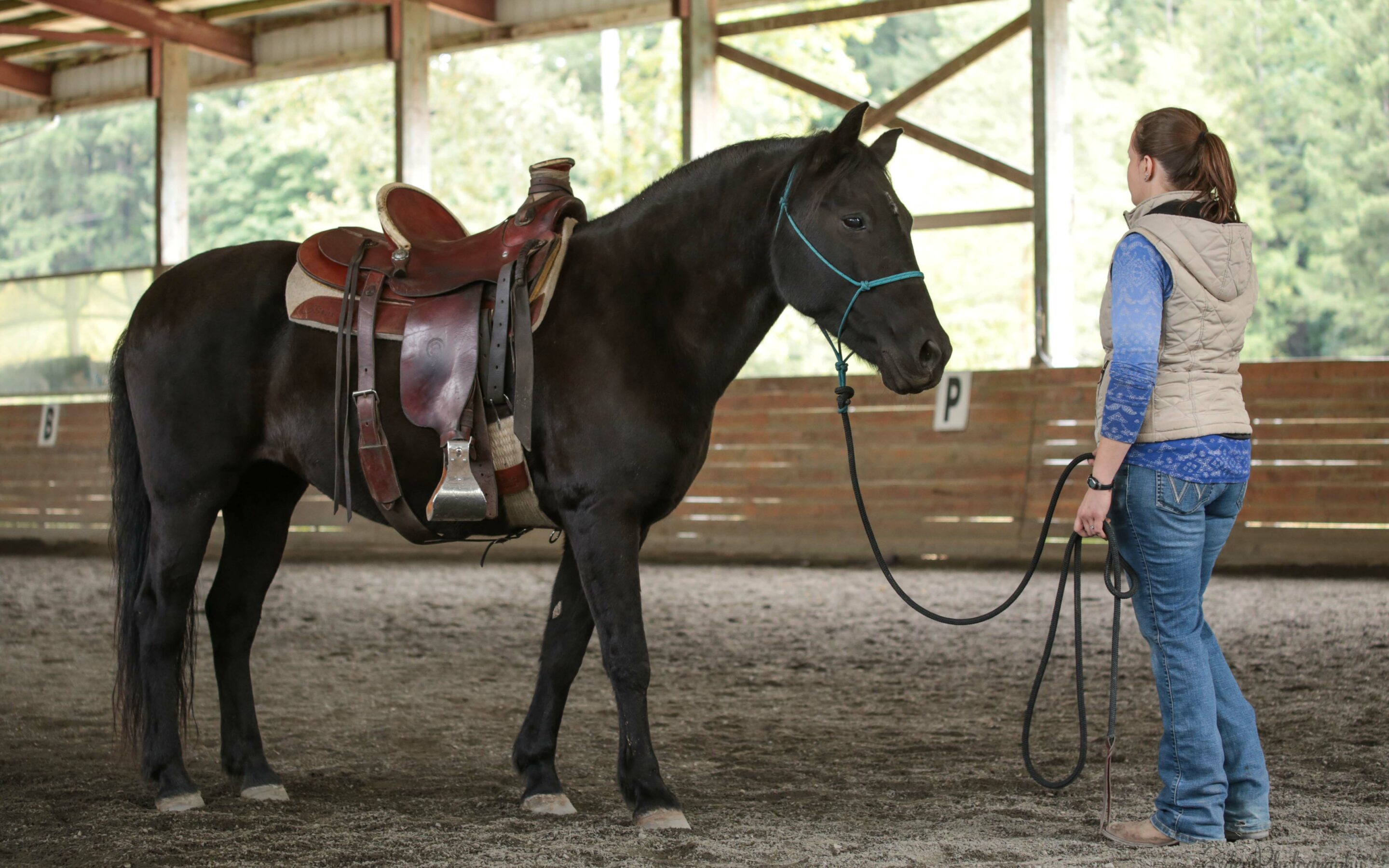 Since her arrival at SAFE, Echo's weight has dropped from 1,100 pounds to a much more height-appropriate 875 pounds. We soak her hay for 30 minutes to decrease sugars and are using hay that is suitable for easy keepers. The hay provides roughage and forage but is not as calorie packed as the orchard grass or alfalfa that other SAFE horses receive.
Echo has had several hoof trims by the farrier, handles fly spray more comfortably than initially, and is even getting some experience with trailer loading. We are working on conditioning ground work and bumping her up to a fence for mounting. She has no trouble being saddled and has had about seven rides. Echo has approximately 30 days of riding ahead of her to check soundness and to check for vices, and will then be started on trails. She has probably been a riding horse in the past but does not appear to have concentrated arena work. Arena work builds the tools, support, and relationship between rider and horse and is important in preparation for going out on the trail. Echo needs to learn to bend — a combination of the head, front end and hind end moving with a suppleness throughout the whole body. Other training objectives for Echo include getting her feet free, learning to change eyes, and not getting upset when a cinch or stirrup touches her side. She's not a naughty horse, but she's anxious, so working to get her relaxed and content with a rider on board is important. We estimate it will be another 4–6 weeks of training before she will be introduced as a riding horse.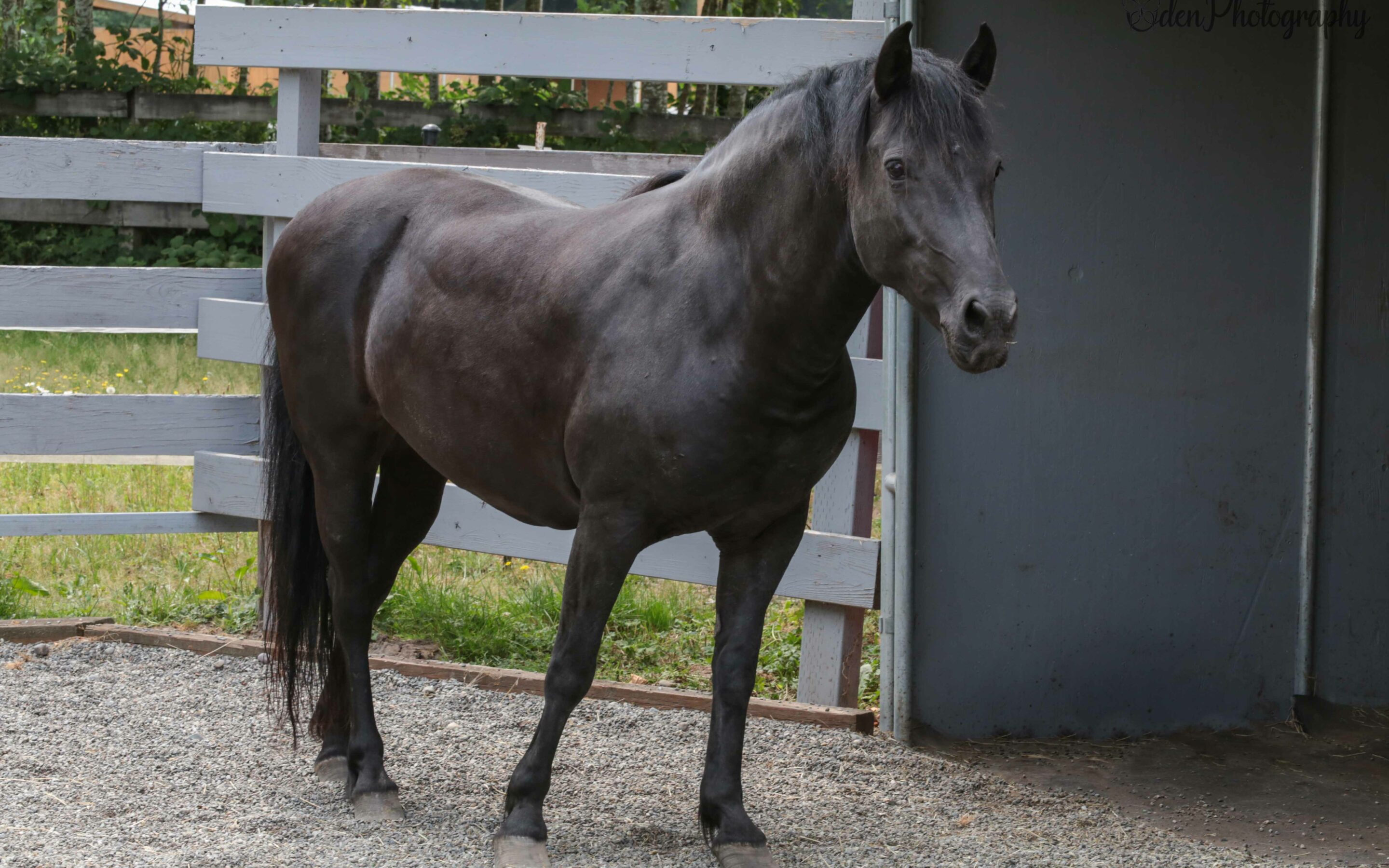 Echo was dropped off by Animal Control a few weeks ago. When she first arrived, she was very unsure of being caught. What will these humans ask of me!? she seemed to say. Once haltered, the staff started loving on her, brushing and giving her scratches. She quickly learned this is good stuff and leaned into Terry, who was brushing and she started grooming Kaya, who was scratching her head. This big black 11 year old mare with a cresty neck has a body score of 9, so it is a little difficult to tell what breed she is. Currently she is 1200 lbs at 13.3 HH, so we are working on a plan to help her lose weight. We soak her hay twice a day for 30 minutes, which takes some of the sugars out and she is also on Thyro‑L to help with weight loss.
Echo lived with another horse on the property, who was so badly neglected, the kindest thing was to euthanize them. The previous owners were feeding the horses, but not caring about their weight or medical needs. While Echo was able to eat so much and get fat, the other horse was wasting away. Echo's feet have not had a trim in quite some time. Our farrier has already come for a first visit and has recommended that we do small trims every 2–3 weeks to slowly work our way back to the shape they should be. See before and after photos of her feet below. Echo seems to be a friendly gal who is interested in people and we are excited to see her transformation into the horse we know she is.

Echo's Friends:
1. Bryony W.
2. Tamra T.
3. Lori P.
4. Carrie S.
5. Patricia A.
6. Renee W.
7. Barbara B.
8. Mary T.
9. _____________________
10._____________________
Every horse deserves at least ten friends! Even a small monthly donation can make a difference. Plus, SAFE horse sponsors receive discounts at local businesses through the SAFEkeepers program!