Echo
SEX:
mare
BREED:
Grade Type
REGISTERED NAME:
none
INTAKE DATE:
5/16/22
COLOR: black
MARKINGS: irregular star
YOB: 2010
AGE: 12 yrs old
HEIGHT: 13.3 HH
WEIGHT: 950 lbs
LOCATION: Redmond, WA
ADOPTION FEE: TBD
Online Adoption Application
Echo is a twelve year old grade mare who was part of a two horse animal control seizure. Sadly, the other horse was suffering extreme neglect and the vet recommended the most kind thing was to euthanize. Echo was a little worried about being haltered when she first arrived, but once she realized humans give good scratches, she leaned in and enjoyed the attention. Upon arrival, her body score was a 9 and the staff got to work helping this lady slim down a bit. Echo made a good recovery, and was soon added to SAFE's horsemanship program, where she proved to be a steady and gentle riding horse.
She was adopted in 2021, but returned to SAFE in May 2022 after her adopter informed us that she was having issues with Echo. Rather than have her adopter find Echo a new home, we elected to take her back so that we could restart her under saddle. Since her return, she's seemed like her old self, and we are enjoying the chance to work with her again. She'll be offered for adoption as soon as we feel confident that we understand the issues she faced in her prior home.
All SAFE horses are adopted with a no-breeding clause, no exceptions.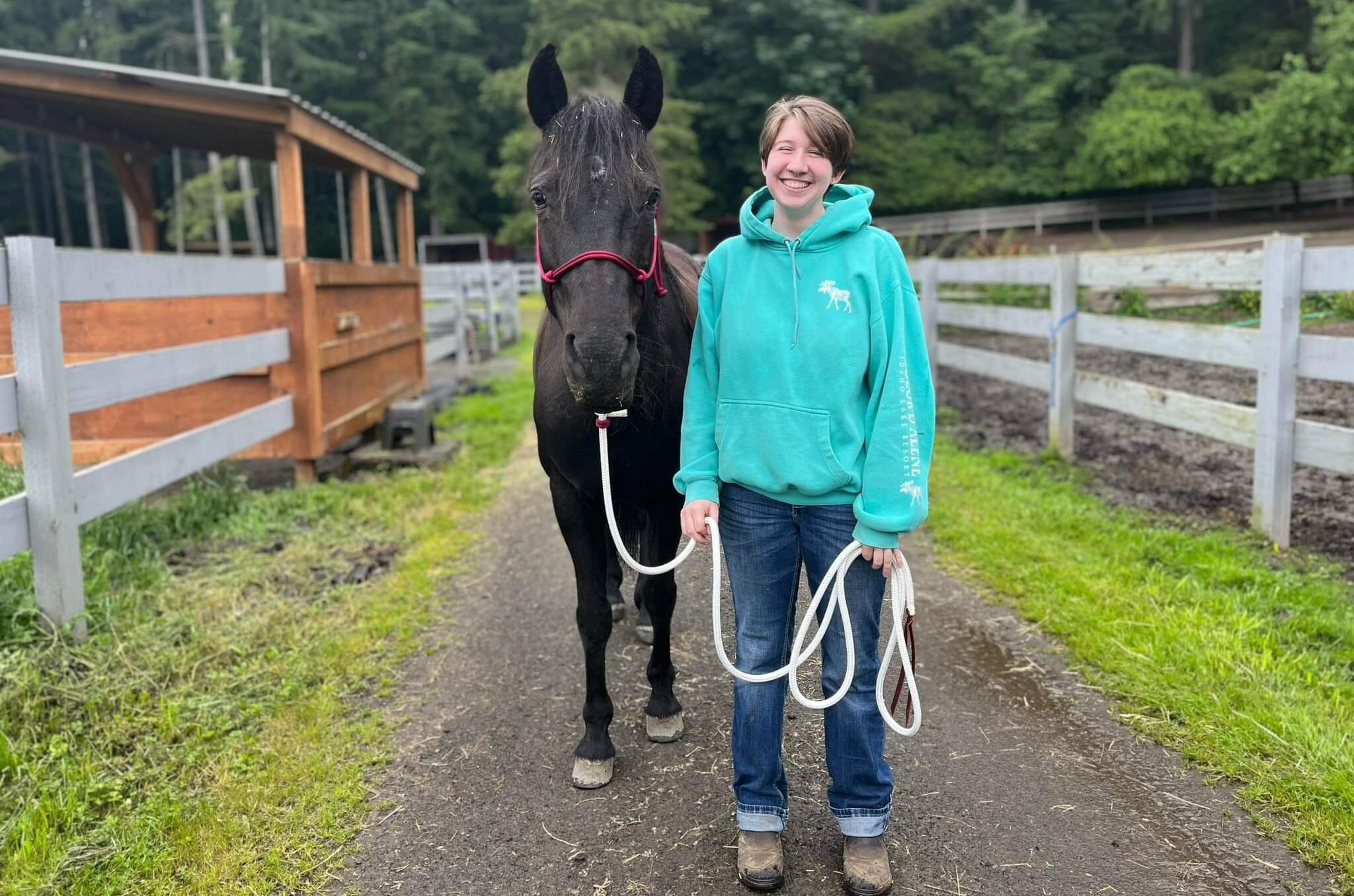 After catching the eye of Brittany at the June Joel Connor clinic, she went home and told her family about this sweet pony. They gave SAFE a call and we talked about where Echo was in her training and the work needed to help her. We all agreed they were capable to helping her reach her full potential. One of the big reasons that allowed us to be comfortable with her leaving so soon after coming back to SAFE is that they understand the training we began and are able to continue to support her to make lasting changes.
Echo traveled the 4 hours to her new home without breaking a sweat. Upon arriving, Brittany told us she was excited to have her home and there was a lot of snuggling at dinner time. Eventually, when her daughter, Addison, took out Echo's braids she was thrilled to find her thick luscious mane and exclaimed it's her dream mane! Britney shared how excited she is to see her kid go down this style of horsemanship and thanks to Echo, she will reach a new level. Echo's story has a happy ending because of Brittany's wonderful family and we are so happy for this sweet mare.

Echo's Friends:
1. Kim D.
2. _____________________
3. _____________________
4. _____________________
5. _____________________
6. _____________________
7. _____________________
8. _____________________
9. _____________________
10._____________________
Every horse deserves at least ten friends! Even a small monthly donation can make a difference. Plus, SAFE horse sponsors receive discounts at local businesses through the SAFEkeepers program!