Echo
2010 black Grade mare
Type of Rescue: Animal Control Seizure
Intake Date: 7/2/2021
Adoption Date: 7/2023
Length of Time with SAFE: 2 years
ADOPTED!! by Addison

Echo is a twelve year old grade mare who was part of a two horse animal control seizure. Sadly, the other horse was suffering extreme neglect and the vet recommended the most kind thing was to euthanize. Echo was a little worried about being haltered when she first arrived, but once she realized humans give good scratches, she leaned in and enjoyed the attention. Upon arrival, her body score was a 9 and the staff got to work helping this lady slim down a bit. Echo made a good recovery, and was soon added to SAFE's horsemanship program, where she proved to be a steady and gentle riding horse.
She was adopted in 2021, but returned to SAFE in May 2022 after her adopter informed us that she was having issues with Echo. Rather than have her adopter find Echo a new home, we elected to take her back so that we could restart her under saddle. During the period she was back at SAFE, Brittany and Addison came to spectate a Joel Conner clinic where Echo was being ridden, and absolutely fell in love with this sweet mare. Because of their experience with this type of horsemanship, we felt that this would be the perfect fit for Echo's continued training, and we were not wrong! Since her adoption, Echo has had all sorts of amazing experiences with Addison, including many trail rides and even some water crossings!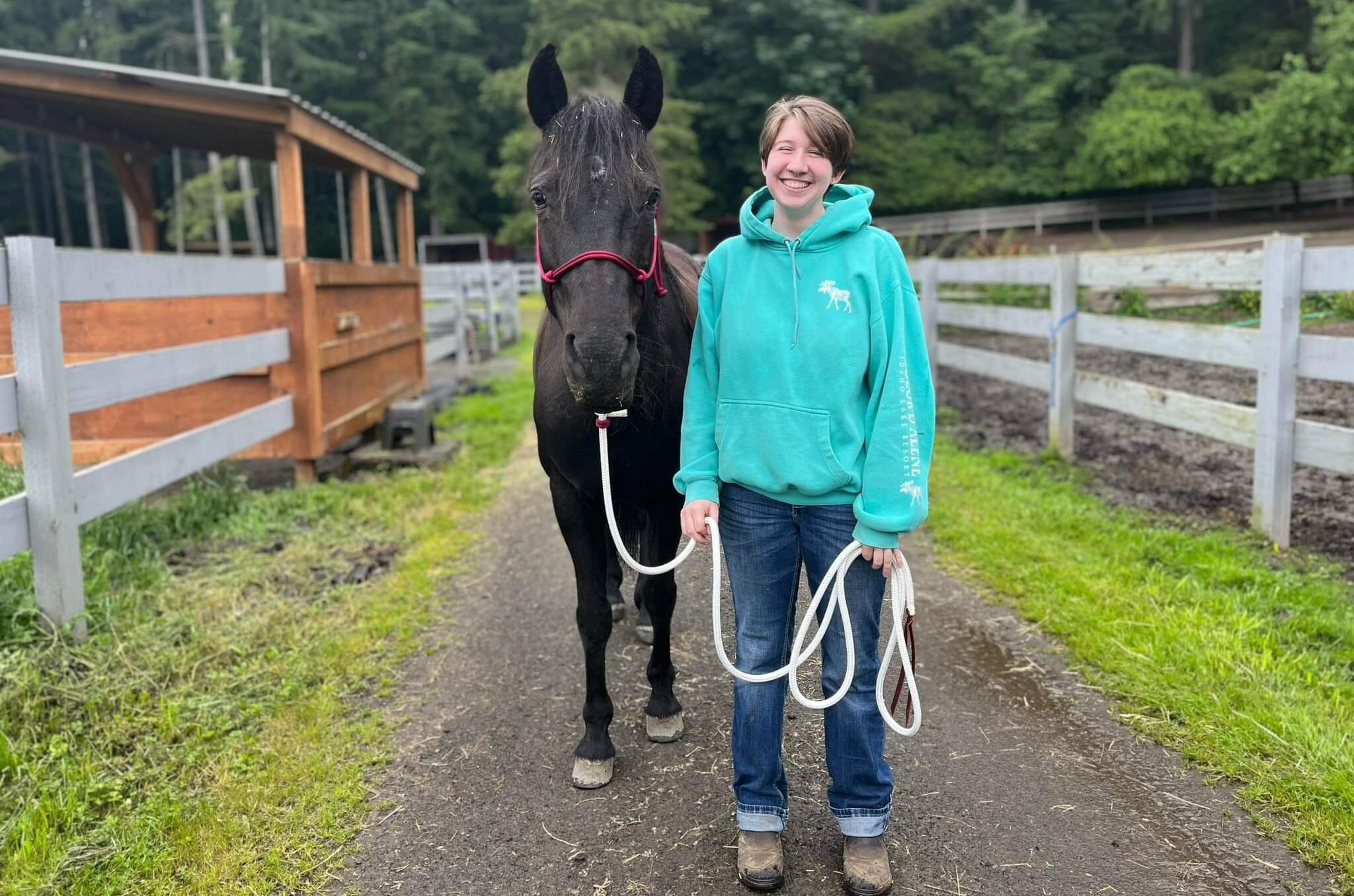 After catching the eye of Brittany at the June Joel Connor clinic, she went home and told her family about this sweet pony. They gave SAFE a call and we talked about where Echo was in her training and the work needed to help her. We all agreed they were capable to helping her reach her full potential. One of the big reasons that allowed us to be comfortable with her leaving so soon after coming back to SAFE is that they understand the training we began and are able to continue to support her to make lasting changes.
Echo traveled the 4 hours to her new home without breaking a sweat. Upon arriving, Brittany told us she was excited to have her home and there was a lot of snuggling at dinner time. Eventually, when her daughter, Addison, took out Echo's braids she was thrilled to find her thick luscious mane and exclaimed it's her dream mane! Britney shared how excited she is to see her kid go down this style of horsemanship and thanks to Echo, she will reach a new level. Echo's story has a happy ending because of Brittany's wonderful family and we are so happy for this sweet mare.