Flynn
SEX: gelding
BREED: POA
REGISTERED NAME:
COLOR: r

oan



MARKINGS:
YOB: 1999
AGE: 22
HEIGHT: 13.3
WEIGHT: 850 lbs
LOCATION: Redmond
ADOPTION FEE: $1000
Online Adoption Application
Errol Flynn is a POA pony in his early 20s who was surrendered to Animal Control by his owner who could no longer care for him. Flynn's right eye is badly infected, and vascular mass is growing over his cornea. Unfortunately, this has gone untreated for the past year. Dr. Renner from Rainland Farm Equine did an assessment of Flynn just after his arrival. He examined Flynn's eye and assessed his pain levels, and his conclusion is that the eye should be removed. We are very hopeful that the surgery will make him feel 1000% better and that he will have an easy and uncomplicated recovery but no matter what happens, Flynn seems to understand that he's in a good place where people can take care of him.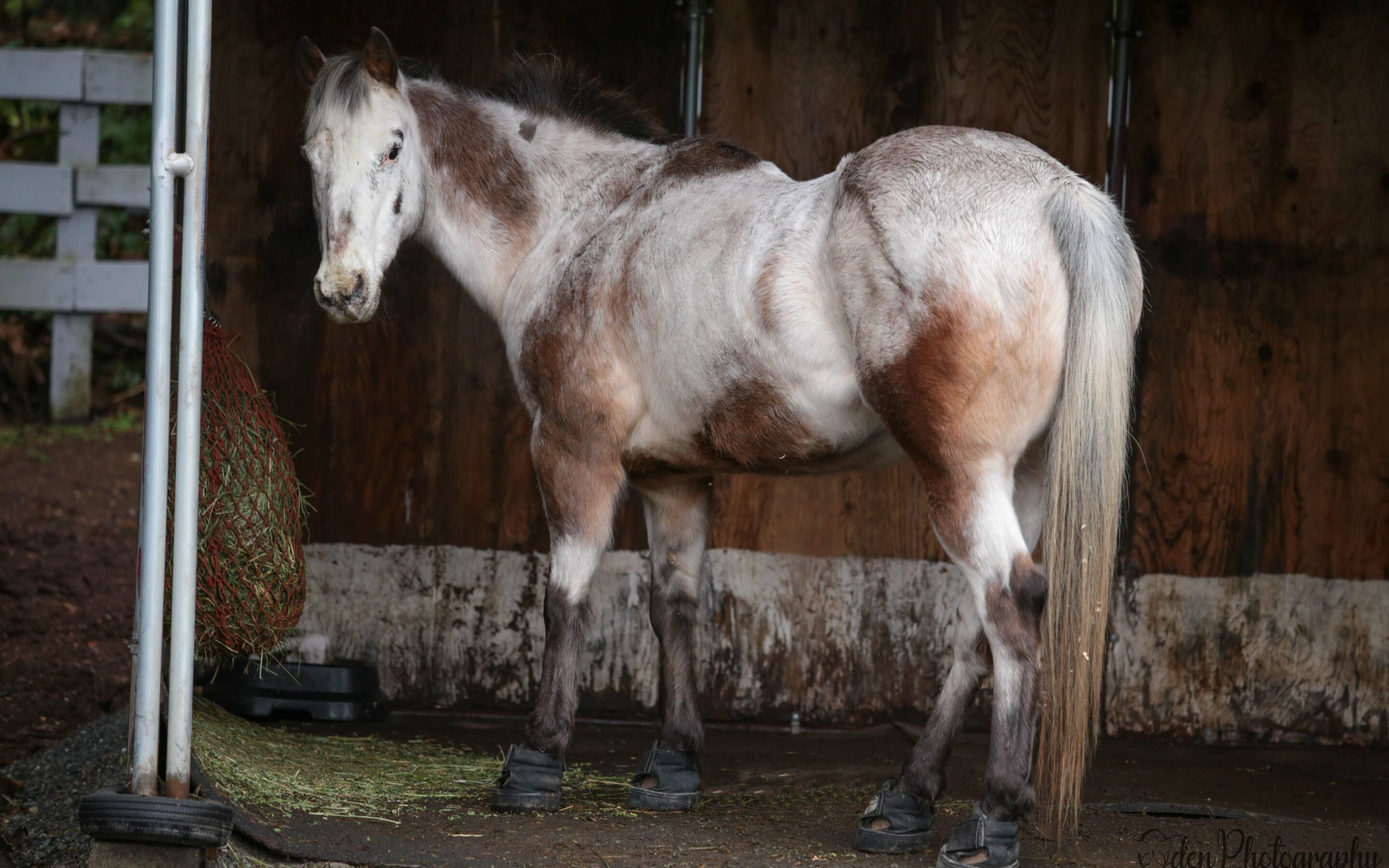 This was the first time we saddled Flynn, bumped him up to the fence, and mounted him for a ride. He did extremely well and felt like a "been there done that" pony! We have only had him at SAFE for 2 months and most of the time has been spent recovering from his eye surgery, so there hasn't been much time to introduce him to groundwork. But Flynn has clearly been ridden in the past.
About six weeks ago, Flynn was trimmed for the first time at SAFE. Since then, his hooves have been pretty tender. We are treating his hooves to help them harden up but he may be a candidate for riding boots or shoes. It takes 10 to 12 months for a horse to grow out a new hoof, so we have just started him on this road to recovery. He is available now to meet his future family. This little gem will not be here long!

Flynn's Friends:
1. Nancy B.
2. Peggy B.
3. Marrissa H.
4. Kimera H.
5. Dejenelle J.
6. Daniel K.
7. Julie M.
8. Lisa P.
9. Mary T.
10. Karen T.
11. Renee W.
Every horse deserves at least ten friends! Even a small monthly donation can make a difference. Plus, SAFE horse sponsors receive discounts at local businesses through the SAFEkeepers program!