Flynn
1999 marbleized roan Pony of the Americas gelding
Type of Rescue: Owner Surrender
Intake Date: 11/6/20
Adoption Date: 2/21/21
Length of Time with SAFE: 4 months
ADOPTED!!
Errol Flynn is a POA pony in his early 20s who was surrendered to Animal Control by his owner who could no longer care for him. Flynn's right eye was badly infected, and had a vascular mass is growing over his cornea. Unfortunately, this went untreated for the a year. Our vet, Dr. Renner from Rainland Farm, did an assessment of Flynn just after his arrival. He examined Flynn's eye and assessed his pain levels, and his conclusion is that the eye should be removed. The surgery went well and made him feel 100% better. Flynn spent the first 2 months at SAFE recovering. Once he recovered, we saddled him and could tell right away that he had been a riding horse in his recent past. He now lives with a family who adores him and will be be given the care he deserves for the rest of his life.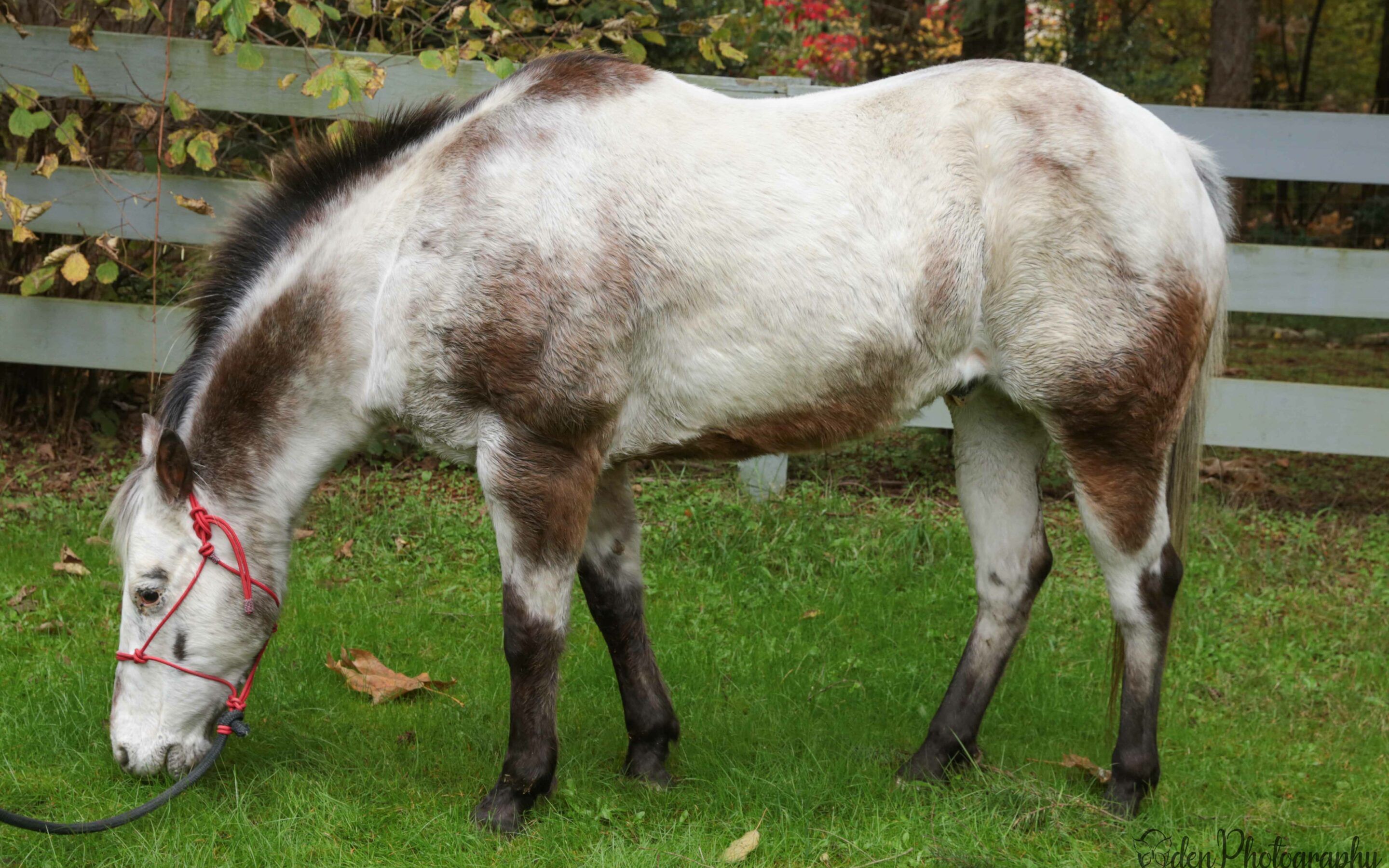 When Flynn's new family first visited Flynn at SAFE, he walked right over to their daughter, Olivia, and nuzzled her. On their second visit, Olivia and Flynn played Simon Says and Red Light, Green Light. She even made up her own colors for turning and trotting. He was so good with her and didn't mind anything she did while in the saddle. Olivia then brushed him and put him away in his stall all by herself. Our hearts melted and we knew we had found the right home.
Flynn headed to his new home last month and is doing great. The whole family absolutely adores him and is head over heels in love. He fit in right away, giving bedtime kisses at night just like all their other horses! They told us it feels like he's been part of the herd forever.
Flynn also enjoys playing over the fence with their gelding, Chulo, who boards there. They share a stall wall and run along the fence line at night playing gelding games. He's been turned out with another mare, Maxi and shares a fence line with two other mares that he loves socializing with. When Flynn first arrived at SAFE, he was excited to be near other horses. He would call out and look over longingly at the horses in their paddocks. It was hard to keep him alone in a separate stall while his eye was healing. We are happy he is surrounded with horse friends at his new home and can't wait to hear about Olivia and Flynn's next adventures.