Gabby
SEX:
mare
BREED:
Mule
REGISTERED NAME:
none
INTAKE DATE:
3/15/22
COLOR: dark bay
MARKINGS:
YOB: 2014
AGE: 8 yrs old
HEIGHT: 13.3 HH
WEIGHT:
LOCATION: in foster
ADOPTION FEE: TBD
Online Adoption Application
Gabby had been placed in a home via our Mayday Facebook ads and unfortunately the new owner wasn't expecting her to be so afraid. Even though it was made clear that she had been not been handled and she was living wild in a pasture, it was more than they bargained for. Gabby had only been with them a few weeks and they could have reposted her online, but SAFE did not want to see her bounce around home to home any further.
Because she is untouchable and we had a full house of new intakes, our kind friend, Trisha, (adopter of 3 past SAFE horses, including the most recent,
Caramel
) offered her to come to stay at her home for a few months of gentling. We are very excited to be able to help this mule and look forward to Trisha's great video updates.
All SAFE horses are adopted with a no-breeding clause, no exceptions.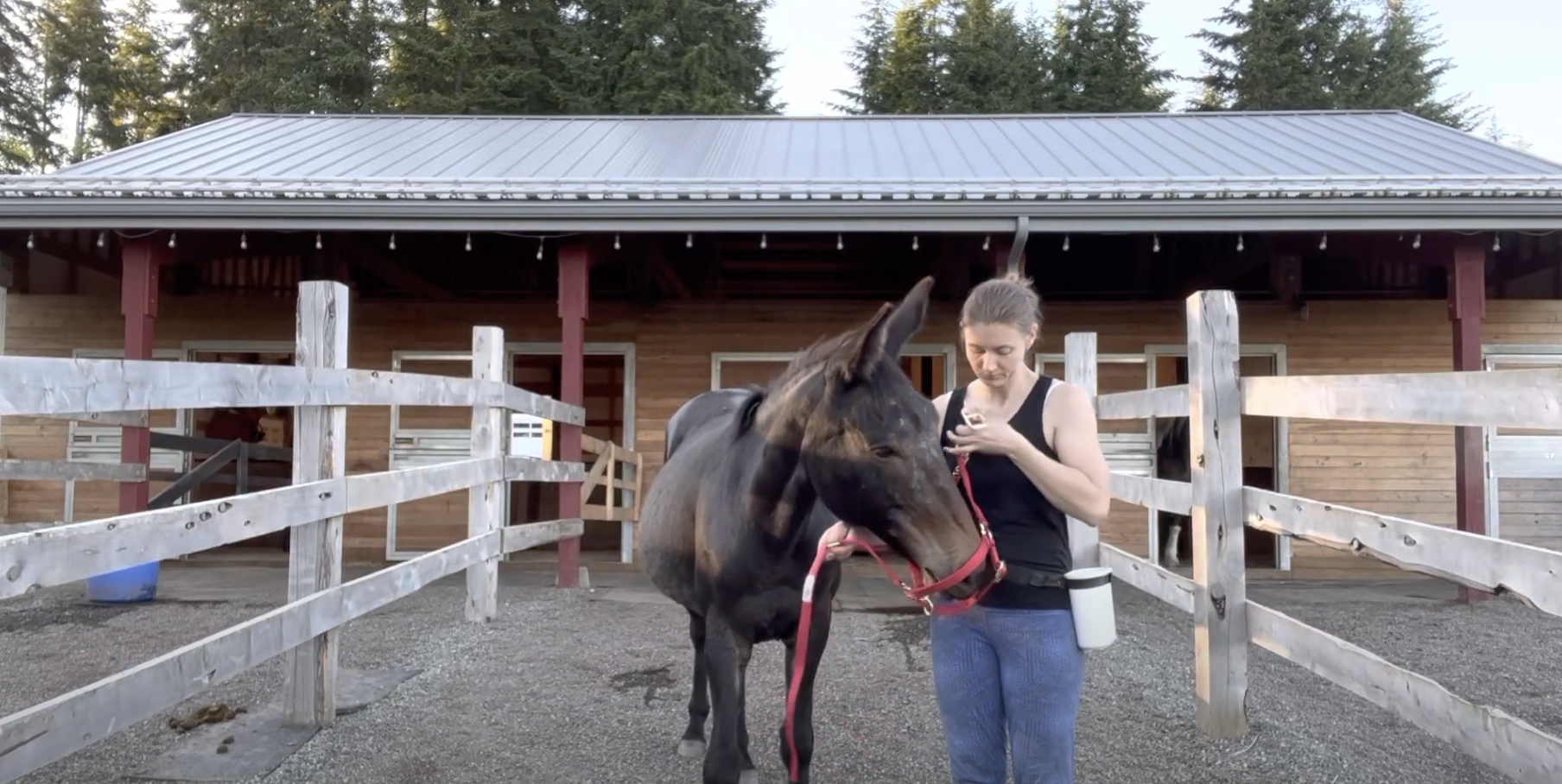 Trisha has made such amazing progress with Gabby, that we got behind on sharing her last milestone! Here you see Gabby realizing a halter is no big deal.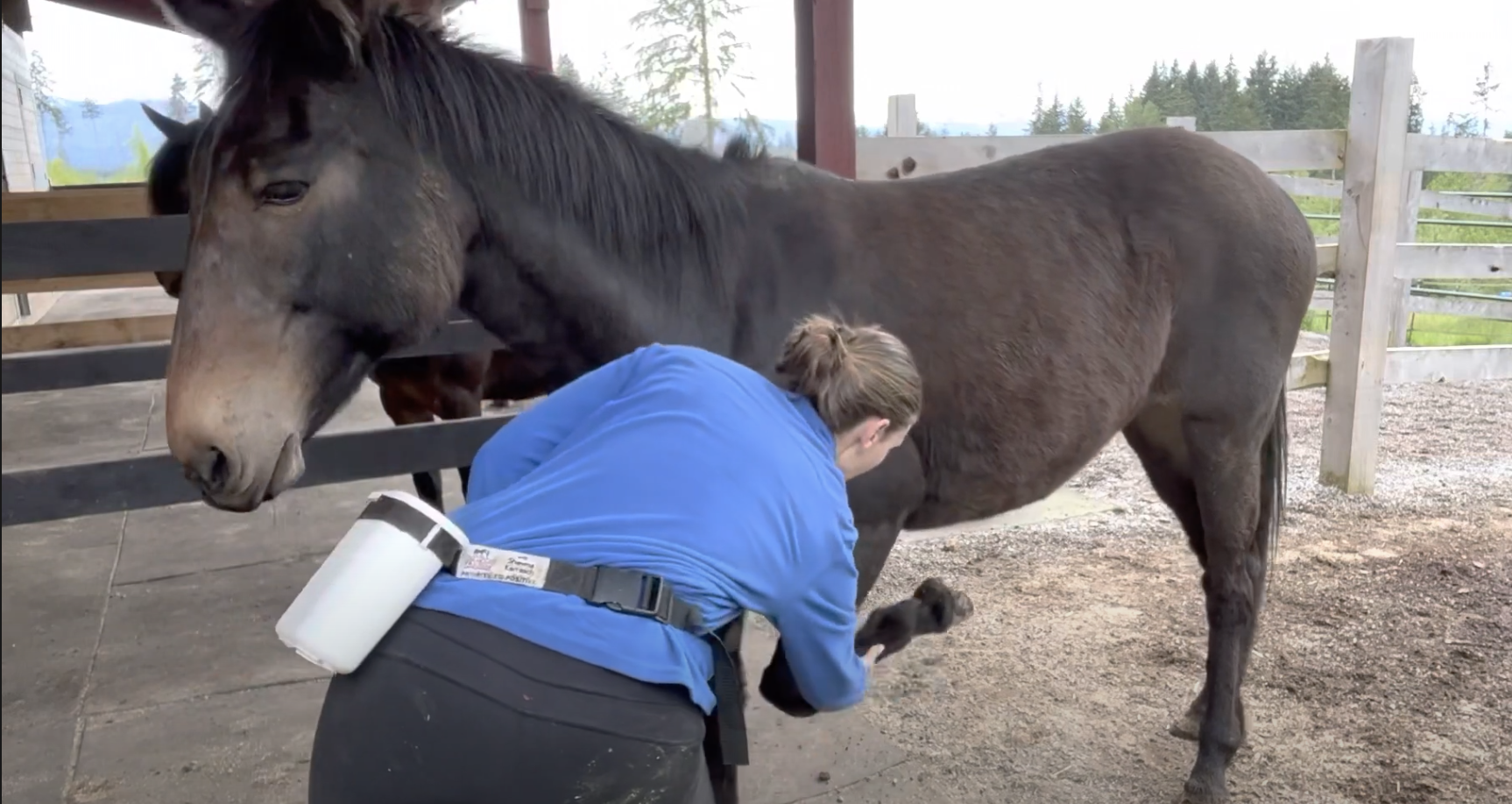 Foster parent, Trisha, has made huge strides with SAFE's first mule, Gabby! Here's what she had to say:
"Here are some Gabby videos of her learning to pick up her feet. Figuring out the right way to balance has been tricky for her, but she's catching on.
She is doing very well, continues to be fairly reactive at times and always needs a warm up at the beginning of working together, but she actively seeks out attention and training sessions. She also occasionally makes questionable life choices, like jumping over the wheelbarrow instead of waiting 10 seconds for me to finish scooping part of her paddock."
We love seeing Trisha's progress with Gabby and look forward to her updates!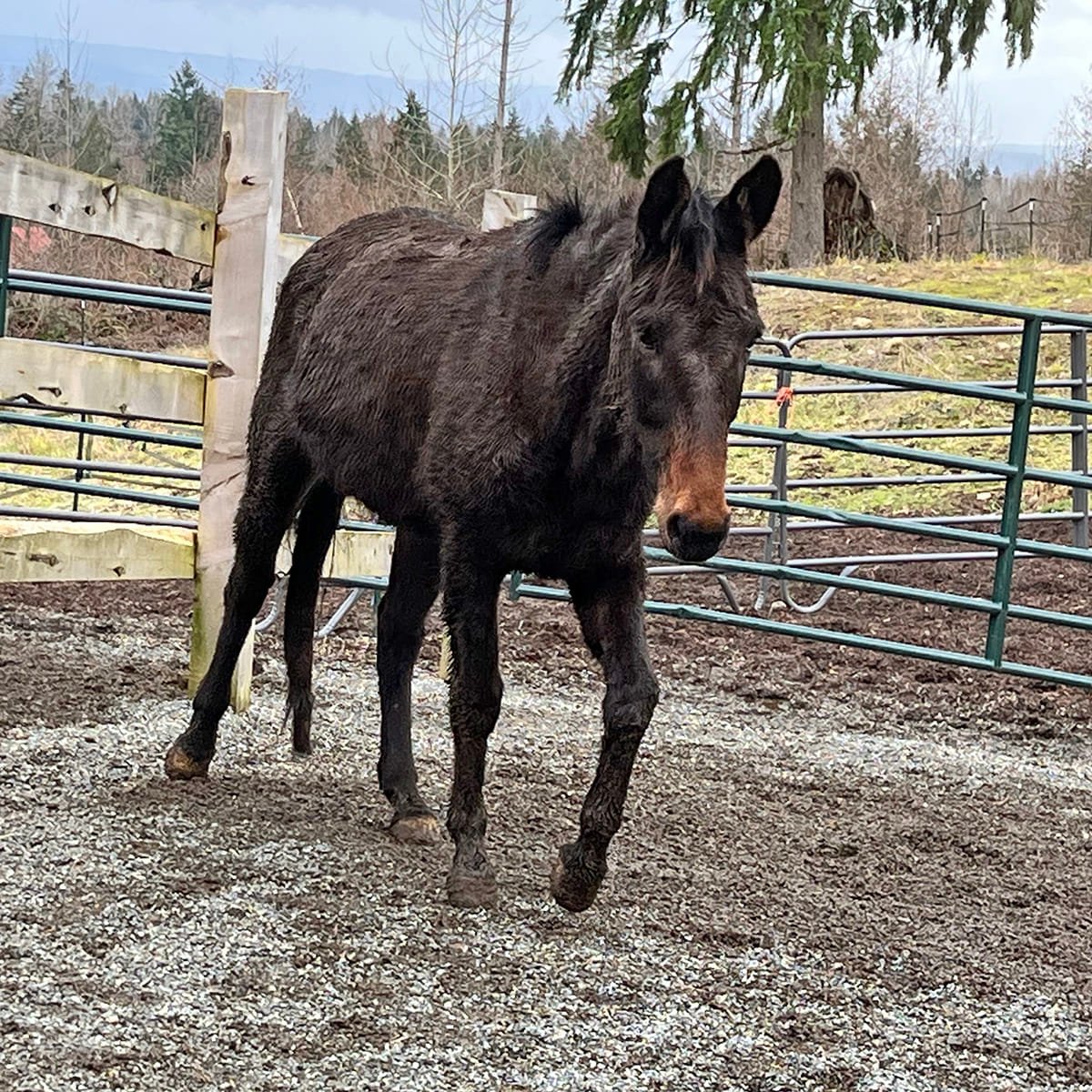 Seventeen years ago, we named this rescue Save a Forgotten Equine, and in all that time, we have only rescued equines of the Equus Caballus variety. Recently however, we took in our very first longear — a lovely bay molly mule named Gabby. Gabby is very shy, having had no real handling up to the age of four, but she is slowly slowly learning to trust…thanks to our good friend Trisha who has taken Gabby on as a foster. Trisha fostered another formerly wild child for SAFE named Caramel, and gentled her so successfully that she ended up adopting her. Gabby is making slow, but steady progress which is exactly what she needs. Trisha has already shared multiple videos of her process with this sweet mule. Check them out below!
This video is the first time Gabby touched Trisha. What progress!
Trisha had this to say about Gabby: "She is starting to be more communicative with me, less shut down which is a great sign. We've also been working on moving together and passing in tight spaces without panicking — she's starting to trust that I'm not going to reach out a grab her in the moments where she can't see me."

Gabby's Friends:
1. Rachel E.
2. Jean E.
3. Julia L.
4. _____________________
5. _____________________
6. _____________________
7. _____________________
8. _____________________
9. _____________________
10._____________________
Every horse deserves at least ten friends! Even a small monthly donation can make a difference. Plus, SAFE horse sponsors receive discounts at local businesses through the SAFEkeepers program!