Mason
SEX:
Gelding
BREED:
Thoroughbred
REGISTERED NAME:
Mr P's Pace Halo
COLOR:
Bay
MARKINGS:
star and small hind sock
DOB:
2/18/2001
AGE:
16
HEIGHT:
16.0hh
WEIGHT:
1111 lbs
LOCATION:
Redmond
ADOPTION FEE:
$300
Online Adoption Application
Mason was surrendered to SAFE by his owners who were no longer able to care for him. He is a sweet and friendly Thoroughbred gelding, big bodied and tall. As we got to know Mason better, we discovered that he has some deep anxieties, particularly around being ridden. Although we were told that he had a lot of training, Mason made it clear that whatever he experienced in the past was traumatic for him. For that reason, we are offering Mason for adoption as a companion horse. Mason is fulfilling those duties at SAFE as the companion to our blind mare, Stormy. Mason and Stormy are true friends, and spend every day together in the pasture.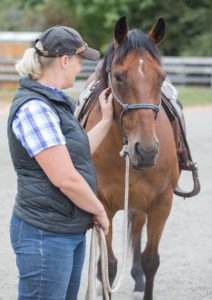 Lori has been working with Mason since his arrival at SAFE last year. She continues to chip away at his issues, hoping that he may still become a safe riding partner. For now, all this groundwork is helping him to trust people and be more comfortable in his body. Here is what Lori had to share about him in the clinic last weekend:
Today was the second day of this weekend's Joel Conner clinic. I attended the Morning groundwork portions of the clinic with Mason. One of my goals was to gain some specific tools to help me with the bracing and anxiety that Mason has stored up from his past life of abuse. This poor boy has been let down by the man time and time again. He is so loving and wants to try hard but has had such a hard time letting go of his fears and stressors. This is my second clinic with Mason and I feel he came out of this one with some really big changes.
With Joel's help, Mason started freeing up his feet, relaxing and bending and even letting his head lower to the ground at times. I really saw a change in him. By the end of the clinic he was more relaxed than I have ever seen him. He was yielding his hindquarters and forequarters more fluidly. I could toss the rope at his lumbar area most of the time without him squirting out and locking up his neck and whole body for that matter. I was so proud of him and I am very excited to see what we accomplish in the next few weeks. Thanks to Joel for helping me understand our sweet Mason more and giving me the tools to help reach past his fears.

Mason's Friends:
1. Cheryl C.
2. Margaret C.
3. Jane M.
4. _____________________
5. _____________________
6. _____________________
7. _____________________
8. _____________________
9. _____________________
10._____________________
Every horse deserves at least ten friends! Even a small monthly donation can make a difference. Plus, SAFE horse sponsors receive discounts at local businesses through the SAFEkeepers program!