Minnie
SEX:
filly
BREED:
pony
INTAKE DATE:
Jan 26, 2021
COLOR: Dark bay
MARKINGS:
For Advanced Handler
YOB: 2020
AGE: 1
HEIGHT: 11.3 HH
WEIGHT: 357 lbs

LOCATION: Redmond
ADOPTION FEE: $300
Online Adoption Application
Minnie came to SAFE with her mother and two other horses when they were seized by Animal Control for severe neglect. They were part of a bigger herd that came to SAFE the month earlier. The previous owner had hidden the 4 ponies on their property when Animal Control picked up the first group. Minnie is very curious about people and is very playful. We are excited to see how this little one grows up.
All SAFE horses are adopted with a no-breeding clause, no exceptions.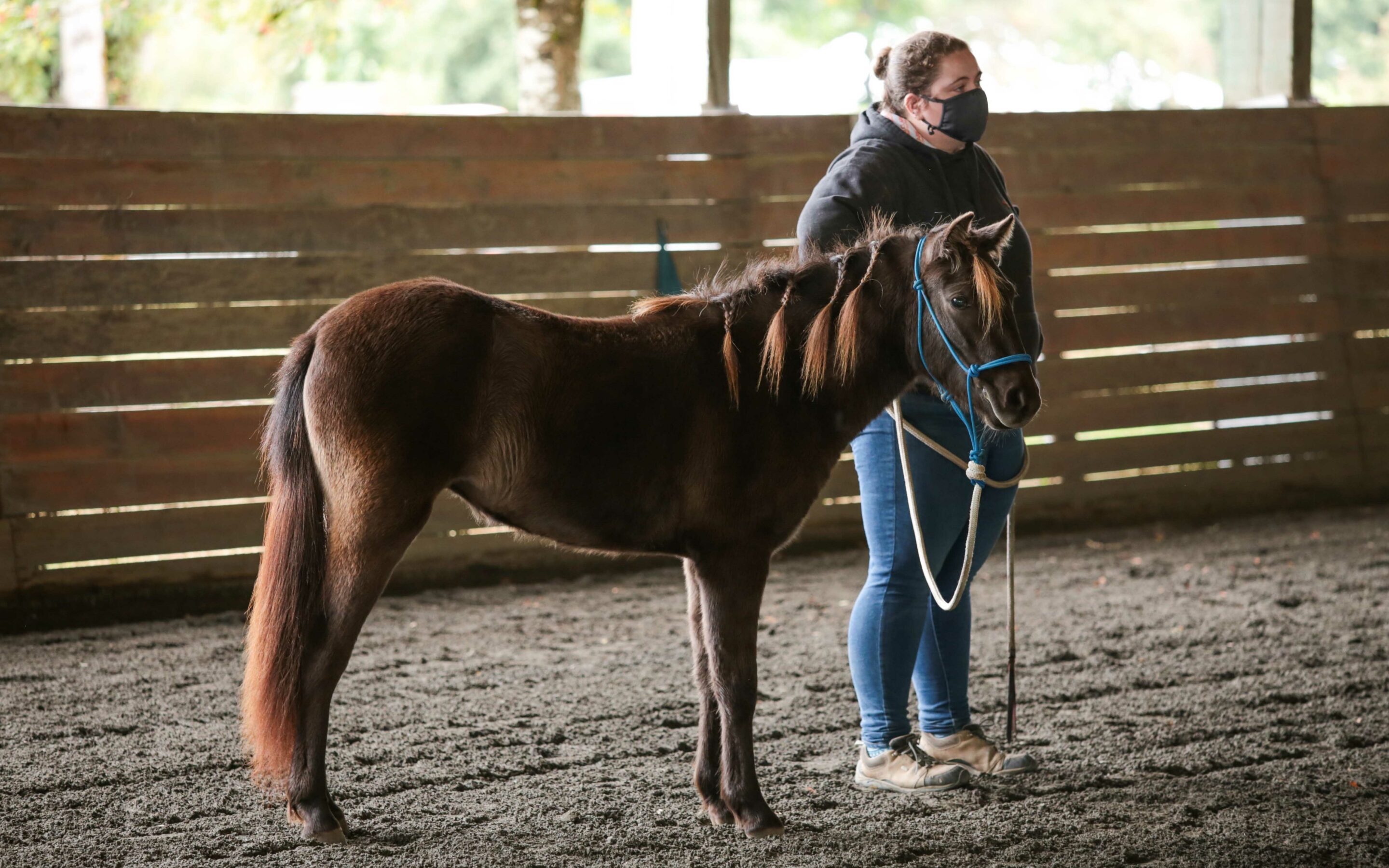 Minnie is growing up to be a fantastic, smart little pony! Stunning, too! Minnie and SAFE volunteer Lexi participated in the Groundwork session of the most recent Joel Conner clinic and Minnie was a rock star!. She was soft and easy going in a large class of other horses. She stayed attentive to Lexi and made great progress in working with the flag and learning to be treated with fly spray. She's only one year old and she has a lot left to learn (obviously!) but with her sweet demeanor, she will make someone a great partner one day. Since the clinic, Lexi has continued to work with her with the flag. The two have graduated to working in the round pen, and Minnie is learning to feel Lexi's cues from a longer distance away. In her second session, Minnie responded as if she'd been doing it for weeks. She's very smart and progressing very well. And she's cute. The full package!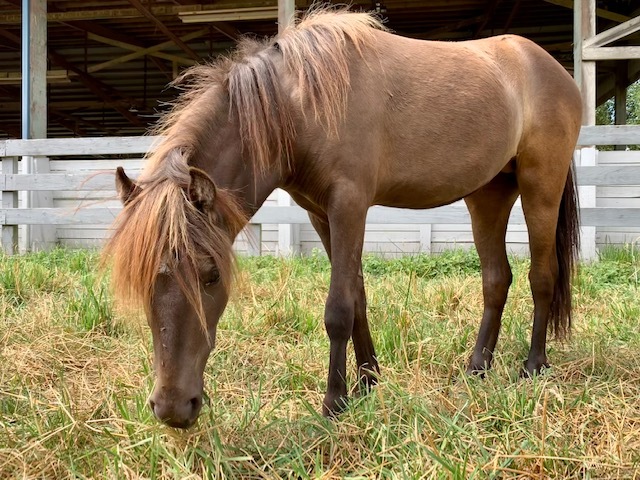 Minnie came to SAFE in January 2021 as a 6‑month-old filly with her mother, Checkers. We recently weaned Minnie from her mother, but we were sure to give her an Auntie to comfort her. Aunt Teddi now shares a paddock with Minnie and the two get daily grass turnout together. You will always find Minnie right next to Teddi, being her shadow, as they make their way around the large grass field.
When Minnie first arrived, our vet let us know she was low on vitamin E, so we added Nano E to her evening grain. After about 11 weeks on the supplement, she showed improvement so we have started to slowly cut back on the dosage. We have to watch her for any unusual behaviors, such as excessive licking, but so far so good.
Our plan for Minnie is to spend a couple years growing up at SAFE. Once our little baby Coco is 6 months old and ready to be weaned from her mother, we will put Minnie and Coco together. They will grow up together as "sisters", hanging out with the Aunt Teddi who will teach them horse manners.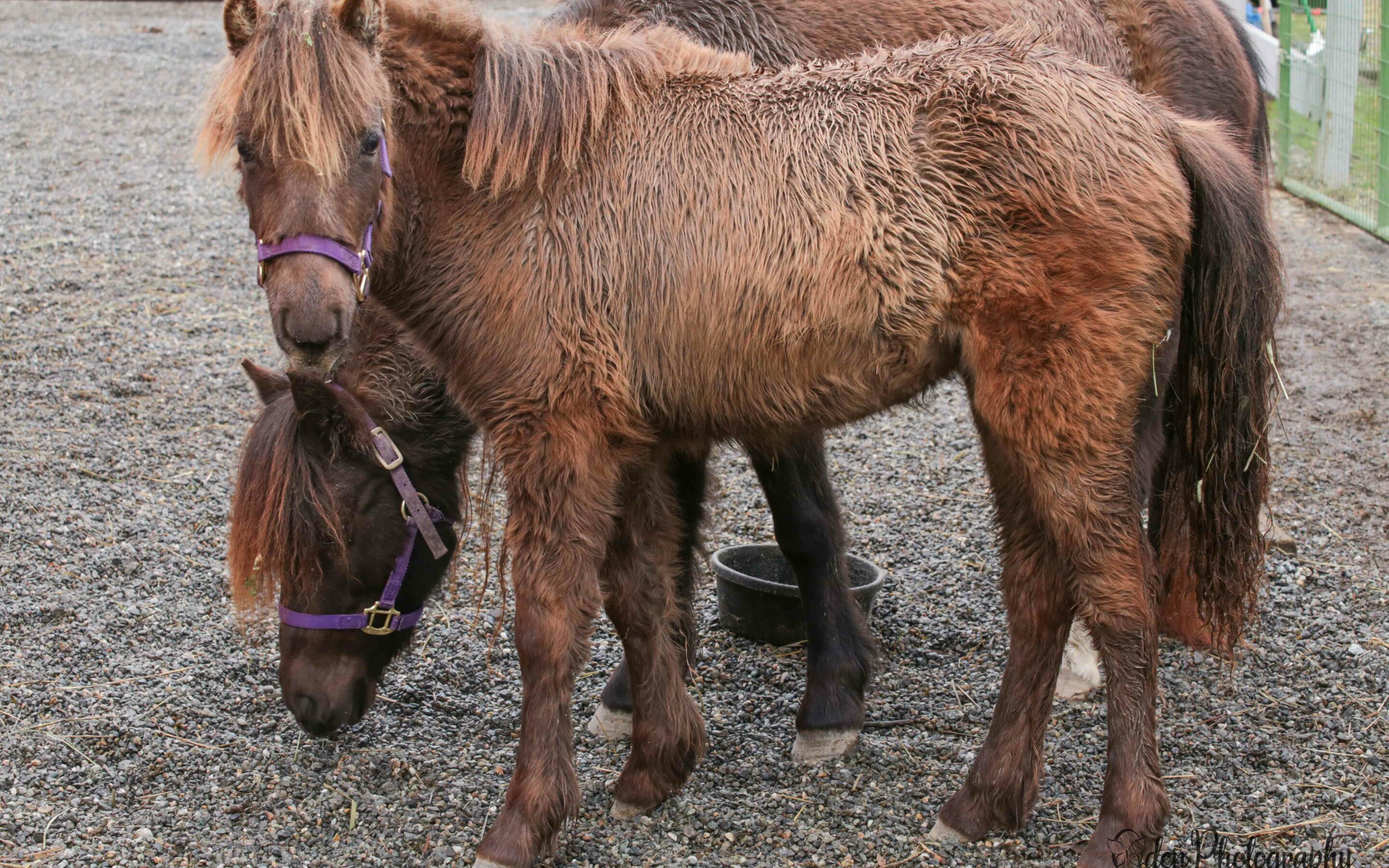 A few days back, we introduced three ponies and a full sized horse who were seized by Animal Control due to neglect and signed over to SAFE. Animal Control found four more ponies hidden on the same property, and their owner surrendered them. One of SAFE's top priorities is supporting Animal Control agencies so they can be most effective when dealing with animal cruelty. So when asked if we had room for four more ponies, including two stallions, we said we'd make room for them.
The two pony stallions are Doolin, a 4 year old pinto, and Quincy, a 15 year old palomino. Both ponies are about 11hh, and somewhat reluctant to be caught. Our plan is to gentle them as soon as possible so they can both be gelded. They each had extremely overgrown hooves, so farrier work is being done to correct this problem.
The other two ponies are a dam and filly named Checkers and Minnie. Checkers is about 15 years old and is very shy. Her daughter is about 6 months old and is quite curious about people. She's adorable. Checkers has already had her teeth floated and she's been checked for pregnancy, which thankfully she seems to have avoided.
The four ponies are in quarantine for the next three weeks, with the two stallions housed separately next door to each other and the mare and filly well separated from both of them. We'll be able to report more about them when we know them better. Right now they're enjoying lovely hay, dry paddocks, and comfortable shelter, which is just what they need!

Minnie's Friends:
1. Kim D..
2. Lizzie B.
3. Nicole S.
4. _____________________
5. _____________________
6. _____________________
7. _____________________
8. _____________________
9. _____________________
10._____________________
Every horse deserves at least ten friends! Even a small monthly donation can make a difference. Plus, SAFE horse sponsors receive discounts at local businesses through the SAFEkeepers program!