Nora
breed: 2000 grey Thoroughbred mare
registered name: Mighty Zinger
type of rescue: sheriff seizure in 2013, returned to SAFE in 2017
intake date: 4/5/2017
adoption date: 9/18/2017
length of time with SAFE: 1 year
ADOPTED!! by Sarah R of Shoreline WA
Nora was one of four horses removed from a property by the sheriff in Buckley with the assistance of the animal cruelty investigators at Pasado's Safe Haven. The horses were starving, badly in need of veterinary care, and living in unsafe/unsanitary conditions. Of the four horses that were surrendered, Nora was the one in the best weight, but she was still about 100 pounds too thin. Her teeth had not been floated in some time, she had a heavy parasite load, terrible feet, and a poor coat with signs of lice. Nora recovered from her neglect and quickly made everyone in the barn fall in love with her because of her sweet temperament and friendliness. We had high hopes for adopting Nora as a riding horse, but started noticing some lameness as soon as we started working her under saddle. It was discovered she had a large bone chip that was not a good candidate for surgery. We were on the verge of making the call to retire her, when an adopter for Nora appeared: a woman looking for a companion to an older mare that she had just rescued. Sadly Nora's adoption did not last due to her owners' life changes, and she was returned to SAFE. Happily she found a new home with a SAFE volunteer who hopes to teach her to be a therapy horse.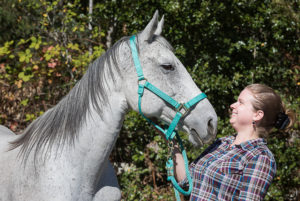 We are so happy to announce that Nora has been welcomed into the loving home of SAFE volunteer Sarah R.
Sarah had been volunteering at SAFE for some time and offered to do some liberty work with our companions. When she met Nora, there was an instant connection. Soon Sarah discovered what a special mare Nora is and how genuinely kind she is to be around. Her personality fit perfectly with Sarah's future goal of working with therapy horses to help people in need. While this goal is still a few years out, Sarah knows that Nora will be perfect in this role.
Nora has settled in brilliantly at her new home and even has a boyfriend to share her paddock with during the days. Sarah is a diligent horse owner and is taking great care of all her needs. Nora now goes by the name of Mercy. "When I was a child," Sarah explains, "my mom read to me a book with a character named Mercy who took in broken and hurting people and nurtured them back to health. I think it's fitting for a future therapy horse."
Bringing Nora back into the SAFE herd earlier this year was difficult, but we are so blessed that Sarah has opened her heart to her and will love her for the rest of her life!