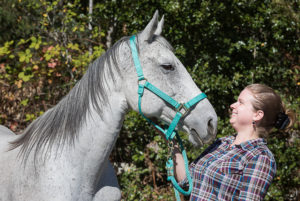 We are so happy to announce that Nora has been welcomed into the loving home of SAFE volunteer Sarah R.
Sarah had been volunteering at SAFE for some time and offered to do some liberty work with our companions. When she met Nora, there was an instant connection. Soon Sarah discovered what a special mare Nora is and how genuinely kind she is to be around. Her personality fit perfectly with Sarah's future goal of working with therapy horses to help people in need. While this goal is still a few years out, Sarah knows that Nora will be perfect in this role.
Nora has settled in brilliantly at her new home and even has a boyfriend to share her paddock with during the days. Sarah is a diligent horse owner and is taking great care of all her needs. Nora now goes by the name of Mercy. "When I was a child," Sarah explains, "my mom read to me a book with a character named Mercy who took in broken and hurting people and nurtured them back to health. I think it's fitting for a future therapy horse."
Bringing Nora back into the SAFE herd earlier this year was difficult, but we are so blessed that Sarah has opened her heart to her and will love her for the rest of her life!