| | | | |
| --- | --- | --- | --- |
| SEX: Gelding | BREED: Morgan | REGISTERED NAME: Unknown | |
| COLOR: Black | MARKINGS: None | | |
| Est YOB: 1997 | AGE: 21 | HEIGHT: 14.1hh | WEIGHT: 1000 lbs |
| LOCATION: Redmond | ADOPTION FEE: $800 | Online Adoption Application | |
Prince is one of five horses surrendered to SAFE after their owner passed away unexpectedly. This handsome black Morgan gelding was reportedly ridden a great deal in his past life, but he came to SAFE showing a lot of uncertainty and herd-bound-ness. He's been in training with a volunteer rider and has made terrific progress, both on the ground and under saddle. Prince is still working on relaxing under saddle but his rider says he is a joy to work with, with a great attitude and a lot of try. Prince has been ridden quite a bit on the trails next door to SAFE and really seems to enjoy being out on the trails. He has some arthritics but does well maintained with Previcox.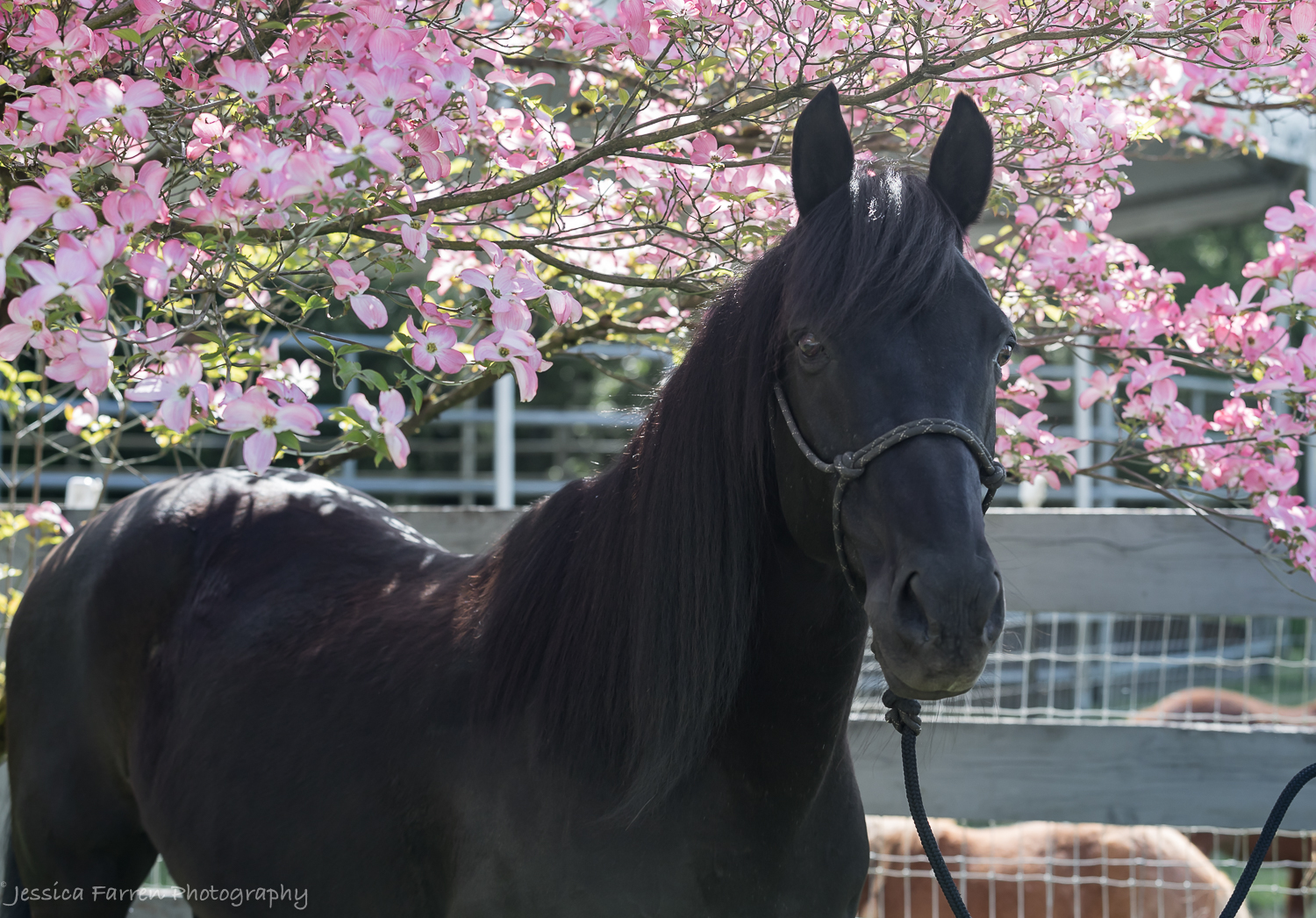 Lori has committed a great deal of time to loving and training Prince while he has been at SAFE. He is doing so well under her supervision and has blossomed into both a confident trail horse but also a calm arena partner. This boy can do it all! Here is what Lori had to say about their work together:
"Prince continues to amaze me. We went today on a ride along with Rosie and the two mini horses. Prince led the way and was the calm cool partner for the other horses on the trail. The trail was flooded and covered with water and downed branches. I ponied Rosie for a bit to allow the other two handlers to tip toe through the water with the minis. Prince was amazing. He had no problem ponying Rosie through the flooded trail and over and through broken branches and logs. Rosie was a champ too. She was calm by Prince's side. This girl is a lovely walking partner. She was willing to go through and over whatever the trail dished out.
"Once back at SAFE, I took Prince into the arena to check in on his arena work. He was so good. Immediately giving me a soft feel. He now is listening to my feel, transitioning off of my seat. Stopping off of my feel and YES he still has his built in "Whoa"! (All you have to do is say it and he stops in his tracks!) Legs forward is getting a nice back up out of him. So proud of this boy."

Prince's Friends:
1. Nancy K.
2. Nancy S.
3. Donna C.
4. Jane M.
5. Cheryl C.
6. _____________________
7. _____________________
8. _____________________
9._____________________
Every horse deserves at least ten friends! Even a small monthly donation can make a difference. Plus, SAFE horse sponsors receive discounts at local businesses through the SAFEkeepers program!