Remy
2012 dark bay Thoroughbred gelding
Type of Rescue: Animal Control surrender
Intake date: 7/11/2018
Adoption date: 8/27/2020
Length of time with SAFE: 2 years, 1 month
Remy is adopted!
Remy's Story
Remy, a young Thoroughbred stallion, was surrendered to SAFE in 2018 at the age of 6 after Animal Control discovered him living in a field with no fresh water in the height of summer. Having been unhandled most of his life, he was difficult to catch, but with the help of horseman Ben Hannan, Remy was haltered and loaded into our trailer. He was transported to Cedarbrook Vet Care where he was gelded.
Remy Today
Remy blossomed into a sweet, strikingly handsome horse with a rich black coat. Now that he's no longer a stud living alone, he's also learned to co-exist with other geldings. Unfortunately, Remy did not like being a riding horse and told us as much. He was successfully adopted as a companion and groundwork horse after two years with SAFE.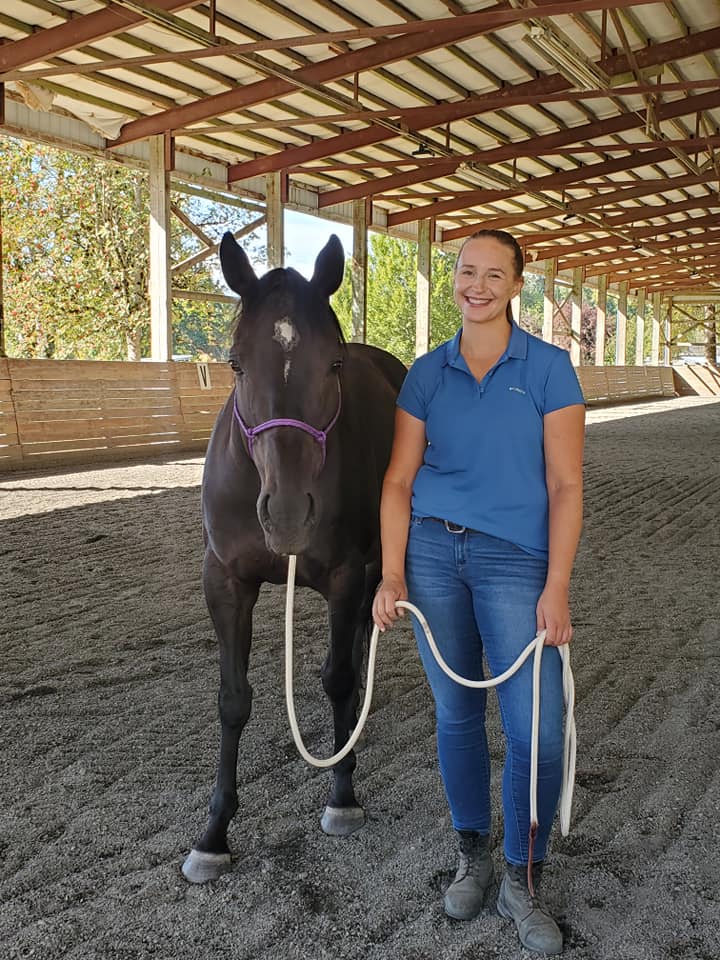 We are thrilled to report Remy is home and settling in well. Adopter and SAFE Wednesday AM volunteer, Jessica, has bonded with Remy over the last few weeks. They had a ton of great changes and the pair is ready for their next chapter to begin.
Remy is going to be Jessica's groundwork partner and companion to her riding horse Soldier. Jessica has set up a great support team for her and her equine partners! We wish them all the best as they build their relationship together. Jessica has already done a fantastic job preparing to take on the responsibility of being an equine mom and we are certain Remy will have the absolute best life ahead of him!
Thank you again Phoebe, Sarah, Sam and Scott for helping prepare him for adoption. Your hours of training and love have made this possible!