Renee
SEX:
Mare
BREED:
Quarter Horse
REGISTERED NAME:
Don't Bug D Doc (AQHA)
COLOR:
Bay
MARKINGS:
None
DOB:
Mar 20, 1998
AGE:
21
HEIGHT:
13.3
WEIGHT:
900 lbs
LOCATION:
Redmond
ADOPTION FEE:
$300
Online Adoption Application
Renee's Story
Renee and her five herdmates were surrendered to SAFE by their owner, who was no longer physically or financially able to properly care for them. The horses were in decent weight but had not had farrier or dental care in some time. We were told that Renee was extremely well trained and very skilled both in the arena and on the trails. We sent her to Joel Conner for a tune up and she did very well!
All SAFE horses are adopted with a no-breeding clause, no exceptions.
Renee Today
Renee has blossomed into a sensitive mare with a huge amount of try. Don't let her age fool you; she has tons of go and has no idea she's 20 years old! Though she was restarted under saddle, she's been retired from riding and is offered as a companion horse.
Renee is currently turned out with mares and gets along with both mares and geldings, and is fantastic for the farrier, vet, and trailering. With a solid Horsemanship foundation, Renee is ready for her next adventure.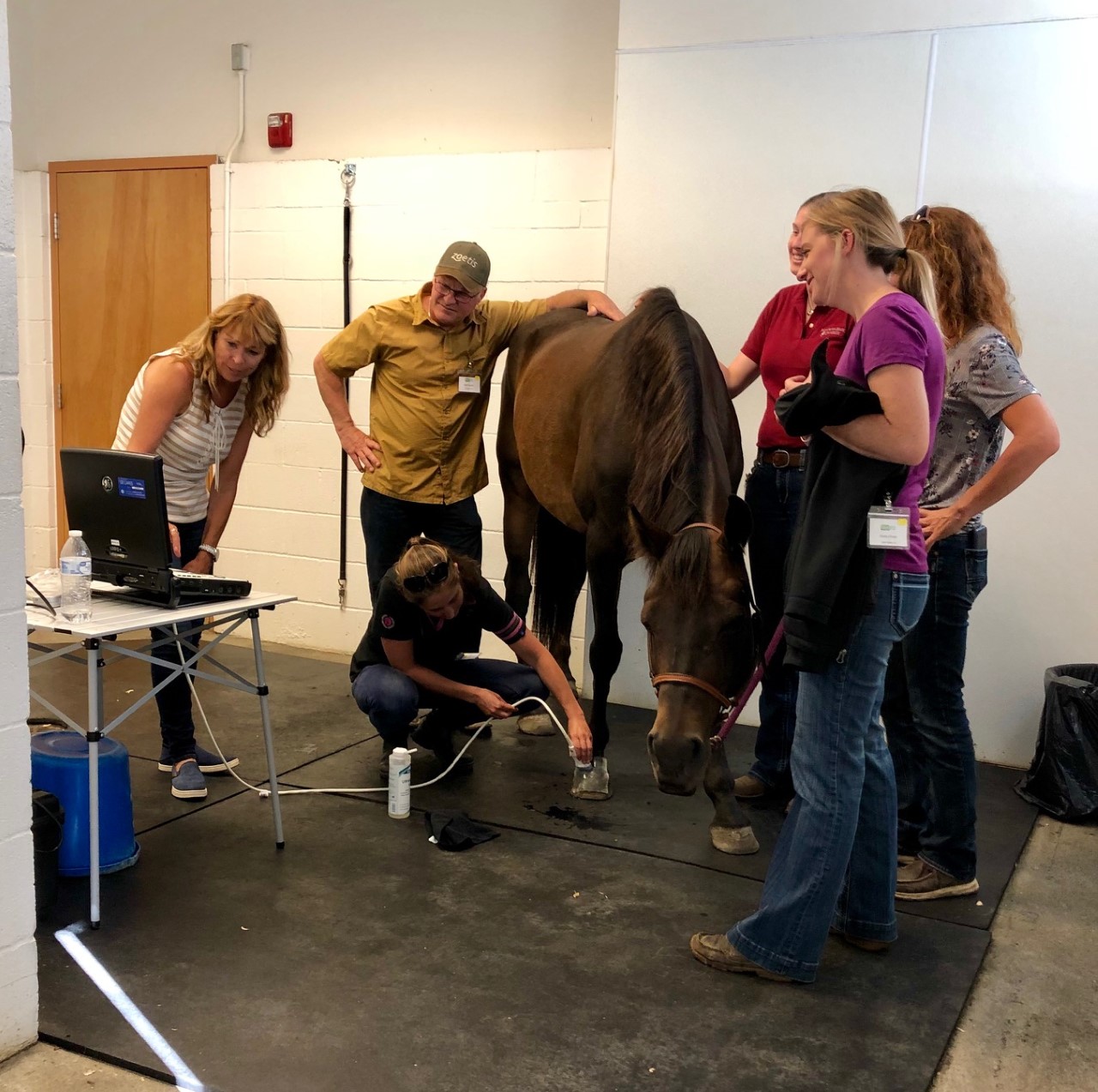 About a month ago, a company that puts on continuing education seminars for veterinarians reached out to us to see if we had any horses they might be able to use for an upcoming course at Pilchuck Veterinary Hospital in September. The topics were centered around sports medicine and orthopedics, and they were looking for horses with various levels of lameness issues. We decided to send Renee, who we know has osteoarthritis, Valor, who has a few different lameness issues, and Zoe, who has a mild, intermittent hind end lameness. The horses were hauled in on a Friday morning and got to come home the following night. All three of them got to participate in demonstrations on both Friday and Saturday and they were well-behaved SAFE ambassadors!
The topics that our horses got to participate in were ultrasound of the front and hind limbs, pre-purchase exams, and use of a device called a lameness locator. The lameness locator uses censors that attach to the horse's poll, hindquarters, and right front leg, and sends information about how the horse is moving to a computer. It assists veterinarians in pinpointing where a lameness is originating from. It's a newer tool that is incredibly useful, and our vets at Rainland have one.
The benefit for us in taking SAFE horses was not only exposure for SAFE and a new experience for the horses, but we also got feedback on what findings there were on the exams performed by the veterinarians who participated. We didn't really need feedback on Renee since she already has a diagnosis, but it was interesting to see where Valor was at after several weeks of rehab from his sore back and hind end lameness, and we got some good feedback about Zoe. Valor looked improved from where he had been the last time he had a lameness exam, but still off. Zoe showed a mild lameness in her front feet, and also in her right hind. New knowledge of these issues in Zoe prompted us to schedule a full lameness workup with Dr. Fleck after we got the horses home.
Getting to participate in this course with SAFE horses was a pretty fun opportunity. Zoe, Renee, and Valor deserve a gold star for their participation!

Renee's Friends:
1. Randee F.
2. Nancy S.
3. Daniel K.
4. Colleen M.
5. Ken and Joyce L.
6. _____________________
7. _____________________
8. _____________________
9. _____________________
10._____________________
Every horse deserves at least ten friends! Even a small monthly donation can make a difference. Plus, SAFE horse sponsors receive discounts at local businesses through the SAFEkeepers program!