Renee
SEX:
Mare
BREED:
Quarter Horse
REGISTERED NAME:
Don't Bug D Doc (AQHA)
COLOR:
Bay
MARKINGS:
None
DOB:
Mar 20, 1998
AGE:
20
HEIGHT:
13.3
WEIGHT:
900 lbs
LOCATION:
Redmond
ADOPTION FEE:
$800
Online Adoption Application
Renee's Story
Renee and her five herdmates were surrendered to SAFE by their owner, who was no longer physically or financially able to properly care for them. The horses were in decent weight but had not had farrier or dental care in some time. We were told that Renee was extremely well trained and very skilled both in the arena and on the trails. We sent her to Joel Conner for a tune up and she did very well!
All SAFE horses are adopted with a no‐breeding clause, no exceptions.
Renee Today
Renee has blossomed into a sensitive mare with three lovely gaits and a huge amount of try. Don't let her age fool you; she has tons of go and has no idea she's 20 years old!
Renee is forward and responsive, so if she's adopted as a riding horse, she will require a skilled rider who is relaxed and can be a calming influence. She's wise, though, and learns fast. With the right partner, she would no doubt make an excellent trail horse.
Renee is currently turned out with mares and gets along with both mares and geldings, and is fantastic for the farrier, vet, and trailering. With a solid Horsemanship foundation, Renee is ready for her next adventure.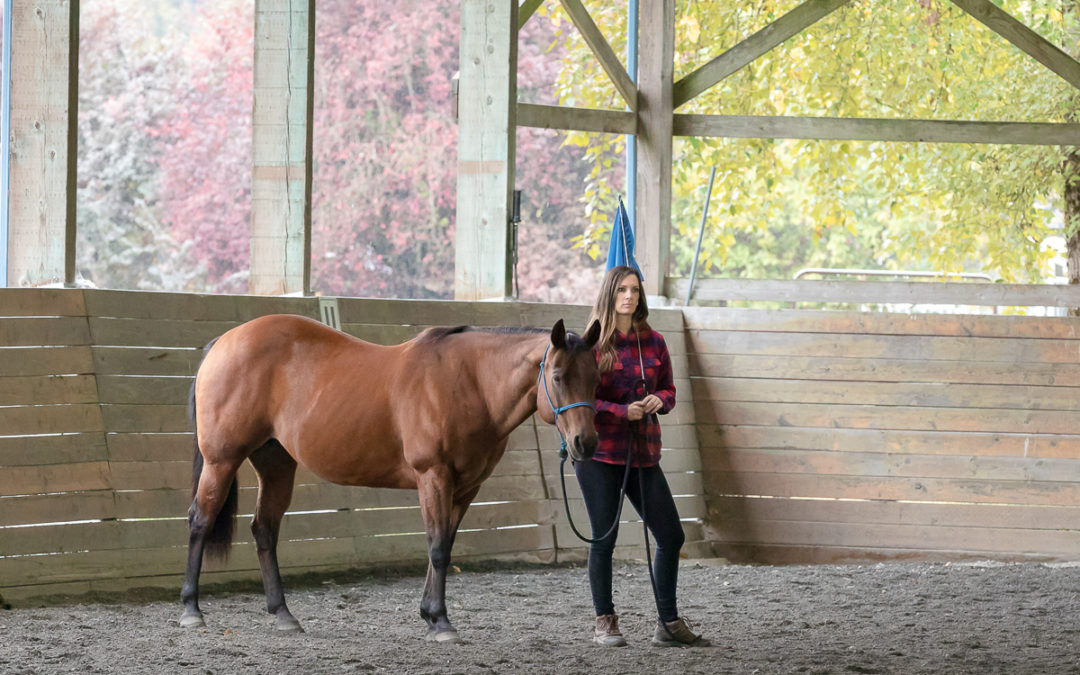 SAFE volunteer Blair worked with Renee during the groundwork portion of the clinic. Here's what she had to report on her experience:
I had an anxious/excited vibe walking into the barn for my first Joel Conner Clinic. I was paired with Renee, who has a sweet demeanor and has had prior groundwork training through our horsemanship program, as have I. Renee knew what was expected while I gave my best effort to walk the dance with her to gain the feel together. While I stumbled a bit learning the steps, Renee was patient and didn't shut down even when I confused her.
Joel was great, he would notice me getting stuck with my feet or my coordination when changing hands, so he would come up and demonstrate how I was doing it and then show me the corrections and tips for me to try out. Best part about Joel is his sense of humor, when you're learning new things and not grasping it right away or your struggling to find the feel…you can get frustrated or bummed out. But he makes you laugh and is there to ask any question whether it be big or small.
I also liked that he will push you a bit to try something you might be uncomfortable doing but in a safe positive way. For example, working on picking up Renee's feet, then gently placing the hoof back on the ground. Joel has a way of building your confidence in this manner and this carries with you into your horsemanship skills and interactions outside of the arena as well. I value that so much.
My goal is to work on my presence, and show improvement for the next clinic. I have a laid back vibe and feel to me and Renee totally read in to that and matched it. Which made it trying at times to put her "in a box" / "pressure" so she could learn to free up her feet when she felt troubled or unsure. With better presence comes a better feel for the both of us. I hope!

Renee's Friends:
1. Jenny W.
2. Andrea N.
3. Nancy S.
4. Daniel K.
5. Leigh C.
6. Randee F.
7. _____________________
8. _____________________
9. _____________________
10._____________________
Every horse deserves at least ten friends! Even a small monthly donation can make a difference. Plus, SAFE horse sponsors receive discounts at local businesses through the SAFEkeepers program!