Renee
SEX:
Mare
BREED:
Quarter Horse
REGISTERED NAME:
Don't Bug D Doc (AQHA)
COLOR:
Bay
MARKINGS:
None
DOB:
Mar 20, 1998
AGE:
20
HEIGHT:
13.3
WEIGHT:
900 lbs
LOCATION:
Redmond
ADOPTION FEE:
$800
Online Adoption Application
Renee's Story
Renee and her five herdmates were surrendered to SAFE by their owner, who was no longer physically or financially able to properly care for them. The horses were in decent weight but had not had farrier or dental care in some time. We were told that Renee was extremely well trained and very skilled both in the arena and on the trails. We sent her to Joel Conner for a tune up and she did very well!
All SAFE horses are adopted with a no‐breeding clause, no exceptions.
Renee Today
Renee has blossomed into a sensitive mare with three lovely gaits and a huge amount of try. Don't let her age fool you; she has tons of go and has no idea she's 20 years old!
Renee is forward and responsive, so if she's adopted as a riding horse, she will require a skilled rider who is relaxed and can be a calming influence. She's wise, though, and learns fast. With the right partner, she would no doubt make an excellent trail horse.
Renee is currently turned out with mares and gets along with both mares and geldings, and is fantastic for the farrier, vet, and trailering. With a solid Horsemanship foundation, Renee is ready for her next adventure.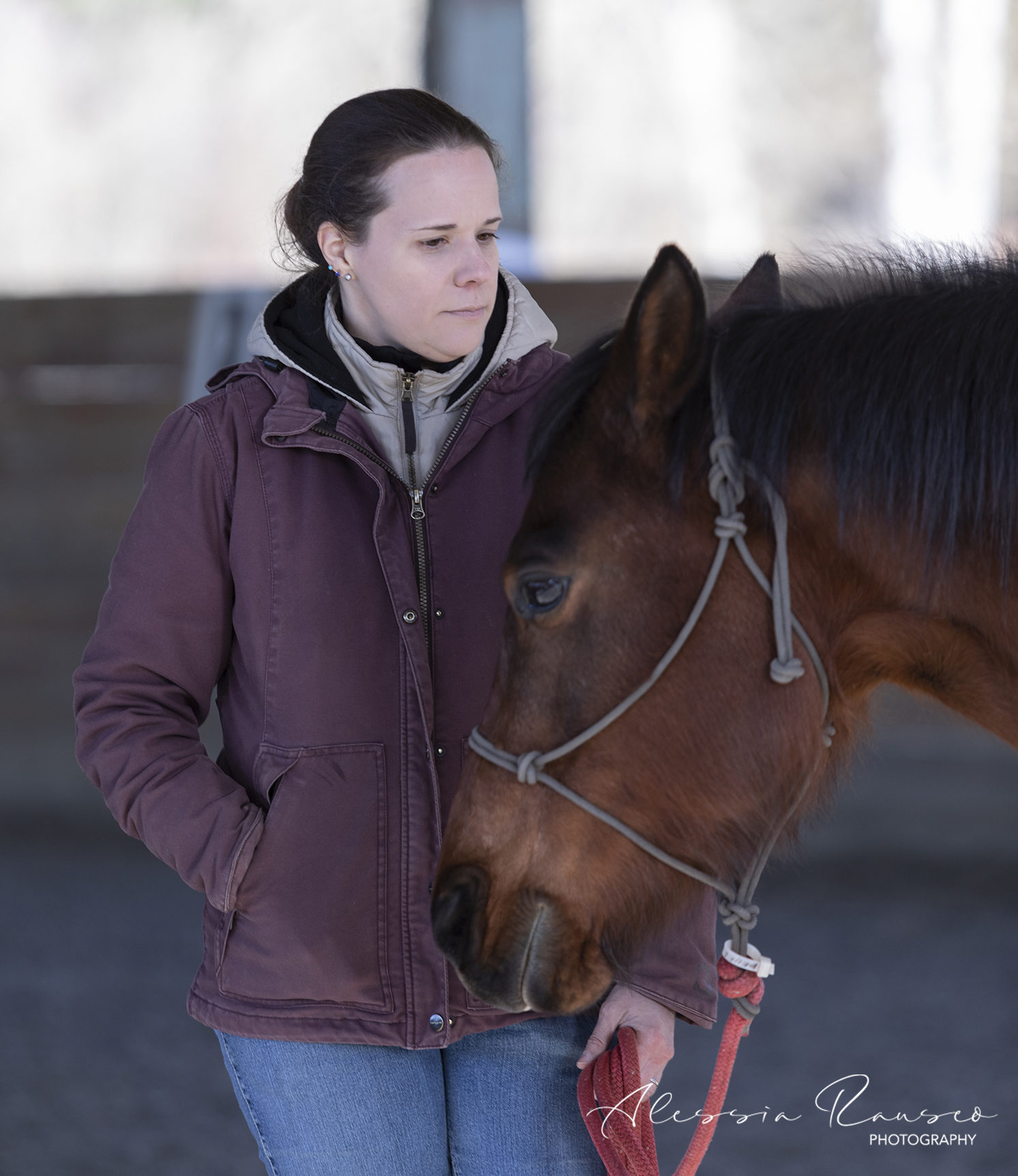 For the past few weeks, we'd noticed a bit of a hitch in Renee's step. At first it was thought to be a hoof abscess in her left front foot, so we wrapped it and treated it as such. But when the abscess resolved and she was still lame on that leg, it was clear that something else was going on and she needed a lameness evaluation. Dr. Lewis came out to the farm to perform the exam, and we weren't too far into it before we already had a diagnosis. It was determined that Renee has a pretty bad case of osteoarthritis in her left knee.
Luckily, Renee is still pasture sound. But she will need to be officially retired from riding. Her pain level is not high enough yet to warrant long‐term pain medication, but we'll be keeping a close eye on her comfort level and will address that if her condition worsens.
Renee was a good riding companion. She was sweet and sensitive under saddle, and once she trusted her rider she'd likely go anywhere with them. But it was clear that it was not her favorite thing. Her favorite thing is hanging out with her buddies in the pasture. If she had one wish, she'd probably wish for just that. A life in retirement.

Renee's Friends:
1. Jenny W.
2. Andrea N.
3. Nancy S.
4. Daniel K.
5. Leigh C.
6. Randee F.
7. _____________________
8. _____________________
9. _____________________
10._____________________
Every horse deserves at least ten friends! Even a small monthly donation can make a difference. Plus, SAFE horse sponsors receive discounts at local businesses through the SAFEkeepers program!