Renee
SEX:
Mare
BREED:
Quarter Horse
REGISTERED NAME:
Don't Bug D Doc (AQHA)
 
COLOR:
Bay
MARKINGS:
None
 
 
DOB:
Mar 20, 1998
AGE:
20
HEIGHT:
13.3
WEIGHT:
900 lbs
LOCATION:
Redmond
ADOPTION FEE:
$800
Online Adoption Application
 
Renee's Story
Renee and her five herdmates were surrendered to SAFE by their owner, who was no longer physically or financially able to properly care for them. The horses were in decent weight but had not had farrier or dental care in some time. We were told that Renee was extremely well trained and very skilled both in the arena and on the trails. We sent her to Joel Conner for a tune up and she did very well!
All SAFE horses are adopted with a no-breeding clause, no exceptions.
Renee Today
Renee has blossomed into a sensitive mare with a huge amount of try. Don't let her age fool you; she has tons of go and has no idea she's 20 years old! Though she was restarted under saddle, she's been retired from riding and is offered as a companion horse.
Renee is currently turned out with mares and gets along with both mares and geldings, and is fantastic for the farrier, vet, and trailering. With a solid Horsemanship foundation, Renee is ready for her next adventure.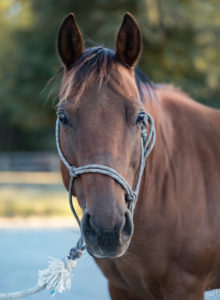 We are starting to get to know one of the new mares at SAFE: Renee. We were told that she's been ridden before, but we don't know how long it's been or how positive those experience were for her. Renee seems a bit "wide eyed" and unsure of it all but she is getting used to the routine at SAFE and learning to trust us. I have been doing some light ground work with her in preparation for saddling and last week the first saddling went very well. She was great for cinching up and only was tight for the first few circles at the canter. She appears sound so we will continue see how she does as we increase the work and eventually put a rider on her. She has a sensitive and energetic personality and we are hopeful she will have many years of riding ahead of her.
One of our volunteers, Barbara, had a few nice things to say about Renee: "She was initially pretty bold and interested in humans. She then started hanging back behind Angel, the 27 year old boss of the herd who has a lot of opinions on every subject. Today Renee came up to me and was happy to get a scratch and pet and hang out for a few minutes. Watching their personalities unfold as they get used to their new environment and understand they have reliable access to food and water is pretty amazing. SAFE is doing right by these and our other 24 current residents."
Over all her health is good. Her dental float was done and while she had some sharp points there was nothing alarming. She should do well on annual floats and needs no special food to maintain a good weight. Her front hooves were xrayed to make sure there was no rotation or issues due to how overgrown they were when she arrived. Luckily everything looked good and our farrier was able to trim her easily. She has some arthritic changes to her left knee and an old bowed tendon on her right front. Neither seem to be causing problems at this time. Her biggest issue is an allergic reactions to bug bites. We are working with Dr Fleck to keep these irritations to a minimum. She is a lovely well built little mare and we are excited to see how she does in our training program.

Renee's Friends:
1. Randee F.
2. Nancy S.
3. Daniel K.
4. _____________________
5. _____________________
6. _____________________
7. _____________________
8. _____________________
9. _____________________
10._____________________
Every horse deserves at least ten friends! Even a small monthly donation can make a difference. Plus, SAFE horse sponsors receive discounts at local businesses through the SAFEkeepers program!