Renee
SEX:
Mare
BREED:
Quarter Horse
REGISTERED NAME:
Don't Bug D Doc (AQHA)
COLOR:
Bay
MARKINGS:
None
DOB:
Mar 20, 1998
AGE:
20
HEIGHT:
13.3
WEIGHT:
900 lbs
LOCATION:
Redmond
ADOPTION FEE:
$1,500
Online Adoption Application
Renee and her five herdmates were surrendered to SAFE by their owner, who was no longer physically or financially able to properly care for them. The horses were in decent weight but had not had farrier or dental care in some time. We were told that Renee was extremely well trained and very skilled both in the arena and on the trails. We sent her to Joel Conner for a tune up and she did very well!
Renee is a stunning Quarter Horse mare who is very wise and has a huge amount of try for her rider. She's sensitive and requires a skilled rider who is relaxed and can be a calming influence. Don't let her age fool you, she has no idea she is 20 and has tons of life and go. She takes a little time getting to know her handler but once she trusts you, she is a great ride. If you enjoy a forward, responsive mare, this horse is for you! She does great riding in our outdoor arena and for walks around the property. We will be getting her out on the trails soon, but there is no question that she'll make a great trail horse as well. Renee is currently turned out with a herd of mares and gets along nicely with mares and geldings.
All SAFE horses are adopted with a no-breeding clause, no exceptions.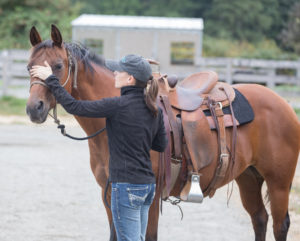 This past weekend was a big success for Renee. We started on Friday by asking Joel to assess her past training and help us formulate a plan for our next steps. He took a look at her under saddle and rode her a little to see how she'd react. All said and done, we have some work ahead of us before she is going to be available as a riding horse. However she showed much improvement at each working session and the changes carried over to the next day. All good signs that if done correctly we should be able to help her get over past issues and become a relaxed riding partner. Casey took Renee in both morning groundwork classes with Joel. Here is what she had to share with us about Renee and their work together:
I got to work with and learn from Renee during the groundwork portions of the clinic. On Saturday she was quite anxious and had difficulty staying with me. However, there was a marked change on Sunday as she was much more relaxed and peaceful. She is understandably herd bound and hesitant to trust humans. Over the course of the weekend we worked on bending to a halt, yielding the hind and fore quarters, and discovered that she has a couple of very tough braces to work through. The brace through her head and neck are particularly troubling. When she bends, she tilts her head so that her ears aren't plumb. It is very exaggerated which suggests that a correctional bit was used when she was ridden. Her feet are also very stuck. I suspect that she will begin to trust humans again once we help her find balance and free up her feet. It's going to take some time to get these changes, but she's a great little horse with a lot of "try."

Renee's Friends:
1. Jenny W.
2. Andrea N.
3. Nancy S.
4. Daniel K.
5. _____________________
6. _____________________
7. _____________________
8. _____________________
9. _____________________
10._____________________
Every horse deserves at least ten friends! Even a small monthly donation can make a difference. Plus, SAFE horse sponsors receive discounts at local businesses through the SAFEkeepers program!