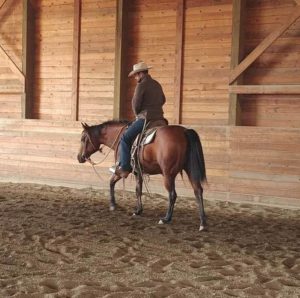 We are delighted to have Renee home from training with a glowing report! Joel really enjoyed getting to know this mare and said she has a ton of heart and try. You can see many changes in her overall relaxation upon her return to SHS. Now that she has been equipped with a few more tools to help her find peace under saddle, we have high hopes she will make the right adopter a great match. She is a very sensitive and smart girl so riding her is like driving a fast car: with just a little effort it is zooming along the road. Joel told me to think about riding her "lazy" and that attitude has helped me get used to her.
I rode her both days in the clinic and she did very well with the large group of horses and lots of things going on around her. I warmed her up each day in the round pen, getting her to move out comfortably in the walk, trot and lope before getting on and asking her to do the same with minimal contact. She relaxes into three lovely gaits and is very smooth to ride. Her canter looks like it might be bouncy but is by far her nicest gait right now. Very even!
She is ready to show to adopters and we will continue to work her at SAFE and eventually take her out on the trails. I think she is just a doll and her spirit is very young which makes me hopeful that she has many more years of riding companionship ahead of her. We are now accepting applications for her. Please fill out an application online or email adopt@safehorses.org with any question.