Ru
SEX:
Gelding
BREED:
Thoroughbred
REGISTERED NAME:
Ruach
COLOR:
Dark Bay
MARKINGS:
star, snip, 3 white socks
DOB:
January 19, 1997
AGE:
20
HEIGHT:

16H


WEIGHT:

1106

LOCATION:
Redmond
ADOPTION FEE: $800
Online Adoption Application
Ru and his friend Valencia are a pair of horses who belonged to an elderly man facing severe medical problems and was no longer able to care for them.
Ru is a 20 year old TB who raced briefly as a 3 year old at Portland Meadows. He is a tall, nearly black gelding who is very gentle and friendly. His registered name is Ruach, which is the Hebrew word for "spirit" or "wind." Ru has a lovely floating trot and is comfortable at his age for pleasure riding. He is a bit pushy on the ground but is learning to walk at a distance and respect people's space. Under saddle he is well behaved and light to the aids. He has no vices and over all a very typical, "young at heart" Thoroughbred gelding attitude. He is quite the character and his goofy temperament makes us all smile.
He may require shoes for more rugged terrain but is currently barefoot. He requires an handler with Thoroughbred experience but overall is a pretty easy going fellow. In the field with other geldings, he is low on the totem pole and gets along well with others.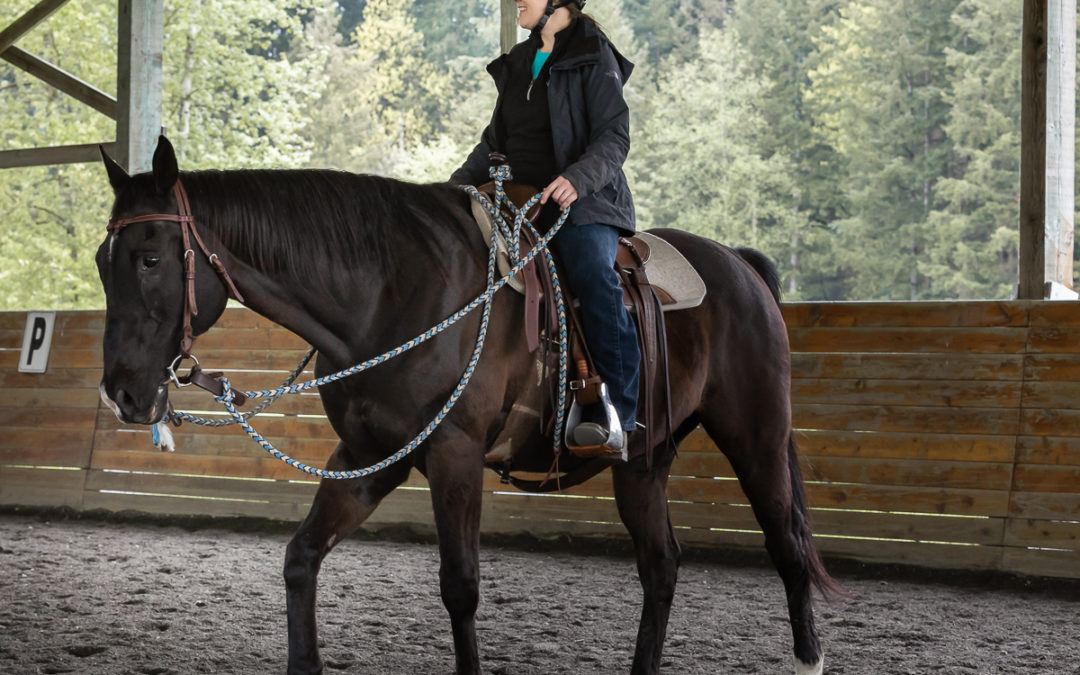 I got to work with Ru for the groundwork and riding portions of last weekend's Joel Conner clinic. The changes I saw in him over the two days that we participated had me smiling from ear to ear! I was so proud of this sweet boy's "try." The first morning was a little rough, as he was distracted by his old pasture mate Valencia whinnying in her paddock. It was a good opportunity for the two of us, though, as his tendency toward herdbound behavior is something that we needed to learn how to work through. Joel gave me pointers on effectively bringing Ru's attention back to me, and he was very responsive to it. On the second day Valencia was in the arena, and he barely gave her the time of day.
Ru started the weekend being a little stuck in his hind end. Since he hasn't been worked much his hind end is on the weak side, and as a result he's a little uncoordinated. It took him a bit to really get smooth at disengaging his hindquarters, but by the end of day 2 he was light and responsive when I asked for it. Backing a circle was our biggest struggle. He's a little on the dull side since he's an older gentleman who hasn't had much groundwork. It took me some time to get the hang of how much I had to firm up to get him to respond to my asking for it. With a little help from Joel, he was backing softly by the end of the second day. I was happy to see that this lesson carried over when I worked with him last week, and it's something that I will continue to work on with him so that he stays soft and doesn't revert back to his old ways.
Under saddle Ru did great. Just as he did in the groundwork portion, he started the riding portion of the first day a little distracted by Valencia. We focused on bringing his attention back to me, and It didn't take him long at all to figure out that when his attention drifted to her then he would have to work harder. Ru is a fun horse to ride. He's smart and seems to enjoy learning. He also has the loftiest trot I think I've ever ridden. I noticed right away how responsive he is to seat aids, and he transitions from a nice, relaxed jog to an extended trot then back down again very well. He's definitely out of shape, though, so we called it a day a little earlier than the rest of the group.
I'll be working on carefully building up Ru's strength and stamina. We have also decided to try him on Equioxx for minor arthritis, and have put glue-on shoes on his front feet to help build up his thin soles. I think after he builds a little muscle he'll make a lovely light riding horse. Even as a senior, he has a lot of potential!

Ru's Friends:
1. Lindsay R.
2. Lindsey P.
3. Ken & Joyce L.
4. Siri S.
5. _____________________
6. _____________________
7. _____________________
8. _____________________
9. _____________________
10._____________________
Every horse deserves at least ten friends! Even a small monthly donation can make a difference. Plus, SAFE horse sponsors receive discounts at local businesses through the SAFEkeepers program!