But if that is true, then Ruach has many moms (and dads) at SAFE because we love him a lot! He does have an interestingly shaped skull though… We hope that he was born that way, because it would break our hearts to image that someone could have hurt a horse like this.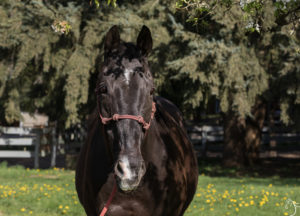 If we're being completely honest, then we must admit that we are liking Mr Ru a whole lot better lately since his turnout assignment was changed. Ru spent the first several months with his friend Valencia as his constant companion. It was fine for a while, but as Ru's health began to improve, his behavior started taking a turn for the worse. At the end of the day, when we'd start bringing horses back to the barn, Ru would become quite agitated in his paddock, running and calling. And when he was being led in, he started behaving like a big bully, pushing his handler and getting pretty fractious, even with Valencia right there with him. So we decided a change of attitude was in order.
Here at SAFE, if a gelding needs to learn manners, he joins the boys in the gelding field…and Ben and Owen go to work on him. The first day or two was pretty unpleasant for Ru…he spent most of the first day running up and down the hill, screaming for Valencia, and being chased by all the boys in the gelding field. After he realized that his life had changed, he started hanging at the periphery of the paddock, hoping that no one would notice him. Now Owen and Ben are the leaders out there, and they take their job pretty seriously. But their direction to the other horses is crystal clear: you move away from me when I approach you. If you're eating and I walk up, you go eat somewhere else. If you're standing there minding your own business and I walk over…you go mind your own business somewhere else. Once Ru grasped these simple rules, he started to relax, and even made a tentative friendship with Anderson. But we also noticed that he started walking back to the barn like a gentleman! Especially if he was being led in with Owen. It was a nice change, and truthfully quite a relief.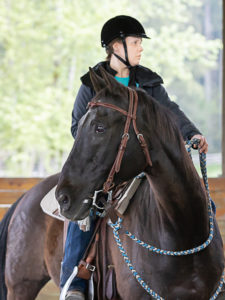 Ru is being ridden regularly by Melinda, who made a conscious effect to get to know this horse and find the good in him. The two make a nice pair, although we have to laugh when she rides him at the same time that Owen is being ridden, because he definitely wants to give the Curly Horse a wide berth!!!
Thank you to Jessica Farren for the photographs! Visit Jessica's website at https://www.jessicafarren.com/